It's 9:55 on a Saturday morning, and we've been riding for 2 hours and 26 minutes. We've traveled 39.3 miles, and make it to the second rest stop, a park right next to the Syracuse Fire Station, a few miles south-west of Clearfield, Utah. We are soaking wet.
The last time I participated in this ride, I worked up quite a sweat. This time, it wasn't sweat. We were soaked with rain water. Oh, and the temperature is a balmy 42 degrees. It wasn't supposed to be.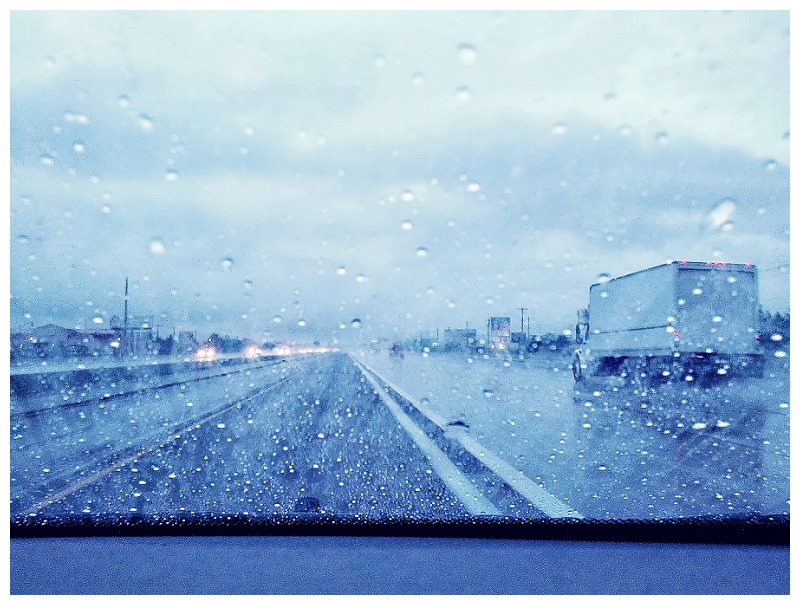 Riding a century early in the cycling season was a really great idea. We have a significant amount of travel starting mid-summer, and an early century motivates early training. We would be in good shape early in the year, and have accomplished one of our goals together prior to the busy schedule of our summer adventures. I had been checking the weather, and it reported light rain showers and 55 degree temps. Better yet, everything was supposed to clear up (and warm up) by 2pm, allowing a pleasant completion to our victorious ride. It was barely raining at all as we rolled out of downtown Salt Lake City at the official 7:30 am ride start time. No worries, I thought. We can do this.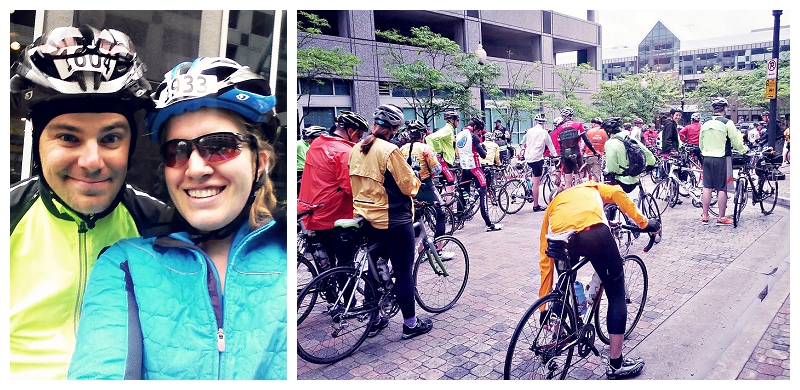 Ok, back to the wet cyclists at the rest stop. Our stop was brief, as had been the stop earlier in the day. Two years ago I rode a metric century (100 km, 60 mi) during a late snowstorm, and I had learned to get back on the bike as soon as possible to keep our bodies from cooling down too far. We munched a few snacks, and considered our options. We really aren't the quitting type, and Antelope Island beckoned to us. We decided quickly to head out to Antelope Island as I wriggled my hands back into my soaking wet 3 season cycling gloves. Jess had the luxury/pain of riding with fingerless gloves, and I'm still not sure which was the better option, given the difficulties I experienced.
We headed up the street, being joined by another fellow on his first century. His group had all turned around earlier, but he was determined, and we were happy to have him. Within just a few minutes, I could feel my legs again, and a few more gave me back my arms as well. As we reached the causeway, the smoothness of the road reached perfection, and we made good time out to the island. After a brief loop on the island, we headed back along the causeway. The rain began to let up, and we even paused for a picture.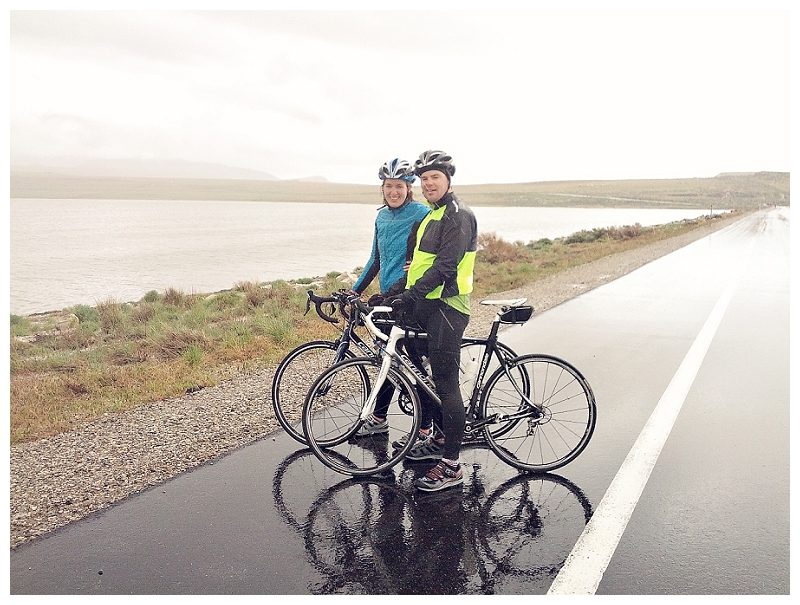 As we continued our way back to the shore, something horrible happened. I got really slow and tired. A mere 55 miles or so into our ride, and I was bonking. I wasn't supposed to.
I've ridden 4 centuries prior to this one (and that one metric in the snow), and both Jess and I had done decent amounts of training. Our longest ride was up to 70 miles, and had included some climbing. This should have been sufficient training for the 100 miles we had set out to ride. It would have been sufficient, had it not been raining. The volume of water we experienced caused three problems.
First, it made drafting difficult. During long rides, cyclists take turns 'pulling' the group, whilst the others hunker down in the draft of the lead cyclist. Add significant surface water to this practice, and each rider gets a facefull of road water and grit, spun directly into the mouth and eyes by the cyclist just ahead. In addition to constantly sputtering the sand out of our mouths, we had to make a real effort to drink enough water to keep us hydrated.
Second, my full finger gloves made eating difficult. I almost always have an open snack in a bar-top bag on my bike, and I snack as I ride to keep my body happy. Given the water, fruit snacks were the best option I had. I did manage to eat them, but each time it required a significant amount of futzing to grasp the slimy, wet snacks with my soggy, cold fingers.
Third, the volume of water introduced new areas of chaffing not planned for. All the usual *ahem* areas were covered, but several unexpected areas became very painful as I rode. We had brought some glide, but by the time I noticed the problem, the damage was done.

As we again reached the 40 mile rest stop (also the 60ish rest stop), we stopped again to re-evaluate our condition. During the time we had been riding the causeway, a significant number of cold cyclists had reached the stop, most in ill condition and spirits. The blessed folks at the Syracuse Fire Department welcomed all of us into the engine bay of the fire department and cranked up the heat. At that point, nearly everyone was working out a warm, dry way to get back to Salt Lake City, and very few were headed back out on the bike.
The timing of it all was very unfortunate, as the storm had just passed us, and beautiful blue skies greeted us outside. Had we not just exhausted ourselves riding through the rain, it would have been a beautiful afternoon for a ride. As it was, we rode our bikes a few miles to the train station, and joined the others taking a similar trip south.
I really do hate to quit. It leaves an uneasy feeling and plenty of second guessing. Failure makes plain our limitations, and that can be an uncomfortable experience. Even with the pain involved, I would rather choose failing awesome over weak success.
On the the train back, we consoled ourselves with our accomplishment of a metric century in bad conditions. We also used the few hours of reclaimed time to see Star Trek: Into Darkness.
Which was excellent, by the way.
Related posts: