We are used to a weekly Thursday night date. It doesn't matter what we end up doing, we could run errands, see a movie, go out to dinner, play a game of laser tag, anything. We just always went out on Thursday nights and tried not to let anything get in the way. I looked forward to it every week, because we got to reconnect and just talk without being interrupted by little ones. Since we left Utah, however, date nights have been far and in between. Babysitters are more expensive, we are busy, its an unfamiliar place, yadda, yadda. Truth is, I think we just got lazy.
We decided one week that it was definitely time for a date. A BIG one. Thankfully, we had met some friends in Virginia that live on our street and we LOVE to swap watching each other's kids. Our children play great together, we both homeschool (so all the kids are home during the day), and we think a lot alike. Anyway, it was her turn to babysit, so we decided to cash in all our favors and take an afternoon to ride most of the Mt. Vernon Trail. It is one of the more popular paved pathways in the Washington DC area and for good reason. It was beautiful!
We started about 2 miles south of Mt. Vernon (who knows why – don't do it. Just park at Mt. Vernon and ride from there), rode up to Gravelly Point, watched a few airplanes land, and rode back. We stopped in Old Town Alexandria for an AMAZING Thai lunch which then threw us behind schedule so we didn't have time to go all the way to the Arlington National Cemetery. Oh well. The food was worth it. We clocked 35 miles, which is pretty good for not having really ridden my bike since our century last spring.
We definitely recommend this trail. There are lots of ways to ride it – or ride pieces of it. The Mt. Vernon website even suggests renting bikes in Alexandria, riding to Mt. Vernon and then taking a boat back. Sounds like fun!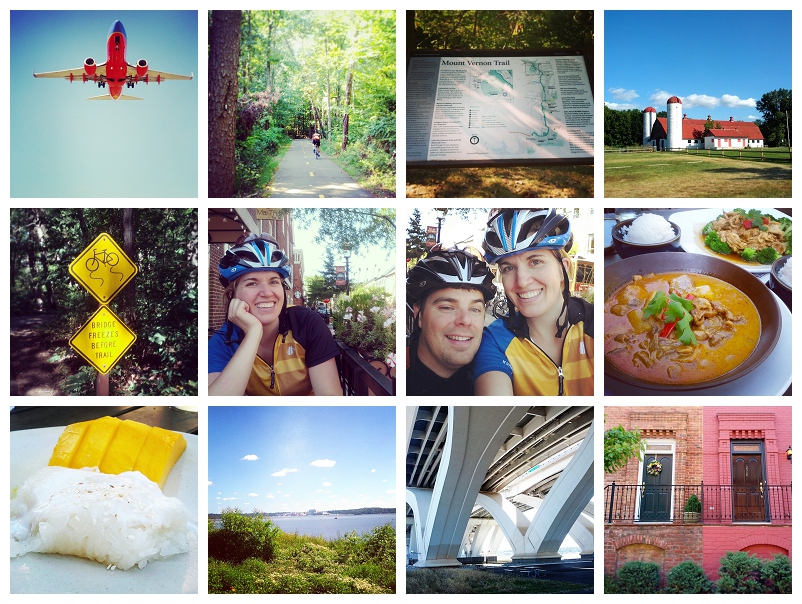 Related posts: