The Event
I normally am obsessed with Halloween. Seriously. I love everything about it. Not the creepy part, but the fun, costume parade, trick-or-treat, decorate, dress up part as evidenced by the last 3 years of Halloween documented on my blog here, here, and here (Wow, check out how LITTLE my kids were in 2010).
This year has been totally different. I told the kids they could be whatever we could find costumes for in the attic (in a house that isn't ours) or that we could easily make or borrow. I have 2 Halloween decorations on my front porch, and really, I just haven't been excited. I think its the stress. Of being far away from home, our normal traditions, our family and friends. We are homeschooling and it hit me Monday that meant  any "class" Halloween party would be all me. Add to that Sam leaving tomorrow for a business conference for 4 days, and then the fact that we are leaving Virginia for good in less than 2 weeks. I'm just….overwhelmed. Unfortunately, Halloween was the first to feel my lack of motivation to do anything extraordinary.
Sounds depressing, right? But then somehow we managed to get out the door in the afternoon and follow through on our plans. It made all the difference. Way back in September we attended a few children's events at National Harbor in Maryland. They were great little activities and the coordinator tipped me off about a Halloween event they were planning called "Chillin' with my Peeps" co-sponsored by the National Harbor Carousel and the Peeps Store. It was awesome. We paid $3 per kid for unlimited carousel rides, received the ultimate collection of treats at the Peeps store and got to walk around in the perfectly temperate, October, East Coast evening trick-or-treating the other businesses located at National Harbor. Total win. As we were treating, we even decided that one of the restaurants smelled SO good that we absolutely had to go back for dinner. So we did.
I'll be honest, we almost didn't go. Its always getting out the door that is difficult, but once you do things tend to be magical and tonight was no exception. Our kids officially proclaimed this as the "best Halloween ever".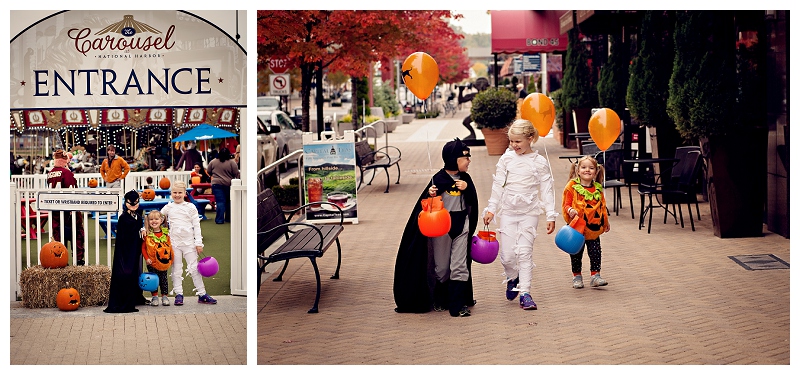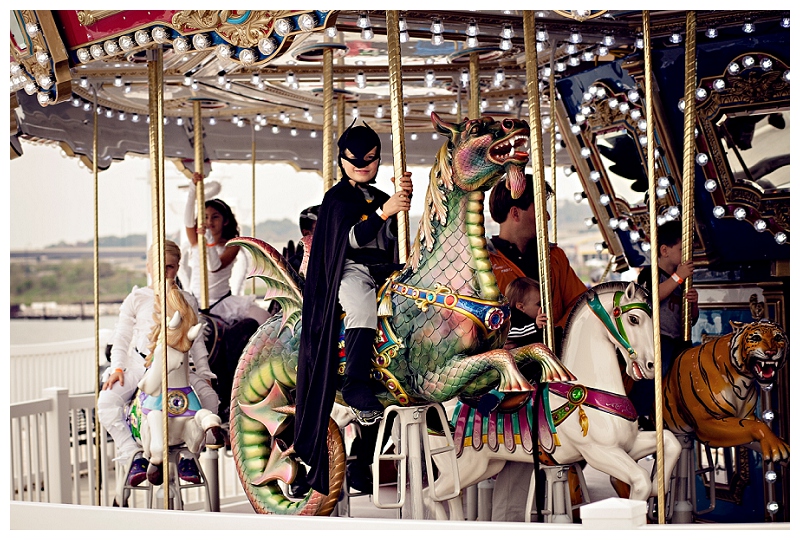 The Costumes
Andrew got to choose between The Hulk and Batman. I secretly am glad Batman won especially after Andrew's  previous year of being Spiderman. There's just something classical about being a super hero. He got pretty excited about swinging his cape around for me too. Totally my inner photographer's dream.
(Can I just say that when, and if, we finally settle down I want property with TREES? Lots of them. Lots of un-landscaped trees and bushes. This is seriously our side yard here in Virginia – probably 5 feet from the driveway. I love it. The light is beautiful, the trees are turning and I had to just walk outside to get the perfect backdrop. I'm hooked.)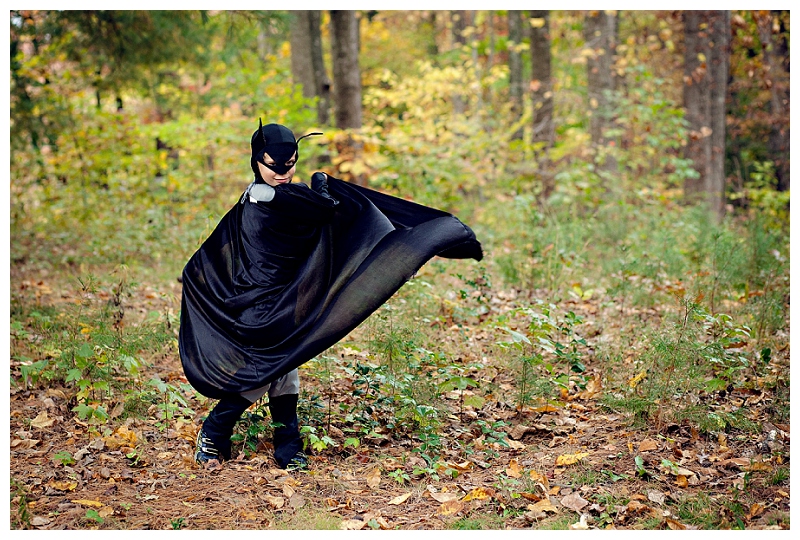 After an activity with other girls from our church where they raced to wrap each other in toilet paper, Rachel decided she wanted to be a mummy. I didn't argue, figuring it would be easy enough. She's such a good sport. I started wrapping her up and I saw her eyes go wide as she quickly rethought her decision. Too late, kid. Too late. Of course, Mummies all wear purple tennis shoes. Didn't you know that? 🙂
If you ever decide to do this – buy more than 3 yards of fabric. We went through it pretty quick and I felt we could have used at least double that! Super easy though – white long sleeved shirt, white leggings underneath and wrap away with torn fabric strips! We used safety pins tonight (as opposed to the church party last night where she came unraveled pretty quickly) and Rachel even told me they made her costume look MORE authentic. Only she didn't use the word "authentic". I'm not THAT good of a homeschooling mom.


I'm pretty sure Cara could be anything she wanted and she would still looking freaking adorable. I love this girl. Pumpkin costume was WAY to small (not my attic, remember?) but I found some glow-in-the-dark pumpkin pajamas at Target that we put underneath and it turned out fabulous! She was in heaven.


And that's that. Total win on surviving a major holiday away from family and friends. Any guesses on where we will be next year?
Related posts: