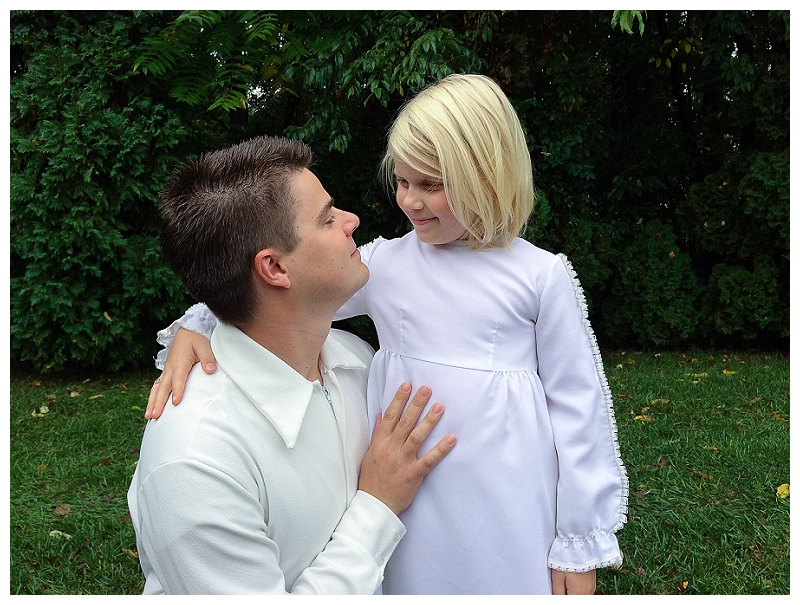 Every once in a while, some life event sneaks up on me and suddenly brings me to terms with my age. In September, my oldest daughter Rachel turned 8. I was suddenly reminded that yes, I was old enough and had been married long enough to have an 8 year old child.
Turning 8 is a special milestone in a Mormon's life, as at the age of 8 you become eligible to be baptized.
Why 8? We believe that young children are unable to commit sin until they have matured enough to be personally responsible for the exercise of their agency. Being baptized is their choice, based on what we've taught them  and what they've learned from Christ's life. Is 8 old enough to FULLY understand their choice? Perhaps not. Looking back to my own Baptism (also at 8) I'm satisfied that I knew enough to make the choice. I have certainly grown in my understanding of the Gospel of Christ since then, but I believe that 8 was old enough to make the decision to follow Christ.
In preparation for Rachel's Baptism, she and I read The Book of Mormon cover to cover. Her reading ability was good enough to navigate scriptural text, and increased dramatically over the months we read together. We started a good 8 months before her birthday, but didn't really get serious about it till just a few months before our goal. For the 2 months at the end, we were reading 6 pages each evening together. We made it with a few days to spare.
I read The Book of Mormon before I turned 8, and I was happy to share a similar experience with my own daughter. Though her understanding of the scriptures is basic, my own experience hints that the practice of scripture study will benefit from starting at such an early age.
They day of her Baptism was very special for me. Despite a little hectic here-and-there to get ready, it was a very peaceful day. In the LDS faith, every adult male is able to hold the Priesthood and participate in ordinances. Because of that, I was able to be the one to baptize Rachel. As I stepped into the water with Rachel, I was struck by the significance of the moment, and I wondered if I was going to be able to speak clearly enough to perform the ordinance.
I paused for a moment, found my voice, and performed the ordinance. I  gave my big (little!) Rachel a hug, and we climbed out of the water to get changed.
It was a great day, and I'm grateful for family that traveled so far to be with us. I'm grateful for our friends in Virginia that shared the experience with us. I'm grateful for the Gospel of Christ, eternal families, and the blessings of the Priesthood.
And most particularly, I'm grateful for My Rachel.
Related posts: