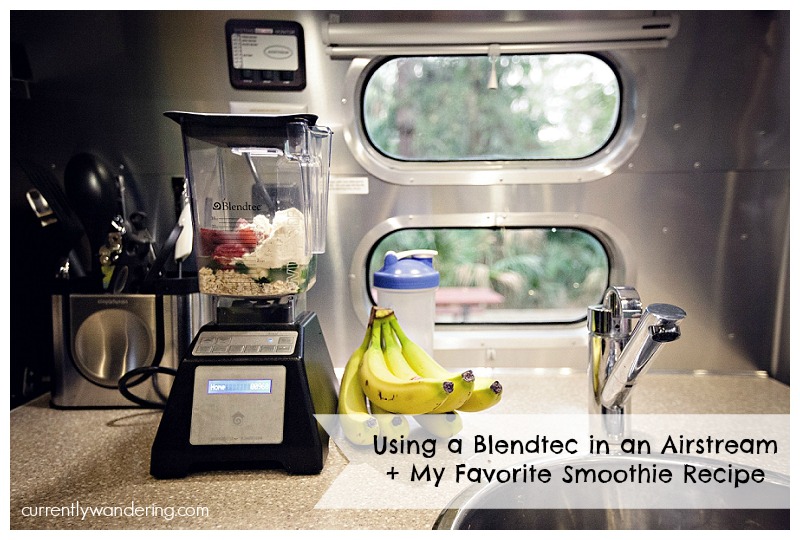 I have a smoothie obsession. I love them. Green smoothies usually, but most of the time they end up puke brown and I still guzzle them. So do my kids. When the time came to pack the van for the trip out to Virginia (pre-Airstream) the Blendtec didn't make the cut. There just wasn't room for it, and I was okay with that. Our house swapping partner said she had a good blender and it was only for 6 months. I'd live. Right? Wrong.
I missed my Blendtec. There's just something about the raw power that it harnesses to create such an amazing smooth blend of frozen fruit and veggies. All the other blenders I've tried don't come close. After we bought the Airstream I knew I needed something to make my smoothies. I couldn't very well take the blender from the house we were staying in, so we bought a Magic Bullet to try it out. Smaller, uses less wattage than the Blendtec, and there was a chance an inverter could run it when we weren't plugged into shore power in the Airstream. The consensus? Weak sauce. The only pro was that the smaller blending cups were nice – I felt like I could make a single serving quite easily. After making 5 single servings, however, I was afraid I'd burnt out the motor. Smoothie just for me? It did okay. Smoothies for the whole family? Not a chance.
I became desperate. My parents were flying to Virginia from Utah to come visit for a week and I begged, pleaded, and bribed them to take a trip to my house, collect the blender (and a few other things we needed) and  fly it all out to us. They love me so much they did. Nestled in a suitcase among a soft bed of socks, the Blendtec made the cross country trip.
And now it sits in the cupboard above my sink ready for use. I make a smoothie for breakfast or a snack at least 4 times a week. I realize there a lot of other things the Blendtec is good for, but I have simple needs. Occasionally I'll use my frozen strawberries to make syrup for breakfast and the kids (okay, me too) love it.
The Blendtec won't run off the battery (so we have to be camped or parked somewhere we can plug the Airstream in for electrical power), but we don't have a generator or solar panels yet so chances are we'll need power anyway. Good excuse, right? We need to power to run the laptop. There are definitely other blenders you can try. One of our other Airstream friends loves her low wattage Cuisinart. I just can't do it though, so until we outfit the Airstream to live without hookups, I'll just enjoy my smoothies.
My Favorite Recipe
1 cup of water
1/2 cup of oats
1 cup of spinach (usually frozen)
1 scoop of Vanilla Protein Powder
1 – 1.5 bananas (frozen or fresh)
6-9 frozen strawberries
A peeled clementine or 2 if I have them
Add in order and press the Smoothie button. Enjoy!
*Disclaimer: I am not affiliated in anyway with Blendtec. I wasn't paid to write this post, but they did mention to me on Instagram they'd love to see a photo of the Blendtec through the Airstream window. Their request inspired me. I wouldn't turn down a complimentary Twister Jar though. What do you think Blendtec? 🙂
Related posts: