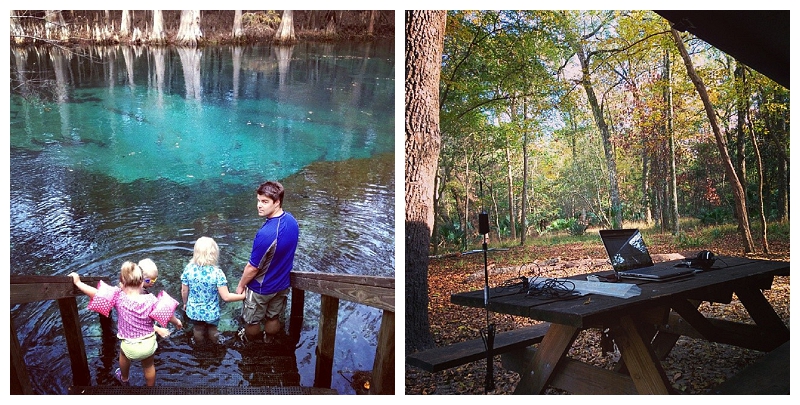 Having slightly more trailer towing experience, I have been doing all the driving whilst towing the Airstream. Jess has been determined since we set off from Virginia to become familiar with all the ins and outs of daily operation. She knows how to safely connect power and water, and could probably dump the tanks by herself if she tried.
Her first towing experience barely counted: She started at a highway rest area and stopped at a highway rest area. Her major obstacle was a construction zone, where she deftly dodged orange cones.
Her first REAL towing experience was a few weeks later, driving North from Tampa to Manatee Springs State Park, our destination for the night. She took over when I needed to join a phone conference. She piloted us beautifully along the highway to the town just outside the state park for a small grocery stop. I was finished with my call by that time, but she wanted to take us all the way in.
Checking into the entrance station, we were assigned spot 84 and given a map to the site. We pulled up to the site, and I jumped out to spot Jess as she backed the 28 foot Airstream into our campsite.
I quickly gained a new level of respect for Jess' skill at spotting me as I back up. I barely managed to keep an eye on all the trees, the water and power posts, fire ring, the Airstream and truck, all while staying in view of the truck's mirrors.
She did fine, and even received an encouraging comment from a patiently waiting elderly camper. We added a few boards to level the trailer, then unhitched, hooked up utilities, and even pulled out the awnings. Success!
We were quite pleased with ourselves and the beauty of the park and campsite. About a half hour later, we realized that we had carefully parked ourselves in campsite 80, not 84 as assigned.
We checked the next morning to see if we could stay in spot 80 instead, but to our dismay told that reservations had been made for site 80, and we'd need to move. She let me re-park it.
Despite our parking mishap, we rather enjoyed our stay, including some play time on the park's play set, swimming in the freshwater spring, and riding bikes around the campground. I managed to pull in just enough Verizon signal to get my work done. If we hadn't been in such a hurry to get to our next location, we could have enjoyed a much longer stay.
Related posts: