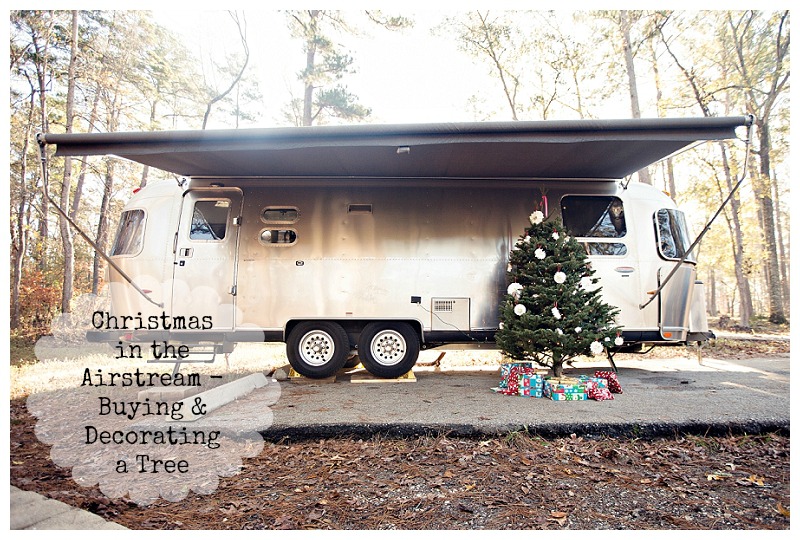 This post is Part 2 of a series on our first Christmas experience living full-time on the road in an Airstream. Read Part 1 here.
When Sam and I first started discussing our Christmas plans, we knew we wanted to spend the actual day somewhere special. As much as we love staying with friends & family (and free parking), we promised the kids a Christmas tree and some wide open spaces. We hunted around to find a State Park that was still close to my extended family in Houston but that could provide  the environment we were looking for (and full hook-ups wouldn't hurt either). What we found was Huntsville State Park. At just under an hour from the relatives, full hook-ups, a beautiful lake, trees, and a trail system, it was perfect.
Monday morning, December 23rd we packed up, said good-bye (for now) and drove the hour up to Huntsville State Park where we picked out the prettiest camping spot I've ever seen. Over looking a lake, plenty of space, not very many people, you get the idea. After parking, stabilizing, and un-hitching we jumped back in the truck and headed back into nearby Conroe to find our Christmas Tree.
The perks of picking out your Christmas tree two days before Christmas are actually quite good. We could tell those poor boys were just tired of selling trees. They were done. Unfortunately, all the trees they had left were either 10′ or 2′. We really wanted a medium sized tree, and when I expressed my concern they simply said, "Well, pick one that you like the top of and we'll cut it down".
"How much?" I asked.
"Probably around $40," he said.
"Hmmm.. I was really only wanting to spend $20," I mused.
"$20 is fine," he countered.
"Is there anyway you have an extra tree stand you could throw in for good measure?" Sam joins the conversation.
"Sure. I think we have one around here somewhere. I'll go get it."
Sold.
After cutting approximately to length and trimming the branches from the very bottom, our helpful three lot guy stands it up for our inspection. After giving it a quick once-over, I looked him straight in the eye and in a very inquisitive tone asked, "Is there any way you can cut it a little taller?"
The look on his face was priceless. "Are you serious?!" he asked.
I busted up laughing and assure him, that no, I wasn't serious and that the tree will be perfect. They helped us load it onto our truck and we set off for grocery shopping and dinner at Culver's before heading back into the State Park.

By the time we got back, it was dark, cold, and we were in no mood to actually decorate the tree. Plus, we still had to make our ornaments anyway. We piled into the Airstream and pulled out the supplies. Paper (cut and given to us by our awesome friends back in Tampa), glue guns (borrowed from my Aunt) and scissors. The kids helped fold, glue, cut, and decorate our new ornaments while we watched Arthur Christmas on the 10″ tablet. For the record, it is one of my all-time favorite Christmas movies.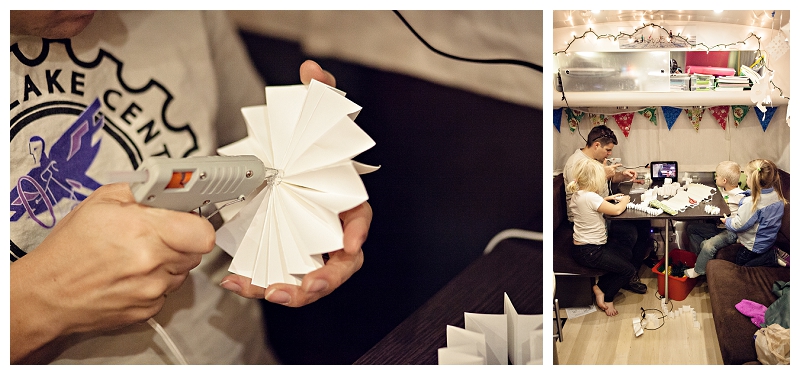 Christmas Eve dawned clear and beautiful and before breakfast the kids were begging to go outside and decorate the tree. I made them wait until it had warmed up a few degrees and then we all piled on our coats, grabbed the camera, the lights, and the ornaments, and ventured outside to decorate our tree. We mixed twinkle lights (borrowed from my Aunt & Uncle) with our Airstream lights and it turned out beautiful! For good measure, we grabbed all the presents and put them around the tree just to complete the effect.

We love how it lights up our little campsite at night. We've gotten quite a few compliments from other campers as they've seen it during their evening walks as well. It just wouldn't be Christmas without the tree.
In the afternoon we headed back to Houston for Christmas Eve with family. More on that next time.
Related posts: