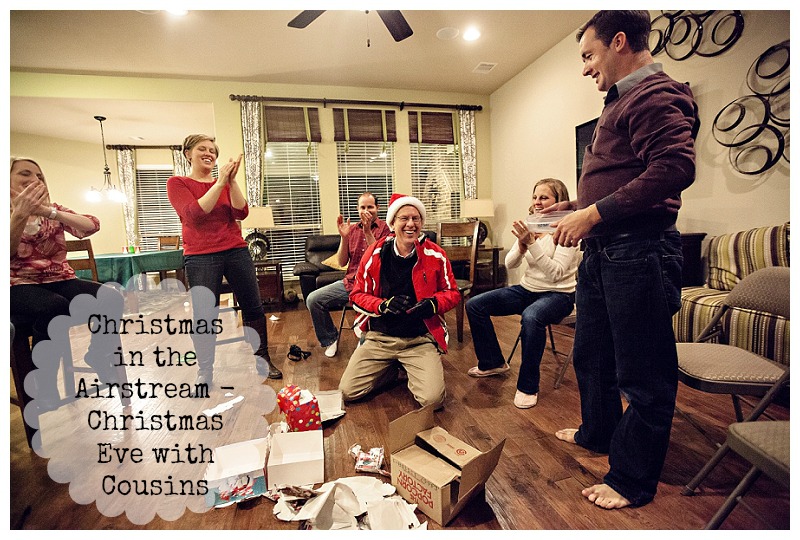 This post is Part 3 of a series on our first Christmas experience living full-time on the road in an Airstream. Here's also Part 1 & Part 2.
Christmas afternoon we piled in the truck and headed to Spring, TX where all the cousins were gathering for Christmas Eve celebrations. For them, Christmas Eve is the big party. Everyone does their own thing Christmas morning (or goes to see the in-laws) but they all save Christmas Eve to spend with the Shurtliffs.
It was really fun to be invited into another family's traditions. We loved it! Quite often during the night, my uncle would turn to me and say, "Is this an extended Shurtliff thing (meaning – did this tradition come from Great-Grandma) or just us?" They had put together a mix of adult activities (and sent the kids up to the media room for a movie) and kid-centered activities. It was the perfect mix.
Our activities included playing Christmas tunes on the Chimes, White Elephant Gifts for both the kids and adults (with remote siblings involved via a Google Hangout from AZ & UT), games, and playing outside on the trampoline & play set.
A great piece of the evening was our Nativity. We dressed the kids up (slightly) for their parts, and they acted out the Nativity as my Uncle David read from the Bible. Rachel was very excited to be the Angel that visits the shepherds, until she realized that the angel spoke, and she didn't know the words. Andrew was the star above, and little Cara was a cute and slightly confused sheep.
The whole night was like being wrapped in the softest, warmest quilt imaginable. I'm so grateful they not only invited us, but made us feel like part of the family. My Aunt Jean puts the night together and she does a fantastic job. I warned them that we just might be coming back next year too.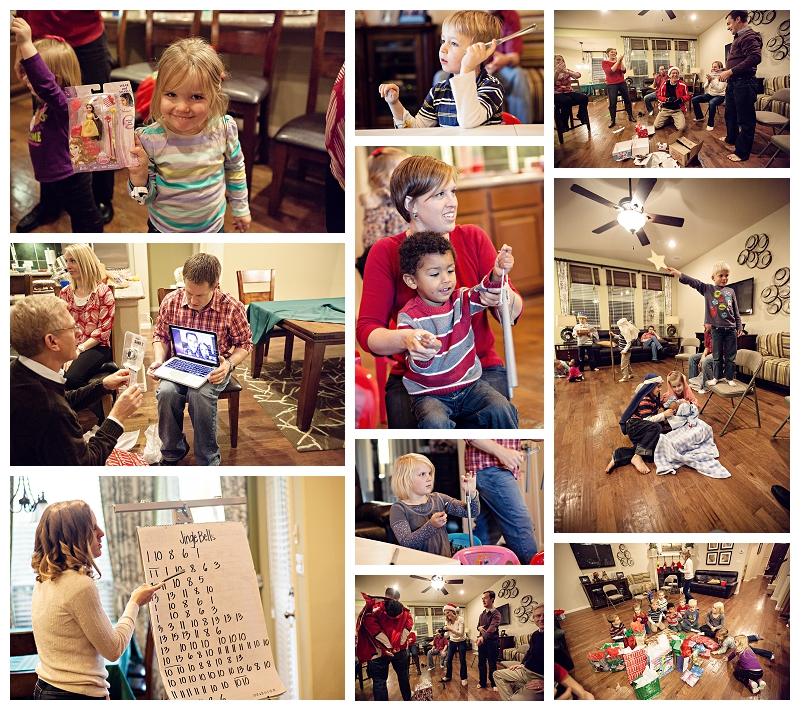 We left about 9pm to drive the hour back to our camping spot. The kids were exhausted and Cara immediately fell asleep in the truck. After arriving to our campsite to see our cute tree lit up in the darkness, we quickly got about getting the kids to bed pausing normal routines just long enough to lay out cookies for Santa. Within minutes, the kids happily fell asleep.
We converted our dining table to a couch to give us more room in the morning and set out our Christmas stockings. Just a bit of organizing, and we went right to bed as well. We were well rested for a wonderful Christmas Morning. (Stay tuned!)
Related posts: