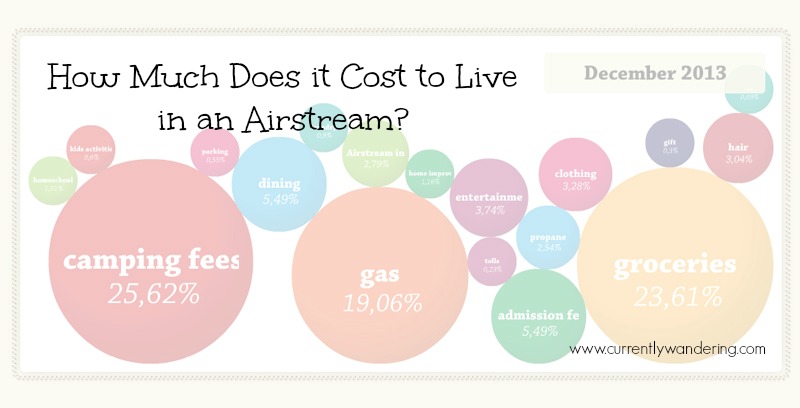 Sam & I talk often about the costs of living on the road full time. How much money is it going to take? Can we really make this work? Honestly, we are not sure yet. We have a few numbers in mind from our own experience as well as others', but because we are so new at this we don't have much data yet.
As an experiment, we thought we'd do a monthly summary of our main expenses over the last 30 days or so. We felt like this would give our readers a general overview of what it takes financially, as well as give us a running comparison of numbers. So, here we go:
December 1st: Tampa, FL
December 31st: South Houston, TX
Total miles driven: 2,247
Total miles towing the Airstream: 1,228
Average Towing Miles per Week: 277

Camping Fees (State parks, RV campgrounds): $842.45 ($31.20/night average)
# of Nights Courtesy Parked with a friend/free parking: 4
Gas: $626.88
Propane: $83.62
Groceries: $776.32
Laundry: $29.75
Dining Out: $180.58 (ouch! I didn't think we ate out THAT much. It must've been the beignets in New Orleans!)
Obviously there are more expenses (clothing, entertainment, decorative upgrades, etc.) but these are the main ones. The thing is, what it costs to live on the road is highly subjective. Just as living in a house can be. How nice of an RV Park or Campground do you want (camping fees)? How far are you traveling every week (gas)? How many people in your family (groceries)? How cold is it outside (propane costs)? What do you like to do for fun (entertainment)? These costs completely vary from family to family just as they would in a brick house.
There are definitely plans in the works to cut down on both camping fees and gas (just bought new batteries for the Airstream, we'd love some solar panels, traveling SLOWER). Getting to milder climates will also save on propane, and dang. We could definitely eat out less. That number still surprises me. Was it the seafood? The ice cream?
If you'd like another opinion on costs of traveling full-time, our instagram friend Kyle has a great article that breaks down various costs on his blog Where Is Kyle Now? Go check it out and let us know what you think!
Related posts: