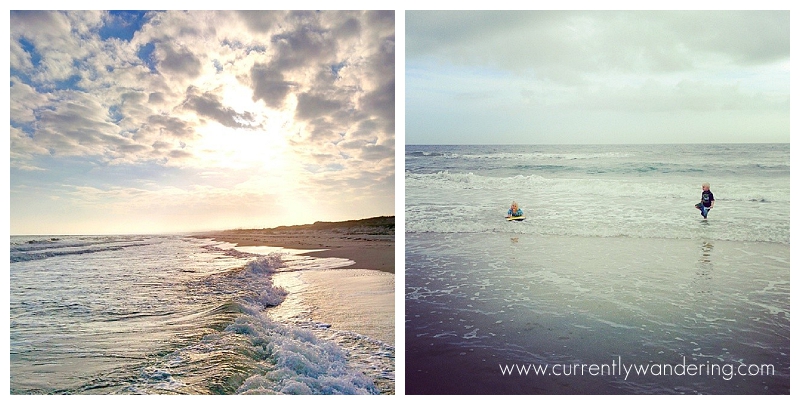 This is a post by our 8 year old daughter Rachel. She asked if she could contribute and as we are working on writing skills as part of her road school curriculum, I happily consented. Please leave her some encouragement so she'll want to keep writing!
I know how to boogie board!
It is hard to catch a wave.
It feels awesome when you catch one!
Andrew is learning how and Cara never tried.
I'm the champion of the family!
Sometimes I get dunked.                                                                                                                                                                                                         You go super fast when you catch a wave too.                                                                                                                                                               When I get tired I go make sand castles on the beach.
Tips for people who are learning (or who want to learn):
1. You can't be too late or early, the wave has to be white or bubbly.
2. You have to have your hands high on the board.
3. Jump onto the board when the wave hits you.
4. You can kick your feet to gain some speed.
Footnotes by Jess: Rachel learned how to boogie board at Dr. Julian G. Bryce Saint George Island State Park. This state park is located out on an island off of Eastpoint, Florida. Its out there. You cross a bridge, go through a small town, pass through the ranger station, and then KEEP GOING. If you are looking for remote out of the way, beach goodness, this is your place. There looked to be plenty of vacation/seaside houses to rent, or hotels, but the campground is gorgeous. You can even kayak in to one of their primitive campsites (totally has hit my bucket list).
The campground has water & electric hookups, with a great shower house. There's also playground for the kids and a nature trail that was good for running/exercise for me. The beaches were great, but not the long stretches of beautiful white-sand beaches you'll find along the Emerald Coast to the west.
What to do while you are there:
Rent a bike in town. We saw lots of bike & kayak rental shops. There's a paved pathway leading through town that Sam rode a portion of on his road bike. Most of these places were closed while we were (too off season?).
Play in the ocean. Obviously. There are a few different parking lots with boardwalks. We walked to the one closest to the campground and deemed it good enough. This is pretty much all we did for 3 days. Our oldest two learned how to boogie board, Cara played in the sand. I read my book. It was fabulous.
Related posts: