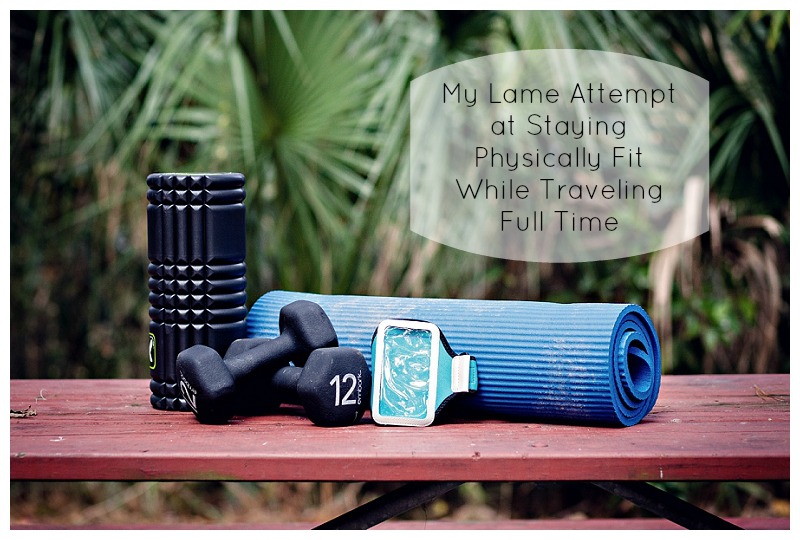 I LOVE the gym. The smell, the machines, the weights, the Zumba & Spin classes. I love dropping my kids off at daycare and then picking them back up an hour and a half later. It is my ME time. The time I get all to myself while also doing something that my body craves.
Unfortunately, having a gym pass while traveling full time is unrealistic. Even if there were a nation-wide membership, the chances of me consistently getting out the door with all the kids to a gym I've never been to is probably even more unrealistic. I HAVE done it once though. December of 2012 in Denver. I visited a local 24hr Fitness and got free admission and just paid for daycare. I only went once in the whole week we were there though. See what I mean? Consistency.
Originally, Sam and I had these awesome expectations that we'd trade off riding our road bikes. Long drive? No problem. One of us could jump on our bike for 30 miles and the other would drive the Airstream and wait at the other end (then we'd be smelly and we really just don't drive THAT far and usually need to get there so Sam can work). Or that we'd go on rides around State Parks (not really long enough roads), or in random cities (harder to find good routes than it sounds). It has been complicated enough to manage that we rarely pull the bikes off the back of the truck.
After I realized that bike rides were not going to be common, I decided I should take up running. Since I can't even really run a mile, it'd be easier to find a route, plus most state parks have great trails. Turns out, I really just hate running. I've tried. Really I have. I don't enjoy it, so getting myself out especially in cold weather is just not happening.
So I plod along. We go on walks with the kids or around on the trails. I probably wouldn't go so far as to deem them "hikes" or even a "workout" but at least we are MOVING. I'll get out running maaaaybe once a week, lift a few weights and deem myself awesome for even trying. Its not enough though. Although I've only gained a few (okay, maybe five) pounds in the last couple of months, I can tell I'm out of shape. I feel unhealthy and I don't like it. I've started to feel my body craving a good workout. The kind where you think you're going to die while you are doing it and you are sore for a week afterwards.
I don't have a great answer. I'm still looking. I know my current path is unsustainable, and its definitely something I want to fix, and maybe there's not one perfect answer. I just don't want the fear of being overweight or out of shape to stop us from traveling.
I have a new workout system that hopefully I'll be starting in the next week and I'll keep you posted how it works out. Hopefully it'll get me out of my funk and get me a little more toned in the process.
What's YOUR favorite way to stay healthy and active? Is it portable?
Related posts: