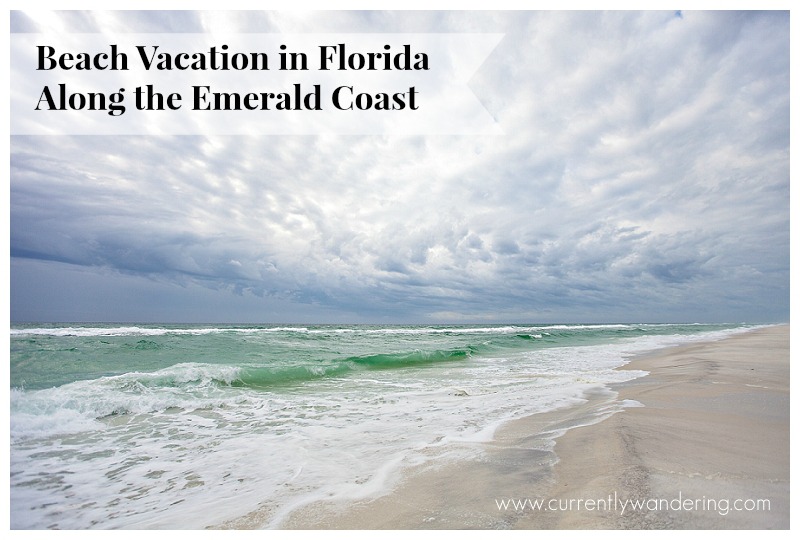 When we started seeing signs for the "Emerald Coast" and I honestly had no idea what that meant. I hadn't ever heard of the Emerald Coast before, but there were signs everywhere: "Emerald Coast Dentistry" and "Emerald Coast Coffee Shop". When we pulled into our first campground along the West Coast or Panhandle of Florida I started to get an idea of what the fuss was about. It. Is. Gorgeous. Pristine white beaches, beautiful campgrounds, and the most relaxing time I've ever had. We spent about a week beach hopping along the coast and could have easily doubled or tripled our time. Here's a quick rundown of towns, state parks and other places to go during your visit.
When we visited: November 2013

Ages of Children: 8, 6, 3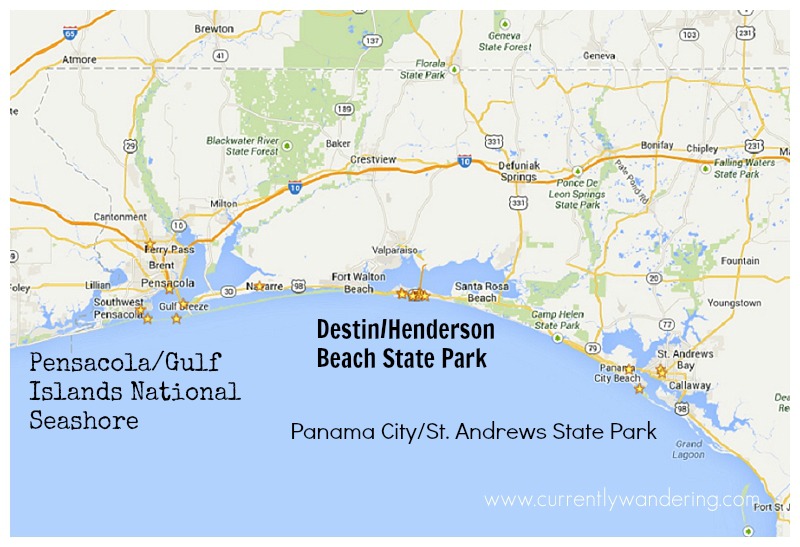 1. Panama City & St. Andrews Beach State Park. Located at the end of a small peninsula, St. Andrews Beach State Park is a slice of heaven. Having just come from 3 days on the beach at St. George Island, I wasn't really in a beach kind of mood but I *wish* we had gone swimming. The beach is absolutely gorgeous! So gorgeous in fact, that Cara jumped in without her swimming suit and got soaking wet. Our campsite was directly across from the playground, and there were also hills the kids could scramble up to go exploring. Showers were a bit drafty, but we survived. We also visited the Science & Discovery Center of NW Florida (using the ASTC pass) which was about a 30 minute drive away. We ran into an elderly couple who was renting a beach house in the off season for about $900/month. Ridiculously cheap given the location.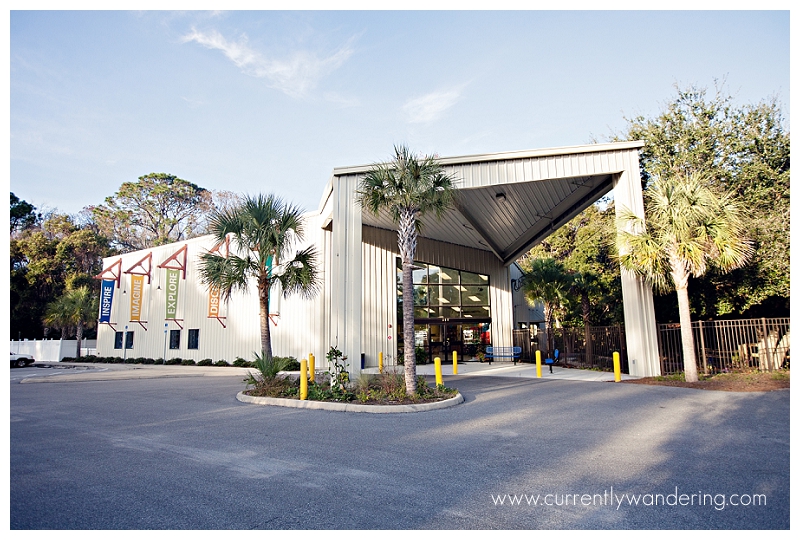 2. Destin & Henderson Beach State Park. I don't know how they managed it, but this state park is across the street from Wal-Mart. Literally. At the same time, the park is secluded, quiet, and absolutely beautiful. The individual campsites are also very large, and the bathrooms, well, don't get me started on how amazing the showers were. The beach is a short-ish walk along a boardwalk and my kids dubbed the sand "liquefaction grade" and quite enjoyed playing in it. We ended up here on a chilly few days, so they kids spent about 20 minutes in the water before declaring themselves done, but our walks along the beach were extremely peaceful. I would go back and stay for a month. Easy.

3. Pensacola & Gulf Islands National Seashore. First off, the drive from Destin to Pensacola along 399 was the most gorgeous beach scenery I have seen yet. There are places you can stop and beach along the way, but it was cold and windy so we mostly just stopped for photos. The Gulf Islands National Seashore is actually quite large and has two districts: one in Florida and one in Mississippi. We stayed at the Fort Pickens campground on the Florida side. Sites were not secluded, but the campground was peaceful and the showers were decent. We explored trails down to the beaches (no actual swimming), visited the historic Fort Pickens, earned a Junior Ranger Badge, drove the 40 minutes over to the Naval Aviation Museum, and ate lunch at the most awesome outdoor food court I've ever seen.



Had we not been on a schedule to reach Houston for Christmas, we would've extended our stay at all of these campgrounds. We definitely have plans to return, maybe this time in slightly warmer weather.
Related posts: