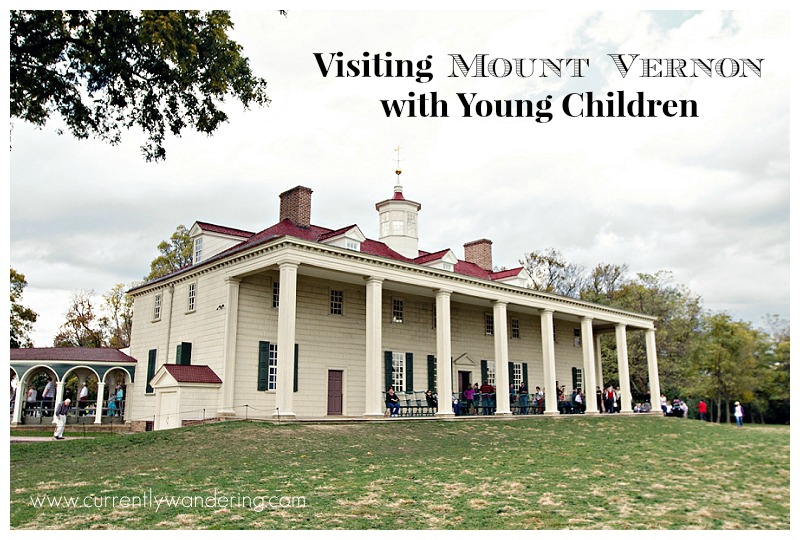 As Monticello gave me a greater understanding and appreciation for Thomas Jefferson, Mount Vernon did the same for George Washington. The grounds were beautiful, my kids were entertained, and we all learned something. Total win.
When we visited: November 2013

Ages of kids: 8, 6, 3

Tips: Parking is free and close enough you can stash a lunch if you want. I don't believe they allow picnicking on the grounds, but there are tables outside that were perfect. The Estate is privately owned and does require an admission fee.
We chose to visit Mount Vernon on one of their designated Homeschooling Days. From what I could tell (having not visited on a non-homeschooling day) this involved more activities for kids. More people in time-period dress, and quite a few activities down at the farm. We brushed wool, ground corn into flour, listened to a soldier play marching tunes on his fife, played pioneer games, and watched a woman spin wool into yarn.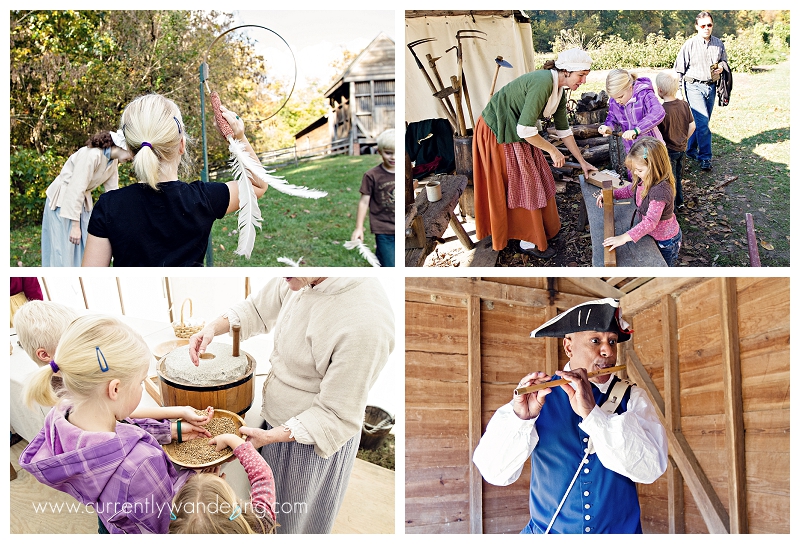 By far, the best activity is the Adventure Map. The kids have to explore the entire estate figuring out clues to solve a puzzle. Once finished they take the map to the gift shop for a prize. This took us to all of the outlying buildings (including the greenhouse, blacksmith shop, farm and tomb) but kept the kids entertained while we walked.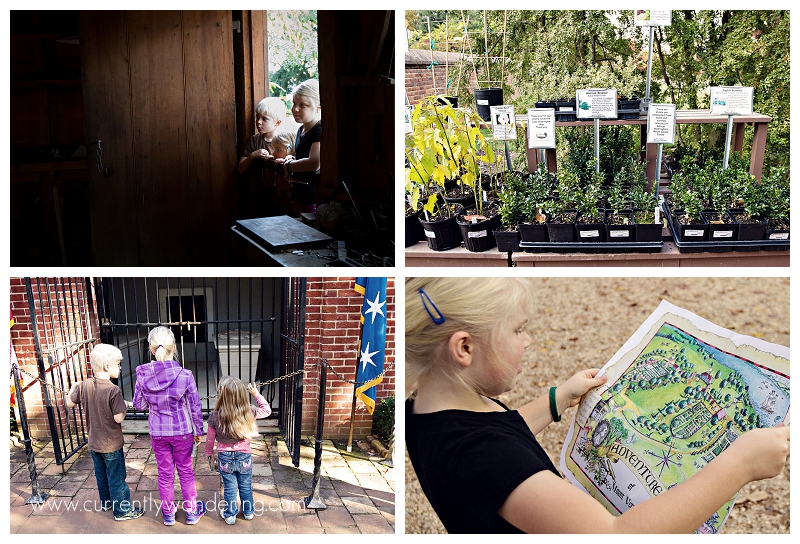 The actual tour of the mansion itself was a little disappointing. If you read my report of Monticello, you'll learn that I LOVED that tour. The guides were informative and interesting, the kids paid attention (mostly) and I felt like we could go back a second time and learn something new. The tour for Mt. Vernon was one long, gigantic, snake of a line that wound itself through the front door, up the stairs, around and back down. We got our tickets from the information desk which gave us a time we could enter the line (any time after is also fine). Once in the line, we plodded along and there were docents in each room who explained the significance. They seriously could have replaced them with computer screens and visitors could just press "play" instead. Every single one was memorized and I even got some dirty looks from one docent when I asked questions after she finished. Oops. My bad. Apparently they are not supposed to deviate from the script. It is a beautiful building and definitely worth the tour, just don't expect too much.

As with some of our other trips in the Washington DC area, we had previously watched National Treasure 2 in preparation for this visit. It was fun to hypothesize with the kids where Ben might have come up from the river to crash the President's birthday party. They even have a National Treasure tour that Rachel talked me into signing up for only to learn it was sold out. Cara probably wouldn't have lasted anyway. Asking around however, we did learn that no, there are no secret tunnels on the grounds. Darn.
The very last thing we did on our way out was the Donald W. Reynolds Education Center. Detailed and interactive exhibits lead you from George Washington's childhood through his terms and president and finally his funeral procession. There are 2 great films, one an immersion film about the Revolution War that included snow and cannon fire! The other is a 360 panorama about his life. Both worth seeing. There is also a children's room with puzzles, dress ups and other activities for smaller children.
We all definitely gained a greater understanding and respect for our nation's first president, his life and sacrifices for our country.
Related posts: