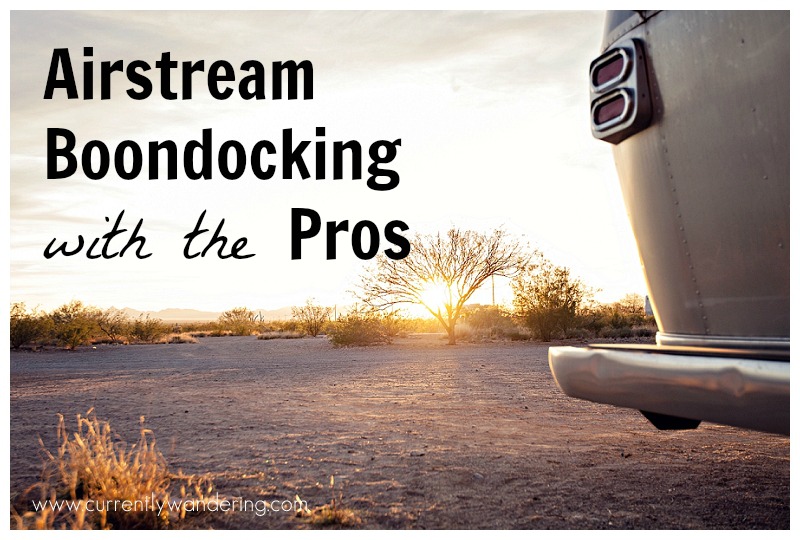 One of the reasons we chose an Airstream over a typical RV or 5th Wheel was because of the amazing Airstream community we found on Instagram. We noticed how they talked to each other, encouraged each other, and when they were in the same location they got together!
We watched a few Airstreamers converge on Arizona and the mild winter weather and knew we would be in a for a meet-up or two. We have been watching the Malimish Airstream crew for months now, and have been both inspired and encouraged by their adventures. They have been traveling for years, and have become boondocking experts. Also present, and equally experienced, was Leigh and Bryan from Aluminarium. After leaving our friend's house in Tuscon, we headed north 30 minutes to meet the two Airstreamers at the Snyder Hill BLM land.

Boondocking is the term used by travel folks to describe dry camping – camping with no water, electric, or sewer hookups. Although we have overnighted a time or two in a parking log, we have next to no boondocking experience. They assured us that they'd look out for us, and gave us the coordinates to the boondocking spot they had found just west of Tuscon.
We had a great time, and learned quite a bit about how to make it work. Our fresh water and grey water (sink water) tanks can last for a few days without too much grief, but the battery capacity of our Airstream only allows for one or two nights, depending how cold it is.  After our first night, we borrowed some solar panels from Dan (Malimish) and from Bryan (Alumanarium), and charged our batteries. It was afternoon before we got started, but we got enough charge to make it through the second night as well.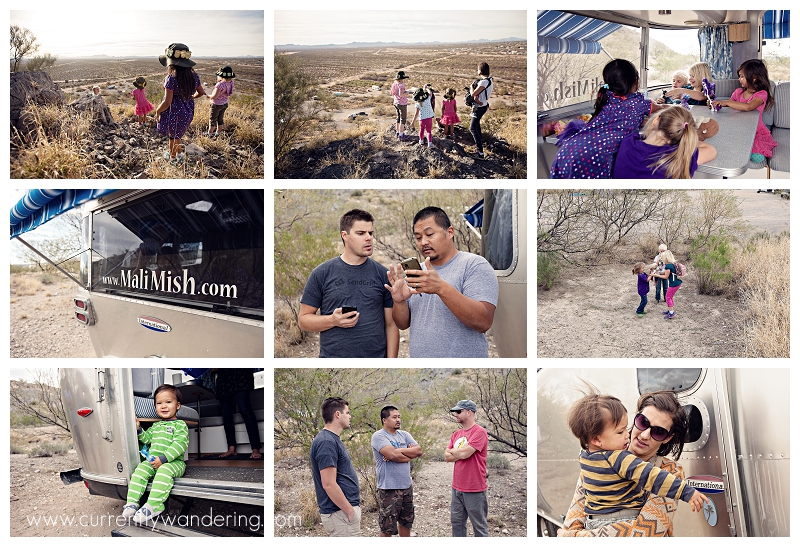 In addition to learning the first steps of extended boondocking, we really enjoyed socializing with fellow travelers. We talked technology, solar panels, projects in the works, and boondocking skills. Our kids loved playing with the wonderful Malimish kids, and we all really had a great time.  After waking up to no power and a cloudy day we said goodbye and headed north, a bit sad to be leaving so soon.
These guys are rockstars. Seriously. I think they have close to 7000 followers on Instagram and have been traveling on and off with their kids since 2007. They are one of the families that first convinced us that we could really do this. We've loved stalking watching them as they travel and it was great to finally meet them! They are super nice, generous, and totally welcoming of us newbies. Get to know them on Instagram or check out their travel maps on their blog.

Meet Brian, Leigh, and Curtis (the sweetest dog ever!) of Aluminarium.com. These guys are amazing. They started out in an older Airstream and then upgraded to a nice, new one and have been traveling ever since. Both work during the day so we saw and socialized with them at night. Leigh does a great job of posting fun stories and people they meet on the blog, and they'll occasionally post to Instagram. We are excited about their super secret awesome project which will hopefully debut this year! If you check out their blog posts they have a running campground total for the year. So far this year? They've paid $0. Pros? I think so.

We've heard at least 3 others coming in to join the larger group, as well as a few that just stop in to say hi. We feel like we left the party before it really got started, but Disneyland calls, so off we go!  We are definitely looking forward to future meetups with these wonderful folks.
Related posts: