The Casa Grande Ruins (Great House) has been standing for more than 650 years as a monument to the Sonoran Desert People and their way of life. Not a lot is known about the purpose of the house, but the mystery is part of the appeal.
When We Visited: February 1, 2014
Ages of Kids: 8, 6, 3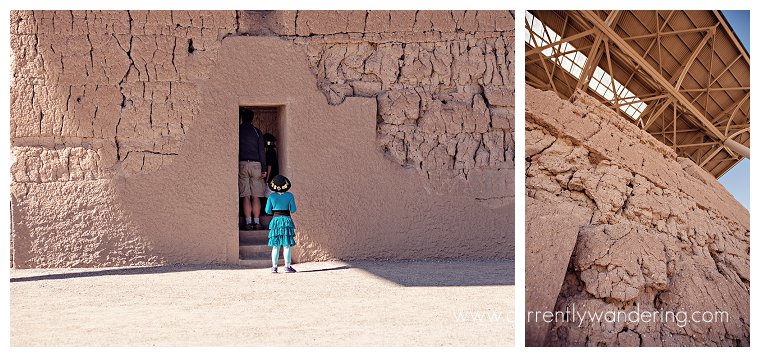 Plenty of trailer parking so we planned this one as through day trip as we traveled from Tuscon, Arizona up to the Phoenix area. We pulled up, parked, had lunch, and then set about exploring and earning our Jr. Ranger Badges.

We watched the short video at the Visitor Center and then explored the ruins on our own. Historians hypothesize that the Great House was the center of a much larger farming complex. The ancient Sonoran Desert people had no written language so the interpretation of events comes largely from journal entries and writings of those who visited the area.
The kid's favorite part was finding the "secret room" and sitting down with dad to work on their booklets.

Although a short day trip (2 hours tops) the Casa Grande Ruins are definitely worth stopping to see. We enjoyed learning more about the ancient culture, as well as the kids adding another Jr. Ranger Badge to their hats!
Related posts: