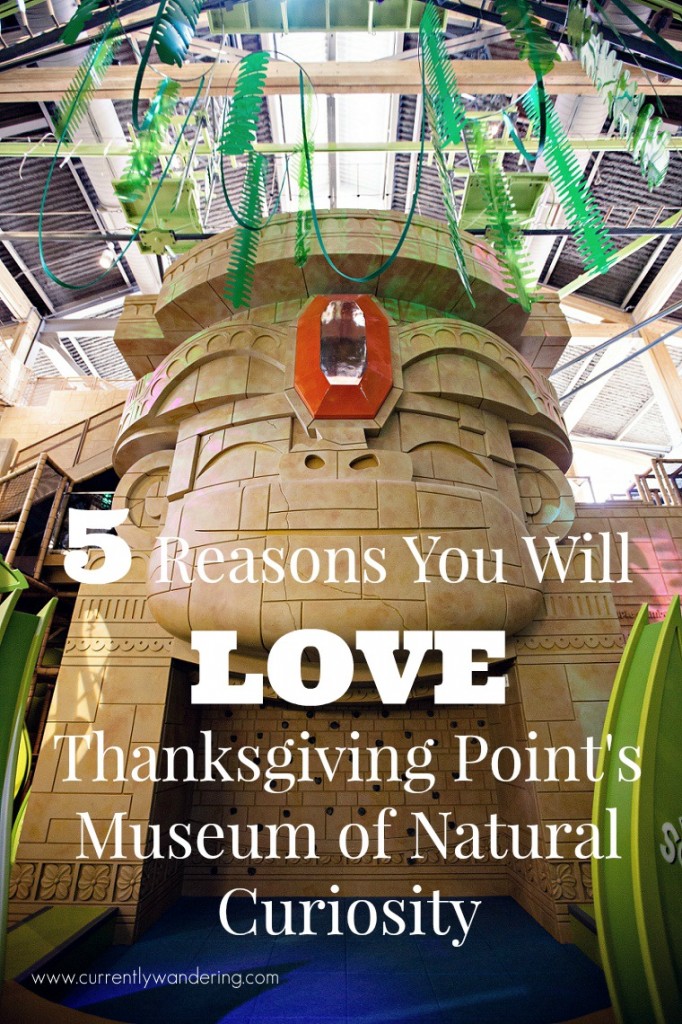 Last week we were invited to come check out Thanksgiving Point's new Museum of Natural Curiosity before it opens to the public. I had heard good things from other friends that had been to various preview days (city employees, special groups, etc) so our family was really excited.
When we visited: May 2014

Ages of kids: 8, 6, almost 4

Tips: Entrance is included in the Thanksgiving Point Annual Membership. The price goes up for those as soon as the museum opens on May 15, 2014 so if you've ever wanted a pass, get one NOW! Thanksgiving Point is also an ASTC member, so your pass is valid for free admission at science centers all over the country!
Thanksgiving Point really designed and executed this museum well. There are a couple of things I really liked about this one compared to others we have been to.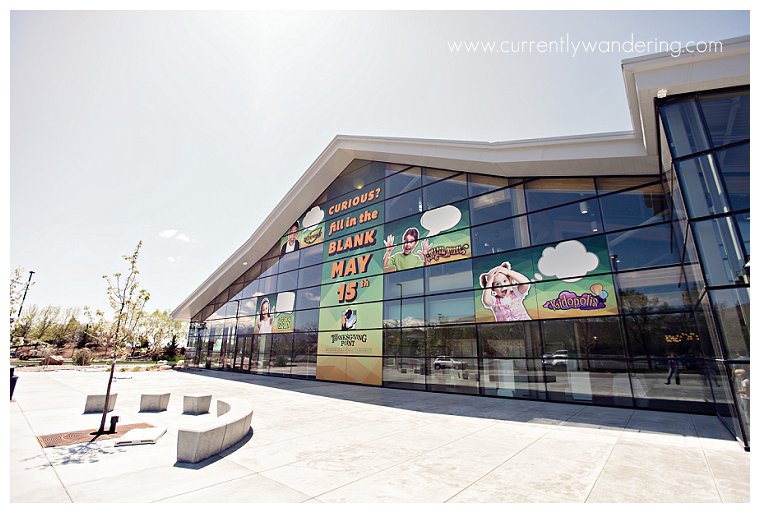 1. The layout. Once past the check-in desk you enter The Hub. From here, there are 5 different sections that branch off to the various exhibits (4 permanent, 1 traveling). I didn't see any other exits. Hallelujah. This means that if you have older, more independent kids, you can park yourself on one of the benches and let them run with their friends. To enter a different exhibit they naturally have to walk through the Hub (so you can visibly see and check on them) before entering another one. Pure Genius. Not that I advocate parking yourself on a bench. This museum is interesting and fun even for parents, so get out there and play with your kids!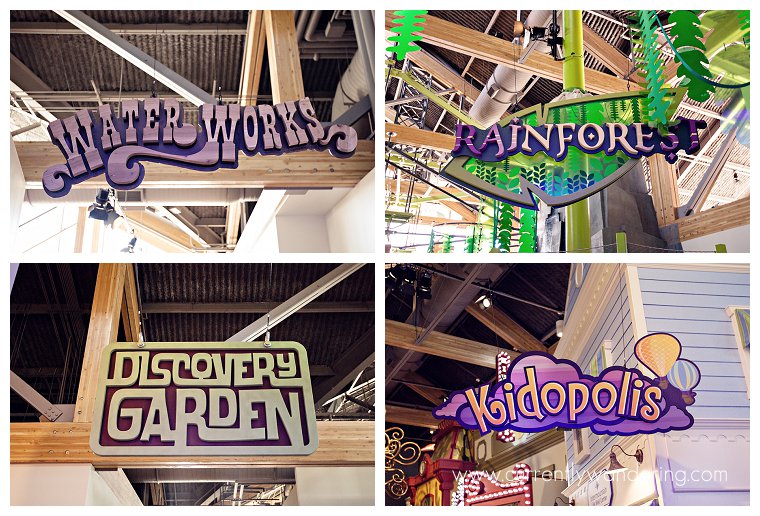 2. The Music Room. I've never seen anything like it. They have a string less harp (have seen that one), and a bubble organ (very cool) but the drum room!! Oh my goodness! How FUN was this?! Computerized percussion instruments connected to 2 control panels where kids can turn on and off different drums and create various rhythms and songs. Andrew was pretty addicted. There's a pretty heavy door to enter this room (like in a recording studio) which helps dampen the sound to the other parts of the museum. If you can't find your kid, he might be in here. Other highlights of Kidopolis were the puppet theater, bank, stage, and Cara spent at least 30 minutes organizing food and feeding the rabbits.
3. The floor & boots in the water play area. We've seen quite a few water exhibits. Most museums usually have one as water play promotes all types of awesome brain functions. This was different as the entire floor is a drain! Water can go anywhere and its totally fine. The museum provides aprons and BOOTS! Kids (and parents) can slip them on over their shoes to protect footwear from splashing water. We chatted with one of the employees and he mentioned some 5th and 6th graders made water guns and had a great time getting each other wet. Despite the precautions, we did get pretty wet, but I just stuck my kids in the 85 mph wind tunnel and they dried right out!



4. Indoor Climbing Gym Located in the Rainforest, the climbing gym is a maze of roped bridges, tunnels, slides, and other fun structures. Climb up inside the 45 foot high monkey and slide down.  High above the structure, is another ropes course (costs extra) where you can climb to the very top of the ceiling and look out the windows. I can definitely see Sam and I there on a date night.  We also enjoyed pouncing on our prey like jaguars, hanging like sloths, flapping our arms like a hummingbird, and seeing how many grasshoppers we weighed!
5. It is a mix between a children's museum & science center. Most are labeled one or the other. Either the focus is completely science (and some even extremely and boringly so), or focused on  just play. I feel like the Museum of Natural Curiosity was a perfect blend of both. Kidopolis caters to the children's museum side, while the animal imitators  & the virtual landscape maker definitely explore more scientific concepts. This museums also caters to kids of all ages. There were two different baby areas (one in the Rainforest, one in Kidopolis), as well as exhibits to even entertain younger teenagers.
A few other facts about the museum:
Opens to the public on May 15, 2014
More than 400 interactive experiences are in the museum that relate to science, arts, history, and culture through a unique interdisciplinary approach to family learning.
The building is 45,000 square feet with a five-acre outdoor component. The Museum is the first in the state to incorporate an indoor-outdoor feature in its floor plan.
The total project cost for the museum was $28.5 million. Large private supporters, charitable foundations and government partners provided funding for the project.
We were there for 2 hours and I feel that we barely scratched the surface. We didn't explore the Discovery Gardens as we ran out of time. Original to Thanksgiving Point, they have incorporated the Children's Discovery Gardens as part of the Museum of Natural Curiosity. They still have the Noah's Ark water feature (we always took our swimsuits), but the employees mentioned a new Archimedes Playground and even a zipline!
We have been to children and science museums all over the country and this one definitely hit the top of our list! Very hands on, this museum definitely encourages kids to be curious. We can't wait until it officially opens and we can go back!!
Related posts: