When we bought the Airstream, we inherited a set of standard yellow triangle wheel chocks and some spare 2x6s to use when leveling on uneven terrain. It worked, and I didn't give it lots of thought for several months.
The first thing to get on my nerves were the wheel chocks. The Airstream tends to rest against one or more of the chocks, and it often required moving the Airstream a little backwards, or a little forwards, to get them unstuck when headed out. Some googling and browsing of the Airforums revealed a few wheel chock options for dual axle trailers. Most of them seemed futzy to deal with, but one option looked great.
I purchased the wheel chock I have from a member of the Airforums, who's father used to make and sell the wheel chocks. She now sells them direct. You can order one (or two!) for yourself by emailing Debra Kyle at parttimerunner1@aol.com You will need to know the distance between your tires, and she will advise you on which size you need for your rig.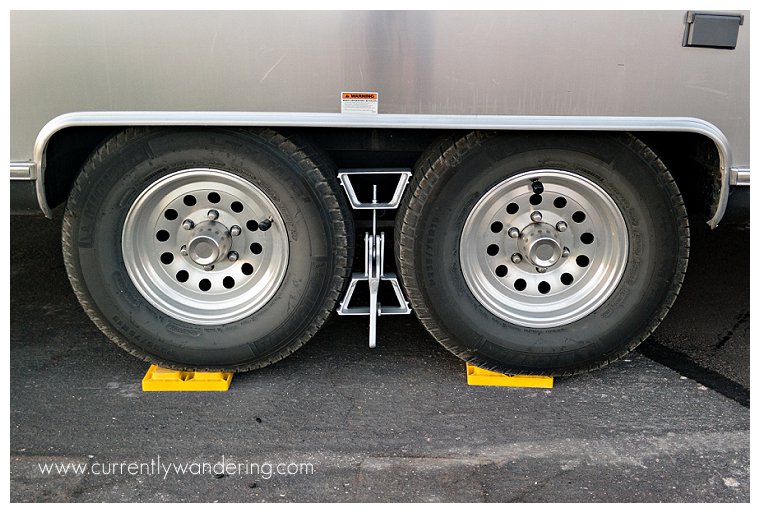 I also ordered a set of lego-like wheel blocks. We use these instead of the random cut-off pieces of 2×6 that we had before. Now that I look at this picture, I see that we were not even parked on top of them all the way. I'm glad we had those wheel chocks in place!
These yellow blocks stack together, each block adding an additional inch of height. These blocks are superior to 2x6s in three important ways:
First, the blocks are short enough that you can put them between the wheels. This means that you can move the Airstream about half a tire length to pull it on the blocks, instead of 2 full tire lengths. When using the boards, we had to stack them both and move the Airstream far enough to get both tires up on the boards. I didn't realize how annoying that was until I tried these things.
Second,  the blocks link together. Occasionally, the boards we used previously would slide on each other, and we'd have trouble getting the Airstream on top of both.
Third, they are small enough to fit in my bumper. This frees up the room in the back of the truck previously occupied by my stack of boards.
So there you have it: our new chock and block setup!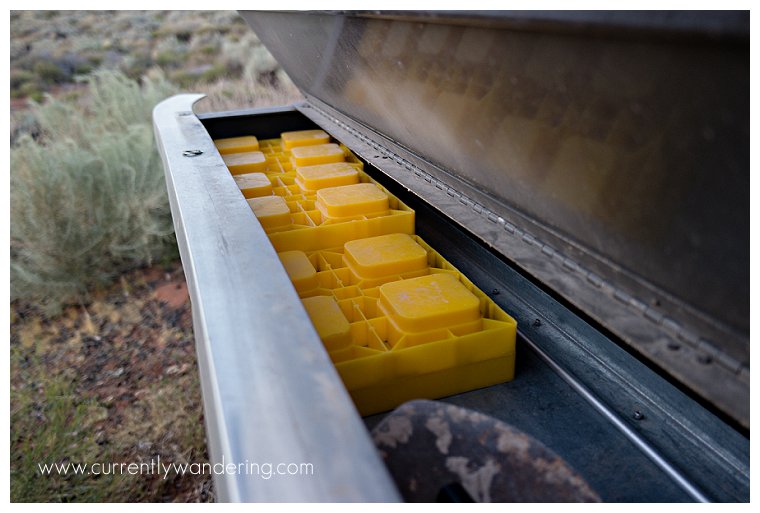 Related posts: