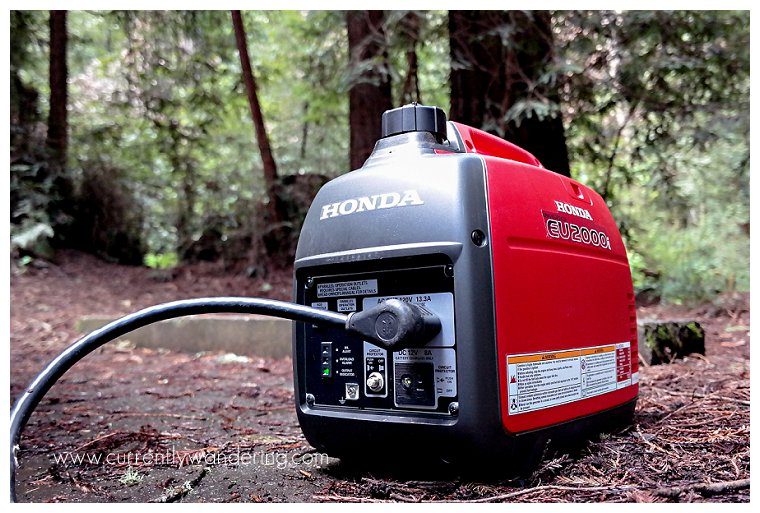 It is now easy to see how stressful it was to always make sure we stayed at campgrounds with electric hook-ups.
"Big Sur? Ummm… maybe we could make it one night?"
"That boondocking spot looks awesome, but I don't think we'd last very long."
Some of the best campgrounds we've seen or heard about are tucked away with no utility hookups. Or the best campsites within a campground are the non-hookup/tent sites.  As a self-contained trailer that should be no problem, but our power consumption is such that we drain our batteries easily after only 1 or 2 nights. Powering laptops (the big one), the furnace fan (also huge), and other miscellaneous devices and lights really takes a toll. We also don't have an inverter in the Airstream, so none of the regular, three pronged outlets will work while we are on battery power (hairdryer & blender probably being my top two appliances). We do, however, have DC USB plugs for our phones and tablets, and one DC power cord that we share between our two laptops. So, we can get power to those, just not for very long until we are drained.
We contemplated the solar vs. generator question long and hard and decided that while solar might be a cleaner, more environment conscious way of getting power, it is also more of a financial commitment and more logistically complicated, and we weren't ready for that. So, we bought a generator. After talking with multiple other full time families, we settled on the popular Honda EU2000i and we absolutely love it. Quiet, efficient, small (comparatively), starts easily and runs great.
The best thing about having this guy is that we no longer worry about what utilities the campground will have. Coupled with a few water jugs to schlep water from a spigot, we can now go 4 or 5 days easily before we run out of gray water tank space. We immediately put it to use and stayed in Samuel P. Taylor State Park near Point Reyes National Seashore back in March of 2014. As a reward for our portability, our site was beautiful, covered with shade from the tall redwood trees and it drizzled rain on and off with some serious cloud cover. We loved being in a beautiful place where solar power would not have met our needs.
Is solar out of the question? Not at all. Pulling the generator out of the truck and plugging it in is a bit of a chore, but so is constantly tilting solar panels to match the angle of the sun (not to mention climbing up on top to clean them!). We imagine a future with both. We'd love at least one solar panel on top of the Airstream to keep our batteries topped off. However, we don't want to have to leave the Redwood Forest because our shady spot isn't pulling in enough power. We will likely end up with both, to give us the best possible options as we travel.
Related posts: