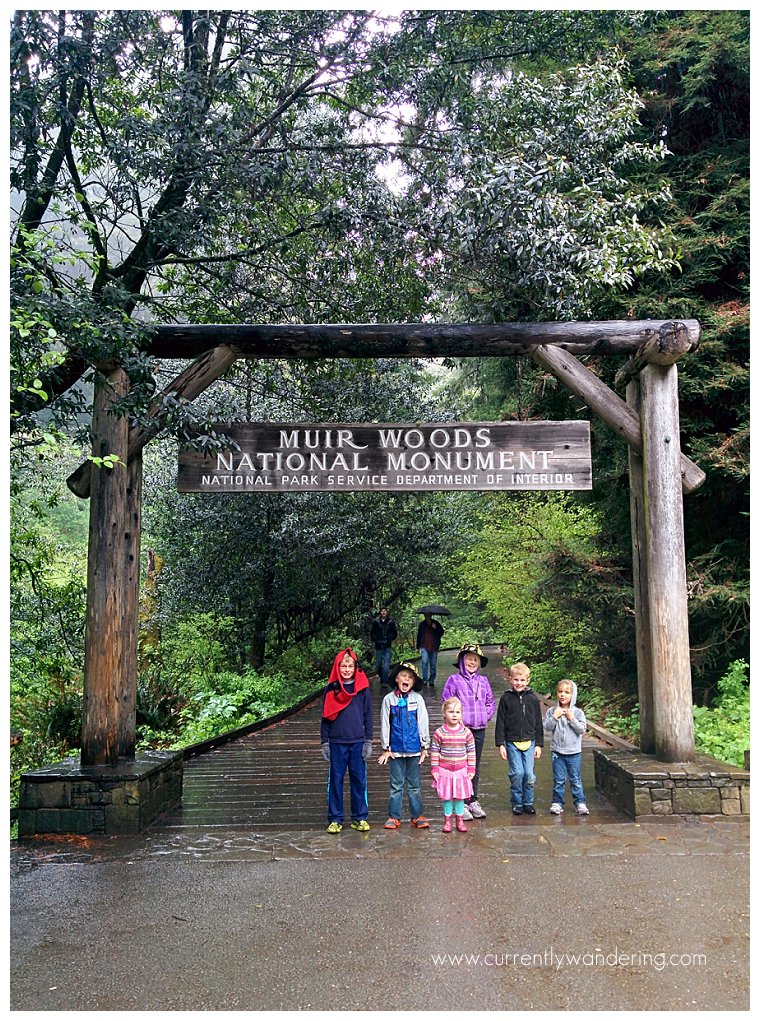 The skies looked threatening. My sister-in-law and I kept looking at each thinking "Should we go?" "Should we stay home?" I'm not one to call it until its raining cats and dogs, so with just a possibility of rain, we packed our kids into two cars (would have been so much more fun had we fit in one!) and drove the hour from Green Valley, CA to Muir Woods National Monument near San Francisco, CA.
When We Visited: March 2014

Ages of Kids: 8, 6, 3

Tips: This monument is tucked into a valley outside of San Francisco. The drive is steep and windy but worth it!
We got lost on the way there – turns out this one is pretty hard to find if you don't trust Google Nav. After a false turn or two, we got back on track and finally made it only to discover pouring rain and a parking lot full of cars! In addition to being a premier tourist destination due to its proximity to SF it was also Spring Break for the local schools. The perfect combination to make the Monument a popular spot despite the weather. Once we got there, we piled into the back of Jaime's mini-van to eat lunch before setting out to explore.
The ranger at the front desk wasn't the most…. helpful. She wasn't going to give our 3 year olds their own Junior Ranger books (something about "We try to conserve paper here at this park") and that didn't go over well, especially for Cara who is used to doing her own. Somehow Jaime managed to talk her into it though. Maybe the ranger became tired of dealing with us? Who knows. In addition to the Jr. Ranger program, Muir Woods has a shorter fill-in-the-blank-from-different-signs scavenger hunt that we also did. Both were great.

My kids loved hanging out with their cousins, and although we got pretty wet, the towering Redwood Trees were a beautiful sight. There is basically a paved walkway throughout the trees with information about the forest, when it became a National Monument, and details about the Redwoods themselves. We also learned how to tell the age of a redwood branch (or spray) by the number of nodes on it.Very cool. There also seemed to be a few trails leading elsewhere, but we weren't exactly in the extreme exploring mood.
The best part about this particular Jr. Ranger program is the badge! Carved out of redwood, each badge is individual and unique. We love them!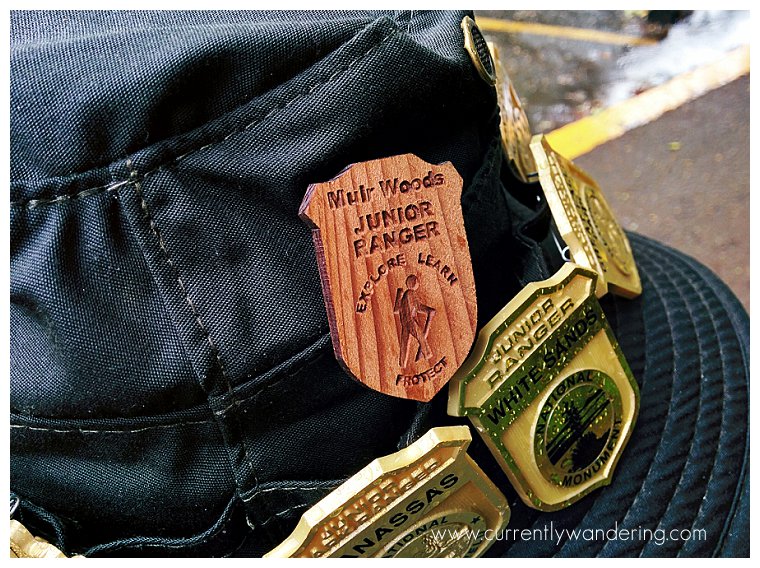 Muir Woods is definitely a beautiful place. I can't wait until we can go back and spend a bit more time exploring!

Related posts: