I love breakfast. I always have. Mouth watering waffles, pancakes, hot cereal, oatmeal, overnight blueberry french toast – anything but plain ol' cereal. Making a yummy, healthy (okay, so sometimes its not so healthy) breakfast in the morning just makes me happy. It takes a bit longer than pulling cereal boxes off the pantry shelves, but most days I feel it is worth the effort.
Lately, however, our mornings usually go something like this:
Child #1 stumbles in from the back bedroom to snuggle.
"Mom?" she mutters sleepily, " What's for breakfast?"
"I don't know," I respond. "Maybe cereal?"
Suddenly she's fully awake and responsive. "What? No!! Let's have German Pancakes! Or Waffles!"
"What about eggs?" I say thinking that's probably a lot easier and faster since I've been up for an hour already and am starting to get hungry.
"Yuck. I hate eggs."
Fantastic. This is pretty much how it goes with all three kids every morning. It is driving me crazy! Apparently my breakfast creativity has spoiled my children. Not only is a cereal breakfast a rare occurance, but they've come to expect amazing culinary prowess every morning. How did I get here? Suddenly my mornings are not ruled by what I want for breakfast, but rather what my children want for breakfast and that's just not as much fun. I've threatened to make them eat cereal for a week just to detox their little bodies (not that I would eat cereal for a week mind you).
In the meantime, I thought I'd share some of our favorite breakfast recipes for those of you looking to branch out of your cereal routine.
1. Pumpkin Pancakes (occasionally with chocolate chips & whipped cream)
You are going to laugh at easy this one is. You take your favorite just-add-water pancake mix, and then add then for every cup of mix used, add ¼ cup canned pumpkin and ¼ tsp pumpkin spice. See? Easy. If you don't have your own pumpkin spice mix together: ½ teaspoon ground cinnamon ¼ teaspoon ground ginger ⅛ teaspoon allspice ⅛ teaspoon nutmeg.  Pictured below  is with real maple syrup and whipped cream we had leftover in the fridge. Delicious!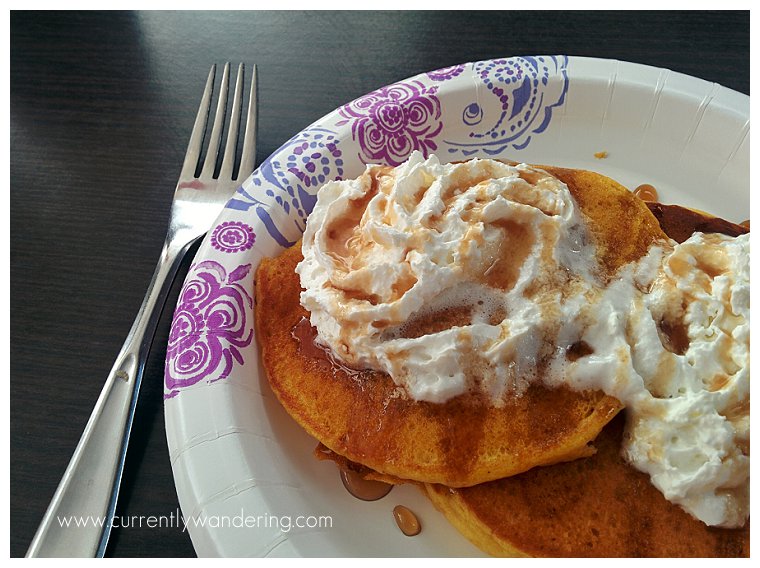 2. Oatmeal with Cocoa-Nut Almond Butter and Fruit
It took me awhile to love Old Fashioned Oats and not just the instant Quaker Maple and Brown Sugar kind. Andrew is now upset that I don't buy the little packets anymore, but always make it in a pan on the stove. Too bad. I buy dried blueberries from Costco, and instead of brown sugar I whip up some Cocoa Nut Butter in my Blendtec Twister Jar. Chocolate for breakfast? Yes please.
3. German (or Puff) Pancakes
These are hands-down Andrew's favorite. I will occasionally even make them in the Airstream although that will probably be a rare occurrence in the summer as the oven heats up the entire house.
Ingredients (feeds our family of 5)

1/4 cup of butter
9 eggs
1 1/2 cups milk
1 1/2 cups flour
1/2 tsp salt

Directions:

Preheat oven to 425 degrees.
While oven is heating, chop up butter and add to 9×13 pan. Put it in the oven while heating to melt the butter.
Mix remaining ingredients in a blender or mixer.
Pour over melted butter in pan.
Bake for 18-22 minutes. Pancakes will puff up over the side of the pan if done right.
Eat with maple syrup and enjoy!
4. The Best Belgian Waffle Recipe EVER (adapted from Food.com)
I've always struggled to get waffles just right. One year for Christmas, Sam bought me this AMAZING double-flip Belgian waffle maker and I was ridiculously excited. Only, they didn't turn out quite right. Still not puffy enough. THEN Sam taught me how to really whip the egg whites. It seriously makes all the difference. Moist, fluffy, deliciously tasting awesomeness. Occasionally when we have family coming for dinner we'll do a waffle bar complete with whipped cream (are you sensing a trend?), fruit, berry syrup, and sometimes even ice cream.
Although we debated for months, we have decided NOT to bring the waffle maker with us in the Airstream. Its too big and bulky and honestly I could eat them every day and then I'd just gain loads of unwanted weight. So.. we'll have to rely on friends we visit or the occasional splurge at IHOP for our waffle fix.
Ingredients (this usually feeds our family of 5 with a few leftover)
4 cups flour
8 teaspoons baking powder
1 teaspoon salt
1/2 cup sugar
4 eggs, separated
1 cup oil
4 cups milk

Directions:
1. Separate the eggs.
3. Using a power mixer, beat egg whites until stiff.
4. In a separate bowl, mix together the egg yolks, milk and oil and mix well.
5. Add dry ingredients and mix well.
6. Gently fold in beaten egg whites with a spatula.
And my most recent favorite:
5. Strawberry Oatmeal Pancakes
Its like  healthy dessert. These things have body and they taste soooooo goood! We made extra and snacked on them all morning. Adapted from This Silly Girl's Life.
Ingredients

2 cups old fashioned oats
2 cups buttermilk (or 2 cups milk + 2 Tbsp Lemon Juice)
4 eggs
8 Tbsp. canola oil
3 tsp. vanilla extract
1 cup all purpose flour
1 cup whole wheat flour
5 Tbsp. sugar
1 tsp. baking powder
1 tsp. baking soda
1 tsp. salt
1 tsp. cinnamon
2 cups finely chopped strawberries (Mine were frozen – I just let them thaw a bit and then chopped them up like normal.)

Instructions

In a large mixing bowl, combine the oatmeal and the buttermilk and let sit for 20 minutes.
After the 20 minutes, add the eggs, vanilla and oil and mix well.
Add the flours, sugar, powder, soda, salt and cinnamon and mix until incorporated.
Gently mix in the fresh strawberries.
Heat your griddle to 350 degrees.
Drop the thick batter (about 3/4 cup size) onto the griddle, kind of spread into a circle shape and cook for 3 minutes, flip and then cook for 2 or 3 more minutes or until batter is not raw.
Serve warm with fresh whipped cream, maple syrup or both.
*To freeze: prepare as usual, let cool completely on a cooling rack, place in freezer friendly plastic gallon sized bags, with parchment paper in between each pancake. To reheat: remove from the freezer and warm in the microwave or oven.
Enjoy!
Related posts: