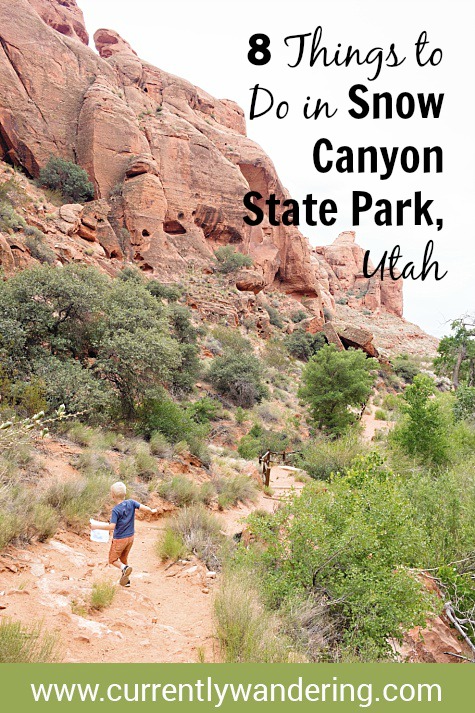 Nestled close to St. George, Utah Snow Canyon State Park was a beautiful surprise for us! I had heard good things about it for years, but we had just never managed to make it down there.  I'm so glad we fit it in this time! Beautiful red cliffs mixed with green Evergreen and Joshua trees made for a stunning landscape. We were there for 4 nights and decided this park is definitely on our list of places to return to.
When We Visited: Memorial Day Weekend, May 2014 Ages of Kids: 8, 6, 4 Things to Know: The water/electric hook-up sites are stacked REALLY close together. Ridiculously so. The map online is also not very accurate if you are trying to find two sites next to each other. All of the other "tent" sites, however, are beautiful and fairly spaced out. We won't ever be staying in the water/electric sites again but will rely on our generator. They have free showers that are pretty clean as well.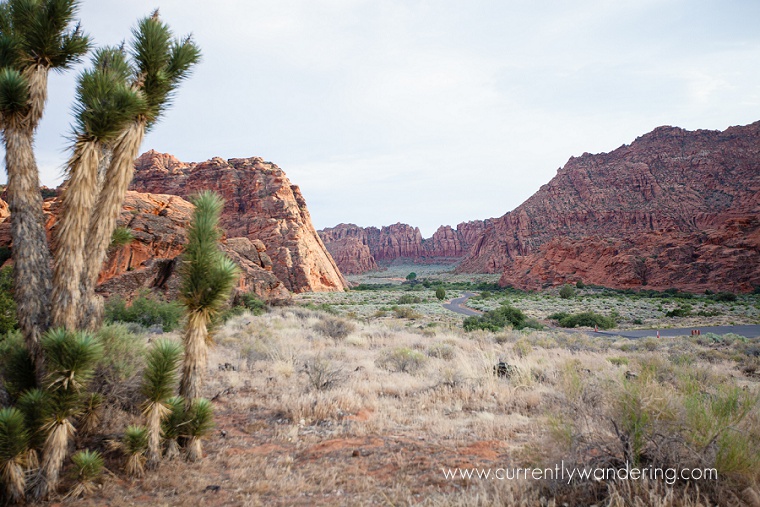 1. See the Lava Tubes. Long ago, there was volcanic activity in the area and as the lava flowed down the terrain, and then cooled it left behind lava tubes underneath the ground. There are a few accessible by a short walk from a parking area and you can climb down and explore them. Don't forget a headlamp as its pretty dark and you need your hands free to scramble down. There was one lava tube in particular we choose not to explore as we felt our kids were too little. Next time.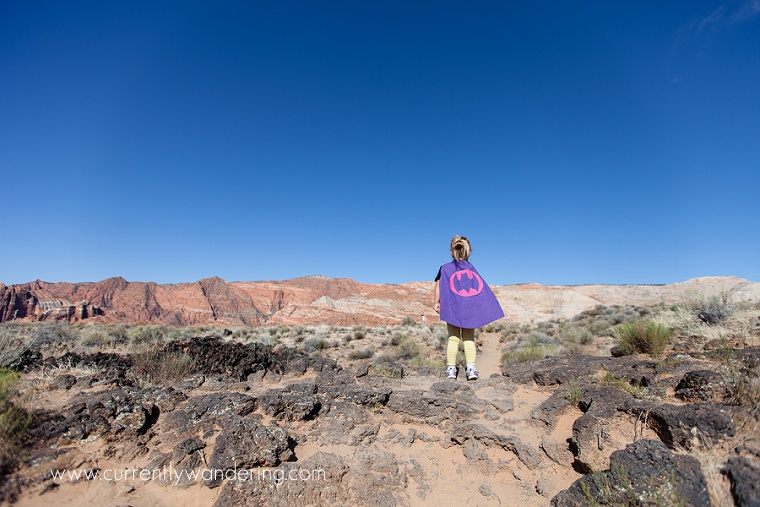 2. Go for a bike ride. Cyclist, or not, both the paved Whiptail trail and the road through the canyon make for great bike riding. With our kids, Sam dropped us at the top near the Upper Galoot Picnic area and we rode down to the sand dunes where he picked us up. We also had my family with us, so we took turns shuttling and riding and generally had a great time. Since the road goes through the canyon  south to north, you could actually do a loop ride if you wanted something a little more serious.
3.  Play in the Sand Dunes. We spent a fun couple of hours playing around in the Sand Dunes. There are picnic tables nearby as well, so we brought lunch, some games, sand toys, and our kites.

  4. Scramble on the rocks. Climbing on the rocks near the campground is not permitted, but there are designated areas where kids of all ages can scramble over the fun rocks. Scrambling is permitted at the Galoot Picnic Areas, Whiterocks, and the Petrified Dunes. All over the Galoot Picnic area are these small, rounded pebble rocks called marbles.

  5. Go for a Hike. There are plenty of hiking trails in the area – most are not dog friendly so just be aware.  Johnson Canyon  is closed to the general public from March 15 – September 14, but you can sign up at the visitor center to hike in with a ranger. There is very little water in Snow Canyon and their rules protect what little water there is and preserve it for the wildlife.
It is worth the hassle to get into Johnson Canyon, as it is quite beautiful. You can see an arch, historical pioneer names, and high canyon walls with some amazing desert varnish.



  6. Earn a Junior Ranger Badge. Snow Canyon has its own State Park Jr. Ranger badge that the kids really enjoyed, or if you are visiting other parks in the area there is also the Junior Desert Ranger that encompasses Snow Canyon, nearby Coral Pink Sand Dunes State Park, Zion National Park, and Sand Hollow State Park. As we had just left Sand Hollow, and weren't aware of  this activity book, we decided we'll save that one for the next time through.

7. Visit St. George. Surprisingly, the smaller city of St. George is quite bustling. There is a splash fountain in the downtown area next to the Mormon Tabernacle for your kids to cool off, or if its super hot (like it normally is in the late spring and summer) stop by Iceberg for a delicious, ginormous thick milkshake. I've also heard Pioneer Park is very fun with lots of rocks to scramble over, but we didn't have time to stop there. They also have a Costco in nearby Washington, outlet stores and other shopping.
8. Relax. Its a beautiful place. Open up a book and enjoy it!

Related posts: