We already had a great storage system in place before we started this whole downsizing thing, so I just kept the system. If it's not broken, don't fix it, right? We have 38 tubs all purchased at various times from Lowe's and each one has a number that coordinates to a spreadsheet in Google Docs. This way I don't have to label the tubs with what is in it, and if I empty one and fill it with something else I just update the spreadsheet. As I emptied them out to our  DI and Yard Sale piles I would fill them up with things we were keeping and update the contents in the spreadsheet.  Easy peasy. Once we had moved the bin to the storage unit (it took about 8 trips to get everything over there) I would highlight that line in BOLD.
Hopefully we can keep track of everything! I was going to organize the tubs in the storage unit so anything we might need would be easily accessible, but that just didn't happen. We'll have to dig. The boxes at the bottom of the list are Rachel's old clothes ready and sorted for Cara to wear when she grows into them. I'm hoping we can either swing through and grab a box when needed, or convince my parents to go get it and mail it? We'll see. I have a feeling we'll just end up mostly buying her new clothes instead of using hand me downs. I guess we'll put that in the "con" category of full time travel.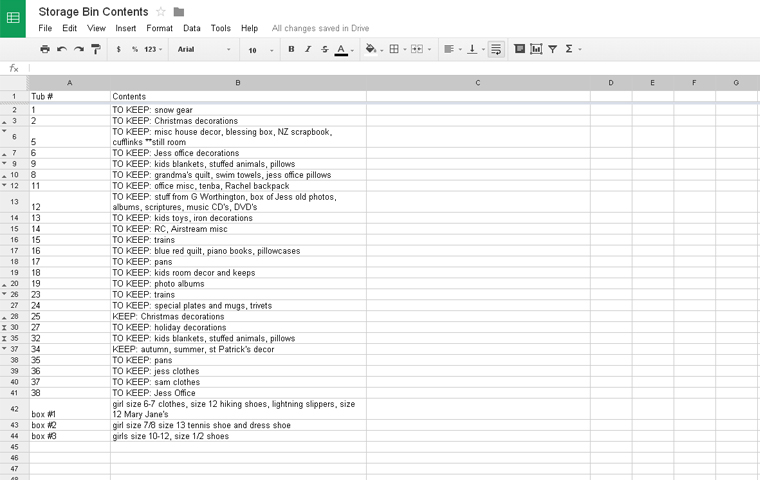 Here's a video of Sam talking about our storage unit and what we kept:
While it may not be the perfect solution, we'll see how it goes over the next year or so. Hopefully we have everything we need with us which will make trips to the storage unit few and far between!
Related posts: