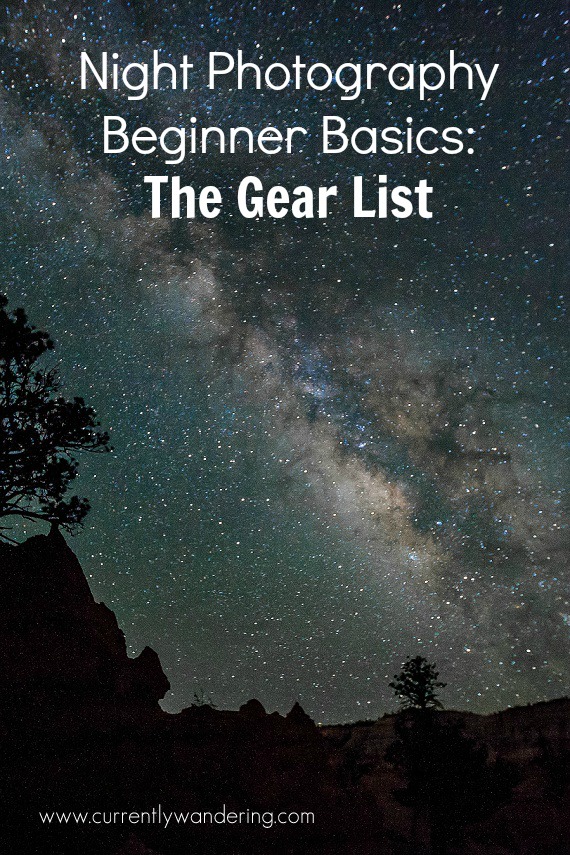 The Night Sky can be a beautiful thing, and long exposure nighttime photography can expose that beauty to anyone with the right (affordable) equipment. As complete beginners in this area, we thought we could share what we have learned as we enjoyed a week in Bryce Canyon recently and spent a few of our nights there capturing the beautiful Milky Way. What started as one post on the topic became very long, and so this is the first post in a series about celestial photography. We'll include tips and information, mixed with the beautiful pictures that we captured during our visit.
To get the topic going, let's talk about the gear that you'll need to get started.
Camera
You'll need a camera that allows you to set manual settings, and ideally has a connection for a cable release. Most Canon / Nikon SLRs work, and you may find plenty of others that do as well. Check out the Canon 5D Mark III or the Fuji X-T10.

Wide angle lens
You can use a longer lens for shooting stars, but you will be happier with a lens in the 16 to 32mm range. This is particularly true if you have a cropped sensor on your camera. In general the wider the better. This Canon 16-35 mm f/2.8L II USM on Amazon is a great one!
Cable Release
A cable release isn't strictly required if your camera allows you to set a long exposure in the 12 to 30 seconds range. I've found that a cable release is still useful for a few reasons, and they are not very expensive. A cable release can minimize camera shake, can offer more settings options then the camera itself, and can often serve as an intervalometer for time-lapse photography work. The cable release that we use cost less than $20 and runs on two AAA batteries.
Tripod
You need a good tripod. It must be sturdy and allow you to point the camera in all sorts of odd angles. A ball-head on top of the tripod is common, and allows plenty of high angles. Some tripods allow setup very close to the ground. This can be very useful when composing an image with trees or rocks in the foreground of the image. As you might be hiking to your photography spot, a reasonably light tripod is nice as well. We use a Dolica tripod purchased from Costco, very similar to this one available on Amazon.
Something Heavy
Most tripods have a hook directly under the center column that allows you to hook a weight to add to the tripod stability. In most cases, your camera bag or a backpack can serve nicely in this function. A stable tripod will minimize any camera movement that will blur a long exposure.
Clothing, Food, and a Friend
Since you'll be going out at night, I'll also mention that you'll need good temperature appropriate clothing, good shoes, a few flashlights, and some food and drink. Having a friend along is both fun and can help you get some amazing pictures with their help.
In our next post in this series, we'll talk about camera settings so stay tuned!

Related posts: