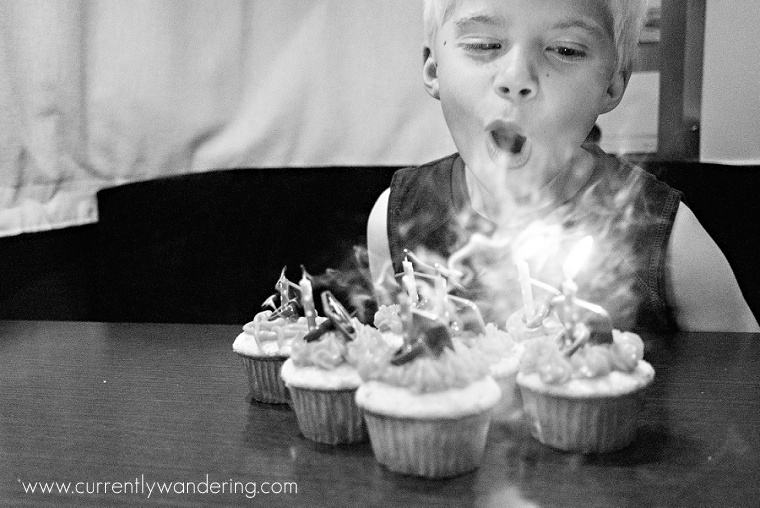 August 24, 2014
Dear Andrew,
You have turned 7 years old! I can't believe it! Just yesterday I swear I was dropping you off for your first day of pre-school. You've grown so much over the last year of our travels and I'm very proud of you.
You love to read. If traveling has given you anything else, its your love of books. You read well beyond your years, and lately have taken a break from Secrets of Droon and replaced them with Percy Jackson books. You are obsessed! You'll read them over and over if I don't keep up with providing new library books on the Kindle.
Lately you and Cara have been best buddies. I love the way you encourage her, play with her and include her in your activities. I love watching you two run down the trails together sometimes even holding hands. You are a great big brother! Being the middle kid isn't easy, and you do well spending time with Rachel as well. Sometimes you'll even give in a play Barbies with her just because she really wants to! Such a good sport.
You are doing well with school! Your grade level has always been a little fuzzy, but I'm thinking you are solidly in 2nd grade now. Math seems to be a favorite sometimes, and writing tends to be everybody's least favorite subject.
You still love to play the tablet and computer games, although our system of 30 minutes 4x a week has worked out well. You love playing Minecraft especially when you and Rachel can "hook" your accounts and play together.
You have a sweet and gentle personality, something I never expected from a boy but its my favorite thing about you. You talk constantly to anyone that will listen and recently hiked up to Wizard Island at Crater Lake talking the ear off of complete strangers the whole way up and then back down. It was hilarious. I hope you never grow out of your assertiveness and its a characteristic that will always serve you well.
We love you Andrew. We are so grateful you are in our family!
Love, Mom & Dad
This was our first kid's birthday in the Airstream. I knew we were setting a precedent with whatever we did, so needless to say I was a little stressed out. Not that I needed to be. Our kids are so great! Rachel and I went shopping the week before (without Andrew) and picked up wrapping paper, orange plates & cups and a few presents. We had decided as a family that mom and dad were giving "experiences" not gifts, but there were still a few to open from siblings and grandparents. Per tradition, Andrew opened presents first and then we got down to the business of eating his German Pancake breakfast.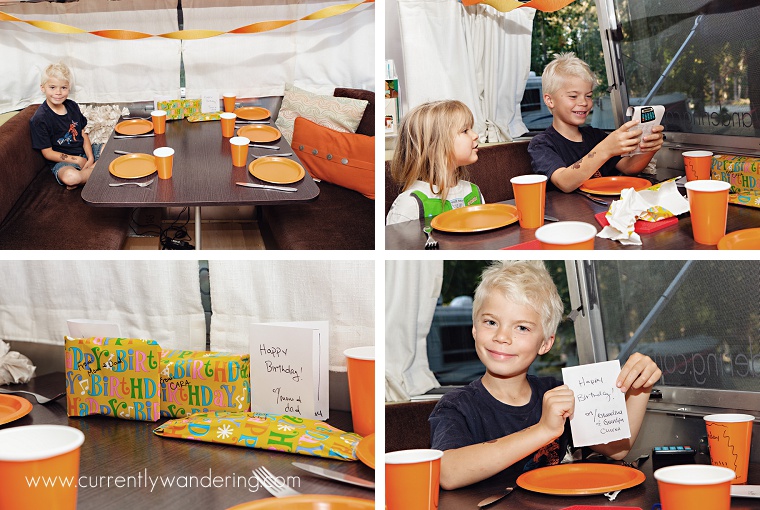 Later that morning, Andrew helped me make his cupcakes.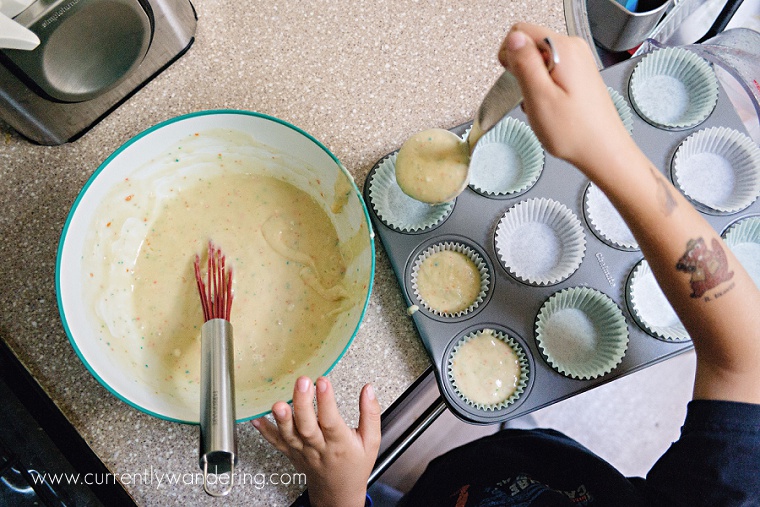 Once Sam returned from his trip to the Medford temple, we hit up the local swimming pool for the afternoon. Swimming in a "real" pool as on his list for the day (not a river because those are too cold!).

I decided to pull out some middle school diving moves and Sam, the good sport that he is, tried to tackle them along with me. For the record, this is his first attempt ever at a walking bounce dive off the board.
That evening we ate broiled Parmesan Tillapia, spaghetti, and broccoli and then watched the banjo player at the campground amphitheater. Oh yeah, this guy also lost his second tooth while we were at the pool!

A few weeks later we were able to cash in on his present of a… Zipline tour! He's wanted to zipline since we passed one in Utah over the summer, and we finally found a reason to let him. Having our kids choose experiences over presents has been so much fun for everyone!
In researching zipline tours, we found that many had height/weight restrictions and that Andrew was just too little. Camp Dakota, however, will let kids ride tandem with a parent so we put that on the schedule! Camp Dakota is a surprisingly beautiful family adventure camp about 30 minutes outside of Silverton, Oregon. We got a weekend deal for a campsite for 2 nights, coupons for activities, and a discount on the zipline tour. It was a blast! We did the zipline first thing Saturday morning, and then spent the rest of the day climbing the rockwall, playing disc golf, throwing tomahawks, and the adults sneaking off for a round or two of paintball!



After his first zip, the guides determined Andrew could go by himself. He absolutely loved it!



It was a great day! I'm so proud of him and his ability to adapt to new situations and just roll with it.What a good kid!
Related posts: