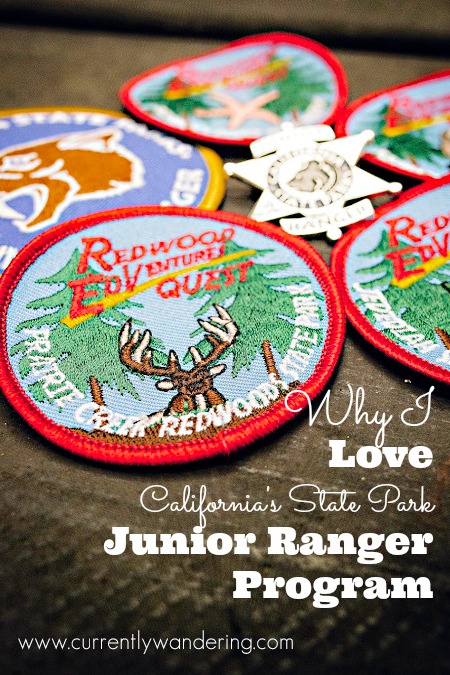 I was so skeptical. You have what? A Quest thing? What's that? Oh – you have a SCHEDULE for your ranger programs? And to earn the badge they have to attend at a certain time? That's lame.
Only its not. At all. I'm now a believer.
Coming from the National Park system which has all self-guided Jr. Ranger Programs, I'll admit I struggled a little once we found out about the California State Park ranger led programs. Once we got on a roll, however, we were fairly hard to stop!
There are two different programs and I'll see if I can do a quick summary of each.
First off, this is a summer program. Not so good for those of us full-timers that like the off-season, but the program was designed to get kids out and exploring over the summer. Can't really argue with that.
We had to find out the schedule of ranger led programs from the visitor center once we arrived at the park.  (You could also probably call ahead if you were driving in and wanted to make sure you showed up at the correct time.) Once you attended an hour long program, the rangers handed out the log books, the star badge, and stamped the back of your book. 1 stamp = badge, 5 stamps = poster, 10 stamps = patch. Until recently, kids could only earn stamps by attending a program (yes, you read that right, 10 stamps at 1 hour each = 10 hours to earn a patch. whew!), but they are now also stamping for every 3 pages done in the activity book. That totally helped us earn the patches in the limited amount of time we had.
I googled up a quick list of those CA parks that participate. We earned ours while at the Redwood State Parks (Humboldt, Prairie Creek, Del Norte, Jedediah plus Patrick's Point) in the space of about 2 weeks.
The best part of these programs are that the topic changes every day. They've done such an amazing job with organizing this! We attended programs on recycling, banana slugs, conifers and cones, nurse logs, native american necklace making, astronomy, and scat (aka poop!). It was great! Parents are encouraged to participate and all 3 of our kids had a great time.
Rachel and Andrew earned their badge, posters, and patches, and Cara earned her badge & poster.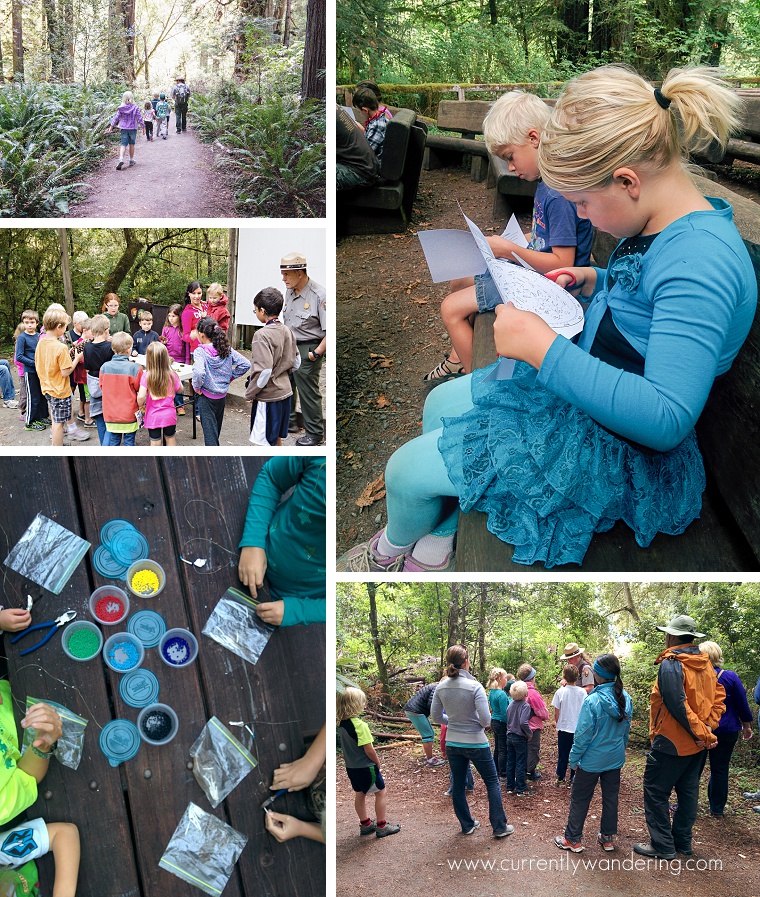 This is another program I didn't understand or know about at first, which makes me sad because there are a few patches we could have earned (because we were in the area) but we didn't know about it yet! So sad!
My kids call them "Banana Slug Adventures".  At many of the state parks in Humboldt County, the rangers have put together little adventures. You pick up the brochure from the rangers, and then hike along a trail reading as you go. They are cute little poems that talk about the area, the trees, the wildlife, and end with a final phrase you write down on your brochure. Once you take it back to the ranger you earn your patch! SO easy! And FUN! My kids loved these!
Here's an example of one we did at Prairie Creek Redwoods State Park.
We were able to earn Jedediah Smith, Prairie Creek, Redwood National park, and Patrick's Point State Park. What was so frustrating is that we also visited Eureka/Arcata, Humboldt Redwoods, Fort Humboldt and Trinidad Head. SO many!! Ugh. But that's the "We have to do everything" part of me talking. I figure we'll just have to save some for next time around, right?
So, California for the win! If you are spending any significant portion of your summer vacation in California I definitely recommend looking into these programs!
Related posts: