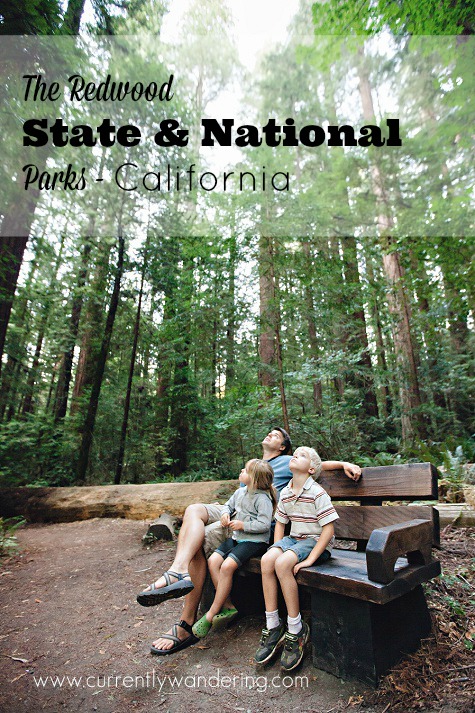 At first, this National Park was completely confusing. Is it a State Park? Run by the NPS? Did they have a Junior Ranger Program? Where exactly was it located? Turns out there's a fairly simple answer for most of those questions.
When We Visited: August 6-19, 2014

Ages of Kids: 8, 6, 4

Where We Stayed: Burlington Campground (Humboldt Redwoods State Park), Sounds of the Sea RV Park (near Trinidad), Shoreline RV Park (Crescent City near Jedediah). We tried to get into both Prairie Creek Campground and Jedediah Smith Campground (both looked FABULOUS) but no luck. If you are visiting in the summer – which we definitely recommend – try and get reservations as early out as possible. Del Norte Campground also looked decent, but we didn't end up staying there.

BONUS: Before or after have your kids read "Operation Redwood". Its a super fun book about a couple of kids out to save an endagerned grove of redwood trees. Both of our older kids loved it!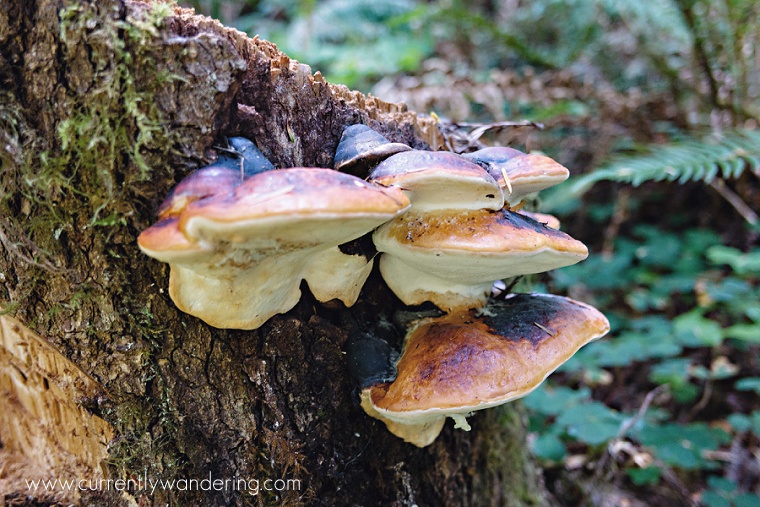 The Redwood National & State Parks is exactly what it claims to be. A partnership between the California State Parks and the National Park System. There are both State Park Rangers and National Park rangers at each visitor center, and your National Parks Pass (America the Beautiful Pass) will get you past the fee booths in any of the participating parks. The park consists of : Humboldt Redwoods SP, Prairie Creek SP, Del Norte SP, and Jedediah Smith SP. There's one overview map & newsletter for the entire system, as well is individual brochures for each state park. We found both to be incredibly useful.
The State Parks were created and run first, and then the national government got involved and designated a lot of the area as wilderness to protect the old growth redwood trees from logging operations. There are areas of trees that have never been logged and they are beautiful! From what we could tell, the partnership was great! The NP rangers helped with the state park programs as well as generally upkeep around the parks.
Junior Ranger Programs
There are A LOT of opportunities in the area to earn Jr. Ranger Badges and Patches! Not only is there the National Park Jr. Ranger booklet (which, as always, is a self-guided program), but during the summer there is also a California State Park program and it is AMAZING. So amazing in fact, that I detailed a post about it HERE.
So, where should you visit? Which is the best area for seeing BIG trees? Here's our opinions about each of the places we visited and what we liked about that particular area:
Humboldt State Park & Avenue of the Giants
Farther south than most people venture, this park was our favorite! We had seen Instagram photos of friends driving their Airstreams through the Avenue of the Giants and knew we wanted to follow in their tracks. It was worth it! Its a narrower side road, but winds among the tallest, prettiest, redwood trees we have ever seen. About halfway along the scenic drive there are a few campgrounds, and we managed to pick up a reservation at Burlington, right next to the visitor center and Junior Ranger programs. It was perfect! We also heard that Burlington is the only campground in the area to really be UNDER the trees. We heard rumors that some of the other campgrounds are not among the redwoods (but we didn't visit so don't quote me on that one!).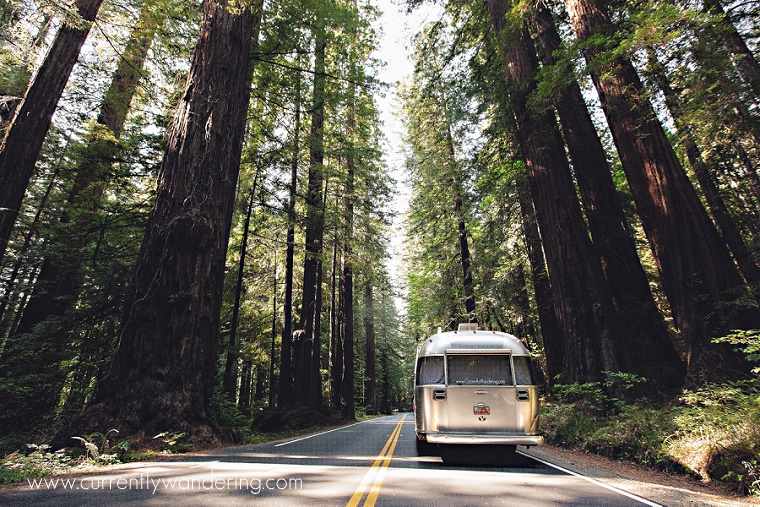 One of the reasons we really liked Humboldt was the variety of short walks to see BIG trees. Some of the biggest trees in the whole park system are located here and they are easy walks for little legs.  Many of the biggest trees are also labeled with the height and other interesting facts.


Prairie Creek Redwoods State Park
The kids and I went on a scouting trip. Sometimes when I get to a location and am not sure what the deal is, I'll round up the kids and we'll drive around for an hour or two visiting places and deciding what exactly there is to do in the area before we rope Sam in for the grand adventure. This particular afternoon we set out to explore the Redwoods near Prairie Creek State Park.. We stopped by the Kuchel Visitor Center as it was the first visitor center inside the designated National Park area. We planned to pick up our National Park Jr. Ranger Badges and get some more information on timing for the Jr. Ranger Programs and the EdVenture Quests.
The state park ranger on duty was a goldmine of information. He was awesome. Best trails to hike with kids, things to see, where to get more info on ranger programs, etc. I left feeling very well prepared, along with 3 National Park Jr. Ranger booklets for the kids to work on. There wasn't anything to really see (that we were interested in anyway) close to the Kuchel Visitor Center, so we drove up to the Prairie Creek State Park Visitor Center and spent a few hours up there earning 2 patches, attending a program to earn a stamp, and working on our NPS booklet. It was great!

Aptly named "Prairie Creek", there is a giant meadow outside the visitor center frequented by herds of Elk.

Fern Canyon
"Wait a minute. Where are we going? How long is this drive? Are you SURE?" Sam poured out question after question as we would through a fairly curvy, dusty, out of the way road on our way to Fern Canyon.
"It's okay. Just keep going. Everyone says it is worth the drive," I replied calmly from the passenger seat.
"Okaaaaay, " he answered skeptically.
After about 30 minutes we finally reached the ranger station (what a commute!), flashed our America the Beautiful Pass and drove another 15 minutes past the beach (it looked awesome!), through a few creeks (seriously?) and finally arrived at the Fern Canyon trail head and parking. There were quite a few other cars, so I knew we weren't completely crazy.
It was beautiful! Ferns draped the sides of the canyon as water dripped down and formed a small creak threading through large, fallen logs. We didn't hike the entire loop, but mostly went through the fern-y part (is that even a word?) and turned around to hike back. The kids had so much fun climbing over, under, and around all of the logs. I can't promise they didn't get a little wet.

Jedediah Redwood State Park
The last of the parks, I think this one might be one of the most popular. The biggest thing Jedediah has going for it is the Smith River. It is crystal clear, shallow, and runs right through the park. The kids were so mad we hadn't brought their swimming suits with us! We drove up early and spent almost the entire day there. We started out with a Jr. Ranger Program about Cones and Conifers. Super interesting. I loved how he took us all on a walk to find conifers out in the park after explaining and showing examples.
After a quick lunch, we managed an 8 mile hike through some pretty great trees! I felt like they weren't as large and obvious as Humboldt, but still very pretty!


The Redwoods are definitely worth seeing, and there are lots of options! Which spot you go to depends on how much time you have and what your goal is. Hopefully this helps with that decision!
Related posts: