During our time in Portland, several local friends recommended that we visit Chapman Elementary School and watch the birds. This seemed both unique and local, which are two of the best reasons for us to try something during our travels.
'The Birds' turned out to be Vaux's Swifts, a variety of bird that roosts at night inside hollow trees. Over the years, the tall and hollow chimney at Chapman Elementary School became a popular roosting spot for these particular birds. Each evening in the fall, thousands of birds swarm and eventually enter the chimney to roost for the night.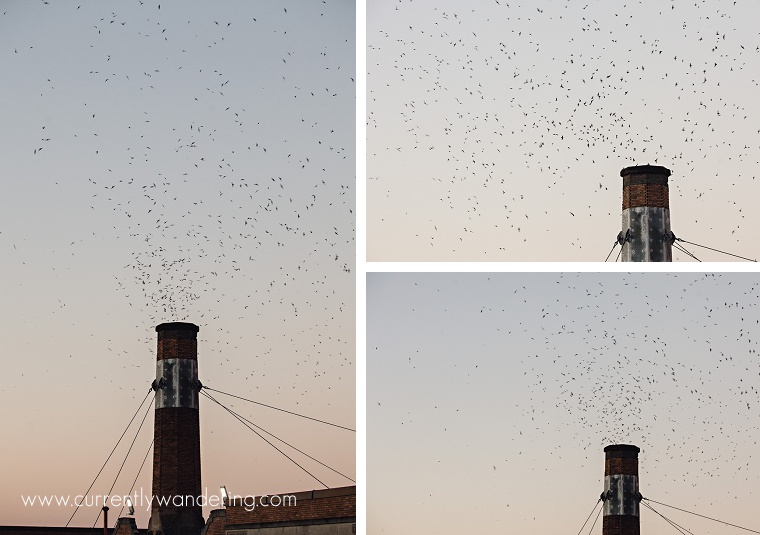 We began the evening down the street from Chapman Elementary at Stepping Stone Cafe, famous for some seriously large pancakes. We fed the entire family of a stack of pancakes and chicken fried steak, and then walked up the hill to the school. We arrived early, which provided us ample time to experience the pre-show activity. The grassy slope at the side of the school grounds is prime for cardboard sledding, and sledding there was. Our kids quickly jumped in and had plenty of fun. The boxes began to wear out as the evening continued, which was just as well as the hill became quite crowded as the bird-watching group grew in size.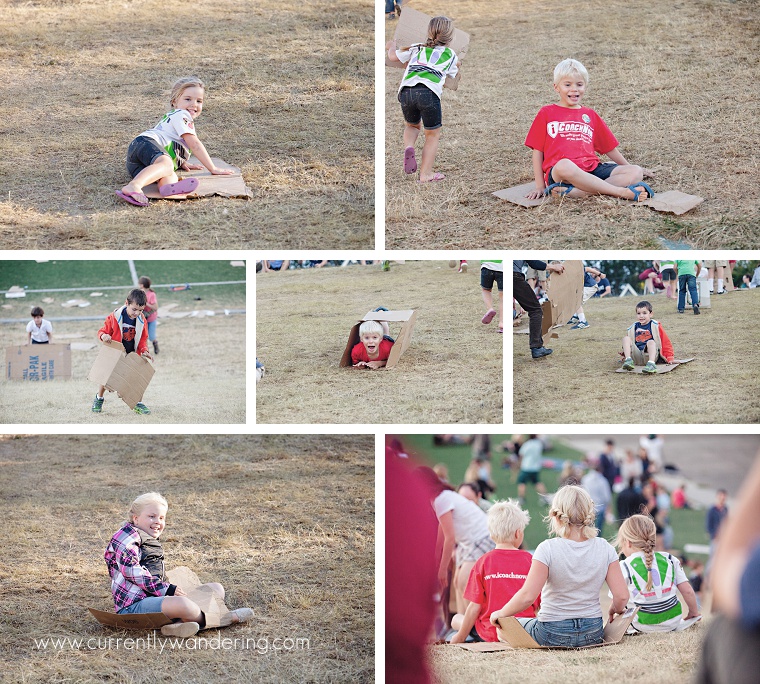 As a bonus, we were met by the RovingRiveted crew, local weekend Airstreamers who drove up to join us. We had almost met a few days before in their neighborhood. We were invited to dinner by a family from church, and we parked in the neighborhood. Susy was alerted by a friend that we were in town, and ran down the street to say hello JUST as we were pulling out. Some communication via Instagram led to Susy, James, and their son, Ethan, meeting up with us for the event. Ethan jumped right into the sledding fray as we talked and swapped Airstream travel stories.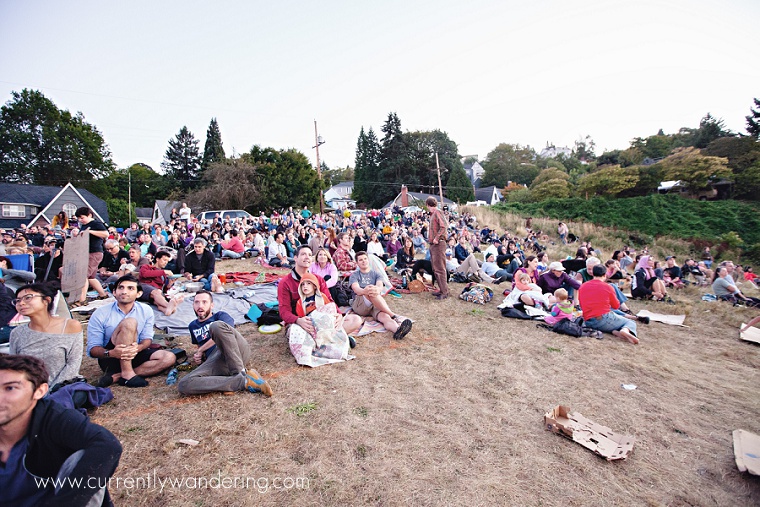 As the evening progressed, the hill filled with watchers and the bird activity amplified. It is a little difficult to describe the movement of the birds as they prepare to enter the chimney. It might be best described as a bird-nado, the flying birds forming a cloud that moved and swirled and twisted and moved around the sky. As the storm of birds passed by the chimney, a stream of birds would drive down to find a roosting spot. The stream would eventually break, and the birds would swirl and flow away and then back again for another round.

Most of the people there to watch stayed seated and patient till the last of the birds entered the chimney. Applause broke out in the crowd, and people began to leave.
Watching the birds was a unique and education experience, and we loved the evening. We are grateful to the RovingRiveted crew that drove up to spend some time with us after a near-meet in their own neighborhood!

Related posts: