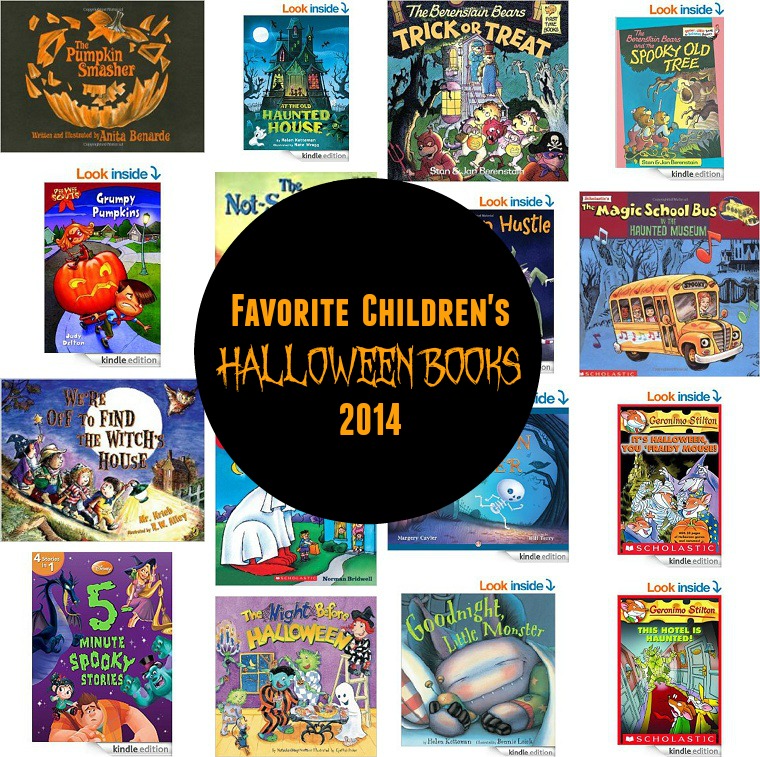 To get excited for the Halloween season, we decided to pause our regular before bedtime story, and pull out some Halloween books instead. I had my mother go through her collection, and she included 7 or 8 when she sent us our mail and the rest we've been able to get through our library overdrive or from the Kindle Unlimited Program.
We've read some bad ones, and some really great ones, but mostly it has just been a lot of fun! Here are some of our favorites:
We're Off to Find the Witch's House: Words cannot express how much we ADORE this book. Everything about it is amazing – the text is witty and fun, and the illustrations are gorgeous. We randomly picked this one up at a grocery store in Forks, WA and absolutely love it!
5 Minute Spooky Stories: This one isn't exactly "Halloween" despite the title. The first one about Wreck-It-Ralph has a Halloween party, but the others are most "scary" in a mild sort of way. Still fun. Bought from Amazon and read on our Nexus 10 device.
Clifford's Halloween: Clifford is a classic. One that we all loved reading!
 At the Old Haunted House: A fun counting book full of ghosts, goblins, werewolves, and plenty of other monsters. We've read this one over and over!
The Berenstain Bears Trick or Treat: The cubs find out that people are not always what they seem. Great lesson as always!
Skeleton for Dinner: Disaster occurs when Skeleton thinks the witches want to eat him for dinner!
Goodnight, Little Monster: Monsters! What could be more Halloween than that? Follow Little Monster as he gets ready for bed.
The Night Before Halloween:  Well written spin off of the classic "Night Before Christmas". Cara always asks why the children run away from the witch. Wouldn't you run?
The Halloween Hustle: Loved the illustrations and the book flows really well.
The Berenstain Bears and the Spooky Old Tree: Three bears explore the inside of a mysterious tree!
The Magic School Bus in the Haunted Museum: Spooky sounds, cobwebs and bats! It's perfect.
The Not-So-Witchy Witch: Childhood favorite of mine! A witch that's too cute  wants to go out for Halloween with all the other witches.
The Witch Next Door: Love this super old version I got from my mother! Story of a nice witch and her two young friends.
Berenstain Bears and the Ghost of the Forest: The cubs go out on a camping trip and end up seeing the Ghost of the Forest!
Pee Wee Scouts Grumpy Pumpkins: It was fun to have a book that took us a few nights to read. Costume designing, picking out pumpkins and a party at the rest home!
The Pumpkin Smasher: My kids got a kick out of this older one, and the illustrations are just beautiful!
Geronimo Stilton It's Halloween You 'Fraidy Mouse: I'll be honest, the kids had to read this one. Sam and I half listened as GS is not our favorite. They, however, LOVED it.
Geronimo Stilton This Hotel is Haunted: Same deal. I know my kids love it, but we can't stand the short sentences.
What are your favorite Halloween traditions? Let us know in the comments below!
Related posts: