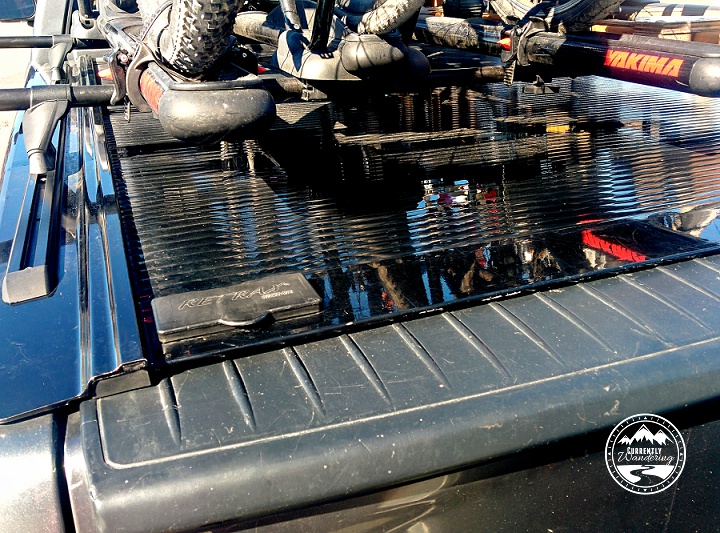 After purchasing our truck, I began searching for a great way to keep items in the bed of the truck secure and out of the weather. The market is full of various truck bed covers, which turn out to be called Tonneau Covers.
They mostly fall into the categories of roll-up vinyl, hard top, folding, and roll-up. Vinyl, often secured with velcro around the edges, is the cheapest option. Hard top has the best weather protection and folding has the most durability, but I chose a roll-up cover because it would fit and operate with a low profile.
The cover locks in any position, and rolls up easily into a canister at the front of the bed. It blocks water about as well as any of the non-hardtop truck bed covers. I was able to mount Yakima tracks on the edges of the bed cover, providing us a way to mount and carry our bikes and tow our Airstream at the same time.
I usually do hardware installs myself, but I had this done for me by the folk at American Truck and Trailer Supply in Manassas, VA.
In addition to the enhanced storage area, I immediately noticed the increased gas mileage. I have not done a fully scientific test, but it appears that the addition of the bed cover increased my fuel efficiency by 10 to 15 percent. Even if you are not going to be traveling full-time, you would easily recover the cost of a cheaper bed cover in the cost of gas alone.
In addition to the cover, we also added a lock to our tailgate to keep everything secure- see that post here.

If you want to see how we load the back of the truck and what we put in it – check our YouTube video here.
Over a year later, we are still happy with our Retrax One Truck Bed Cover and would choose this one again if for some reason we needed a replacement!
Related posts: