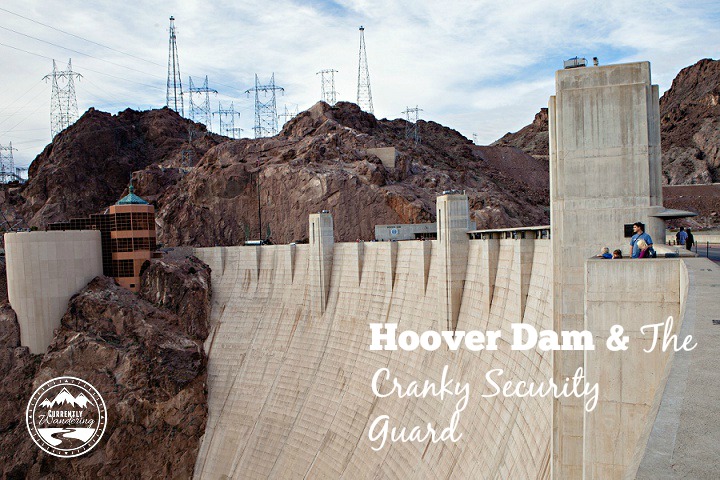 We are huge Percy Jackson fans, and ever since reading The Titan's Curse (where Percy & Annabeth end up in the bowels of the dam being chased by monsters) the kids have been anxious to visit Hoover Dam.
After returning to our Airstream in Las Vegas from Christmas break, we planned a solid two weeks of exploring the area, with Lake Mead & Hoover Dam near the top of the list.
When We Visited: January 26, 2015
Ages of Kids: 9, 7, 4
Where We Stayed: Boulder Beach Campground, Lake Mead National Recreation Area
We learned from the Lake Mead visitor center, that we could ride the Historic Rail Trail from the visitor center parking lot all the way to Hoover Dam. With a roundtrip distance of only 6 miles we figured we'd get some exercise, learn a little history, and avoid paying the $10 parking fee.
Genius.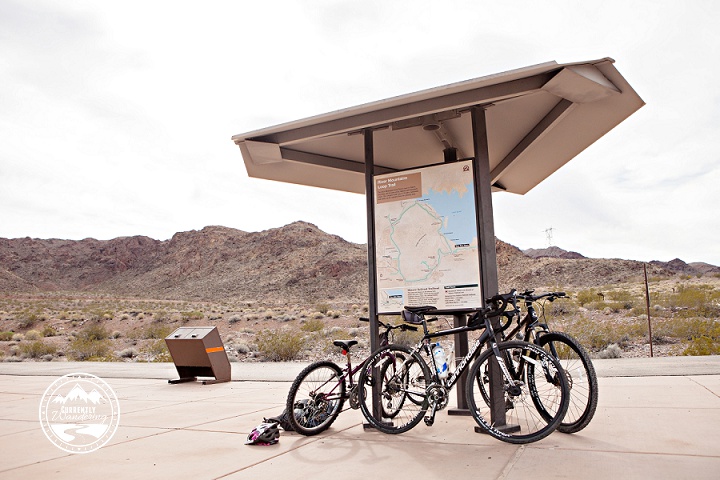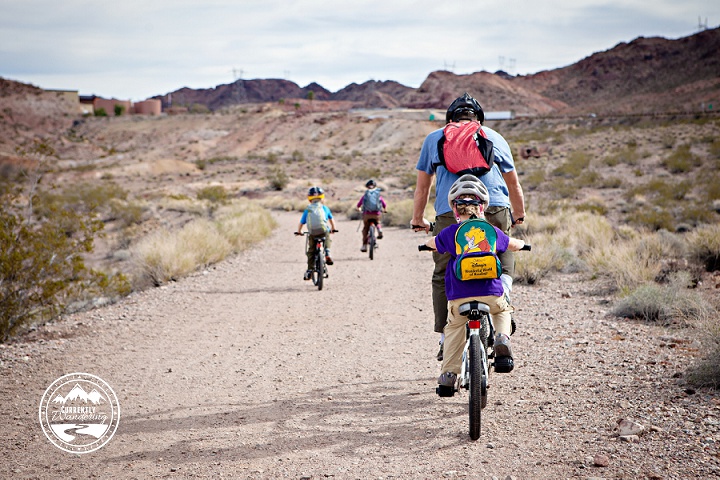 The bike ride itself went great! The trail is a mix of gravel and dirt so not the easiest to ride on, but our kids are veterans. The path was fairly flat, with only a large downhill section near the end. The only thought I had (which Rachel also voiced as well) was that we were going to have to climb back UP this on the way out. Awesome. Something to look forward to. We also switched the Ride-aLong to the mountain bike instead of the cyclo-cross as it has more traction and there was less possibility of us totally eating dirt.
Along the path we ran into the Hoover Dam "graveyard" of old parts, as well as one of the power relay stations. I suppose all that hydroelectric power has to get out somehow, right?


We made it to the Hoover Dam property boundary where, conveniently, a bike rack was located for us to lock up before heading in for our tour. We took this as a sign that quite a few people actually ride their bikes in to tour the dam and we were doing something fairly common. Turns out that's not really the case. Notice in the photos, we ALL have backpacks.

As it was lunch time we grabbed an outdoor table and set about munching down our tuna, crackers, hummus, and veggies while looking at the surroundings. One of the first things we noticed were bright yellow signs advising that large bags (and there was a black square photo to demonstrate the size which was not very large) were not permitted. Uhhh… we had 5 such bags. What were we going to do with those? We decided to just head in anyway and see what the deal was.  The signs also said "no food allowed" which we thought meant, "no open food" or "no eating" on the tour. No problem. We'll just keep it all packed up as all we had left after lunch were sealed up snacks for the ride home.
We followed the "tours this way" signs and headed down of set of escalators to the main building. As we walked inside we instantly noticed the TSA-like bank of metal detectors and x-ray machines. Okay, no big deal. We start to load up the gray trays when a super helpful lady looks at us, and says "There's no food allowed inside."
"It's all sealed," Sam replies.
"Sorry, you can't take it in with you." She gives us a sympathetic look but doesn't back down. "You could send your bags through the scanner just to see what's in it," she suggested.
"We know what's in it. Wow, you guys don't make this easy on families, do you?" Sam mutters half under his breath. I don't think his remark was said belligerently, but suddenly the young, male security guard at the other end of the machine looks up at us, and says, "What did you say?"
"Just that you don't make this very easy on families who bike in, that's all," said Sam.
"We don't make the rules," he responds getting testier by the second.
Then I swear this guy went nuts on us. Everything we said, or tried to say just made him more angry. Sam and I started talking quietly about a plan to stash all the food in one bag and take it back by the bikes. The security guy told us that if we left a bag somewhere it would be considered "abandoned" and we couldn't do that because it was illegal.
Say, what? How is leaving a bag locked up by our bikes suddenly abandoned? Is that different than leaving it in the car?
At one point I looked at him and said, "You need to stop talking to us," to which he replied that we needed to leave "right now." Ummm… no. Not going to happen.
Sam and I are still quietly talking, while a bit of a line starts building up behind us, and the original, generally nice female security guard is looking a little embarrassed. We let people go in front of us while we continue packing all of the food into one of our smaller bags, leaving the kids some water, binoculars, and other randomness in theirs, while I still have my camera bag.
"If you come back without that bag, I'll know you left it somewhere and I won't let you in." He was still watching us.
We wouldn't tell him where our bikes were parked (I seriously had visions of him calling a squad to search the area and confiscate all our bikes), and after we got everything put in one bag, Sam waited while I took the kids through the metal detector and the scanner.
We also had to pull out our First Aid Kit (it had scissors in it) and a pocketknife the x-ray machine picked up. I seriously just tossed them back to Sam and he put them in the bag we were leaving behind anyway, even though the grumpy guard said he just had to see the scissors and then we could take them in since it was a First Aid Kit. Now he was trying to be helpful?
Once we were through we had to sit on a bench and wait for the rest of our "party". The kids and I talked quietly, and I was so mad I warned them that if they wouldn't let dad back in we would demand a refund and we'd leave. They weren't too happy about it, but understood.
Luckily, it didn't come to that. Whether he decided to take a break, or was forced to, the security guard wasn't on duty when Sam returned for his trip through the metal detector.
Hallelujah.

Despite our less-than-ideal experience entering the tour, we somehow managed to time things just right to get a private tour of the power plant. As we passed groups of 40 or more people inside the building, we were a little shocked we got that lucky. Our tour guide, Rebekah, was fantastic. She was patient with the kids, answered questions, asked questions, and generally was just laid back and easy going. It was perfect.

After our 30 minute tour, we headed outside to walk on the dam (which you can do for free). It's pretty crazy how tall it is!


Half the dam is on the Arizona side, and half on Nevada so they have a clock on both sides to show the local time. My kids loved crossing the line and suddenly being and hour different, and then turning around and walking right back to Pacific Time. It's the little things.

We didn't stay too long because we knew we still had to ride back. It was a little tiring, but our kids pulled through and managed to make it all the way back to the truck. The view of Lake Meade from the trail was just amazing, especially as it was getting close to sunset. To top off the ride, Sam drove the car down the hill to the campground while the kids and I coasted (Faster Mommy! Faster!) down the paved trail between the trail head and the campground.


Although it was a very long day we had a great time. Even with our bad security experience, we enjoyed the tour and the experience of seeing such a great piece of architecture! We'd just recommend driving in, or planning ahead in advance what you bring with you!
Related posts: