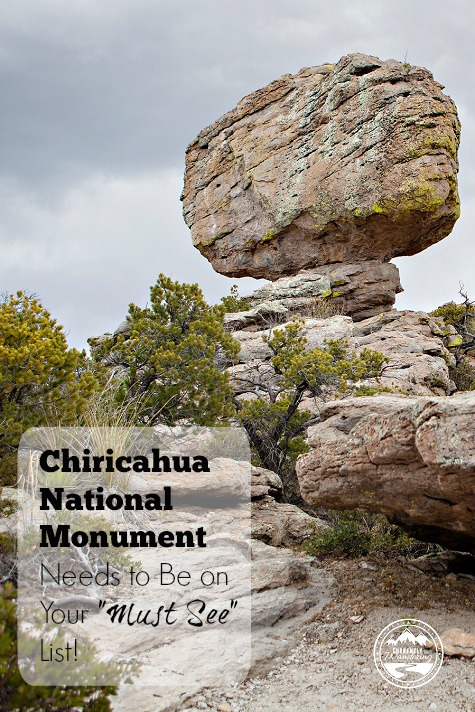 We visited Chiricahua National Monument in eastern Arizona. It was a mountain oasis in a desert of grass. The landscape was pretty cool. And there were TREES. We hadn't seen trees in a month – just cactus.
Mom and dad decided that we were going to hike. A long one! I didn't really want to go, as hiking is not my favorite thing to do. Long hikes are boring and I get tired way too fast, but I decided to make the best of it and have fun along the way!
When We Visited: March 8-9, 2015

Ages of Kids: 9, 7, 4

Where We Stayed: Bonita Campground inside the park. The have a max trailer length of 29′ feet because of the sharp turns and deep washes inside the campground.
The morning after we got there, we had a great breakfast of eggs & toast and then walked to the bathrooms where we waited for the shuttle. It was pretty crowded inside and we had to climb all the way into the back! They took us to the top of the mountain at Echo Canyon and we started our hike.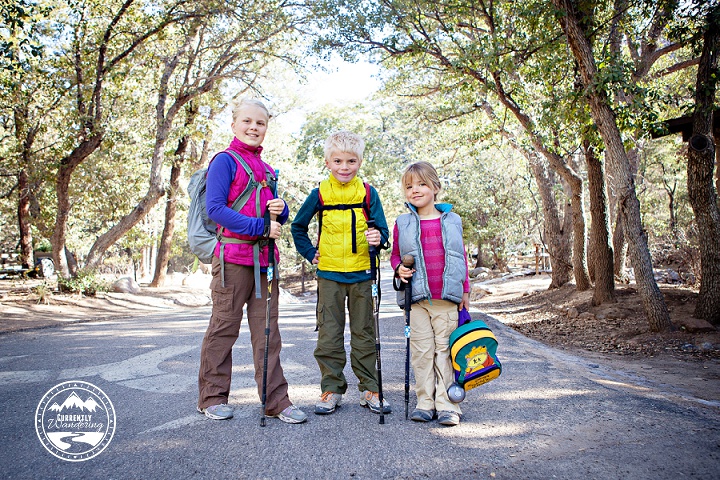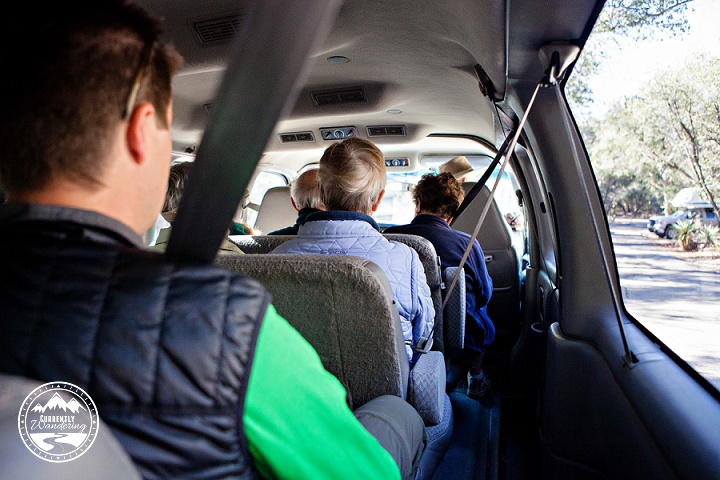 At the beginning, the hike was pretty much downhill, and it was steep and rocky. It got steeper and steeper as we got progress, and I'm glad I had one of the four hiking poles. I used the pole to lean on so I didn't hurt my knees.
We hiked on a little further down the green and brown mountain and came to the rocks. The rocks were made of Volcanic ash covered in bright green lichen. It was pretty unique. Echo Grotto Canyon is a collection of rock tunnels. The place was very tall. We had lots of fun climbing around it. Dad found a cool ledge lifted Andrew up so he could take a picture of Andrew siting on the ledge. Andrew loved it, but there was no way I was going up there! Mom and Dad took more pictures of us and then we headed on our way. I loved to see the rocks, because it reminded me of Bryce Canyon and we love to rock scramble.

Mom and dad are pretty good at keeping us distracted and helping us hike long distances. Sometimes we listen to music (Frozen is Cara's favorite), we eat yummy snacks and I love to suck the sugar off the peach rings.  We also play a math game where you line up single file and skip by twos. Each person has a turn saying a number while you skip count. It is very fun. We played a state and capital game, and had some more snacks. Andrew and I started to talk about Minecraft while Cara was counting to Mom and Dad. I started to draw numbers in the trail for Cara to practice her counting. I went to twenty probably about ten times then Cara and Andrew took over with the numbers.
The views on this trail were amazing! There was rocks everywhere.  It was like Bryce Canyon and Yosemite mixed together but totally different at the same time. We loved it. Its in our top three Favorite parks with Crater lake and Bryce Canyon.

After hiking down for a couple of hours, we hiked pretty flat along the Hailstone Trail but then climbed up the Mushroom Rock Trail to the top of the hill to have lunch. We got to the top of the mountain we were climbing up, and found a good spot with a view for lunch. We had egg sandwiches for lunch. It was very messy. I was the best at keeping my spot clean. We all had to go to the bathroom but there was none there! We had to go in a hole! It was so disgusting, but kind of fun at the same time!

After lunch, we got to a loop called Heart of Rocks Loop, and started on it. It was boring for a wile, but then we came to the awesome rock formations. There was Thor's Hammer, though it did not look like a hammer. There also was Duck Rock, it looked like a rubber ducky, I loved it the most. Kissing Rocks was one, Punch and Judy, (it looked like two people, and Pinnacle Balanced Rock. There was a huge step in the loop it was hard to go up it. The steps up and down were made of flat rocks.


The hike down to the Visitor Center was the longest! We would through lots of trees and tried to keep ourselves entertained. Andrew, Cara, and I talked about things we wanted to build in Minecraft. When we got to a fork in the road, we were so tired that mom & dad had us lie down and put our feet up to give them a rest!

Andrew and I got ahead of our little hiking group, and I started needing to go to the bathroom. I ignored it. Then, I started needing to go to the bathroom so bad. I stopped to wait for mom and dad, but Andrew and I were to far ahead. I looked down to the ground. Not to far down, I'll make it to the visitor center in time, I thought. I walked as fast as my legs could carry me down the trail. I went faster and faster, that I got ahead of Andrew too. The trail started to the get flat, and I was hoping I was close to the visitor center. I passed some other hikers and said hello and then hurried down the trail again. I started to feel like I was going to explode. I went faster and faster. I suddenly almost peed in my pants, so I veered of the trail and into the wilderness. I found a good spot and went to the bathroom managing it all by myself!
I got back to the trail and sat on a rock to wait for my family to catch up. I heard Cara talking and started back up the trail. I met my family and told them what  happened. We  started on the trail, and maybe 10 minutes from where I went to the bathroom was the Visitor Center! I was very mad at myself for not going any farther. At least I didn't have a huge accident!
We asked some one to take our picture at the sign for the trail then headed home. When we got there I went straight to my bed and lay down because I was so tired!

The next day, I looked back to the day before, and felt that I had done something important that most people would not be able to do. I felt really proud of myself for doing an eleven mile hike. Too bad we had to leave the awesome oasis so soon! I hope that someday we will get to back to Chiricahua National Monument.
Related posts: