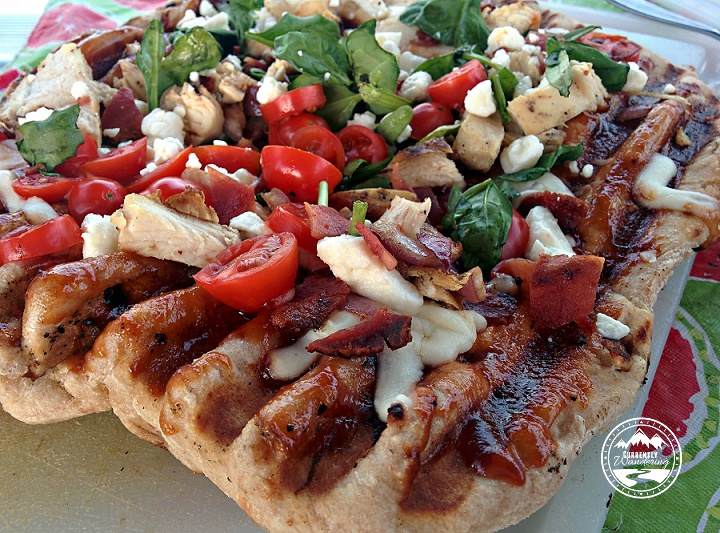 I love pizza, and even better is GRILLED pizza. So delicious. There are a million different variations on toppings, but this Spinach, Chicken, Tomato, Bacon, BBQ sauce, Feta one just happens to be a favorite.
We have a Weber Q 1000 bought from Amazon (affiliate link) and we love it. The only thing we'd love MORE is to have bought the model with the thermometer. Unfortunately, that particular model also came with the side wing tables which we did NOT want so we figured that $30 was not worth the thermometer. Oh, it totally would have been. We have yet to buy a stand alone one, so mostly its just guess work as to how hot the grill is.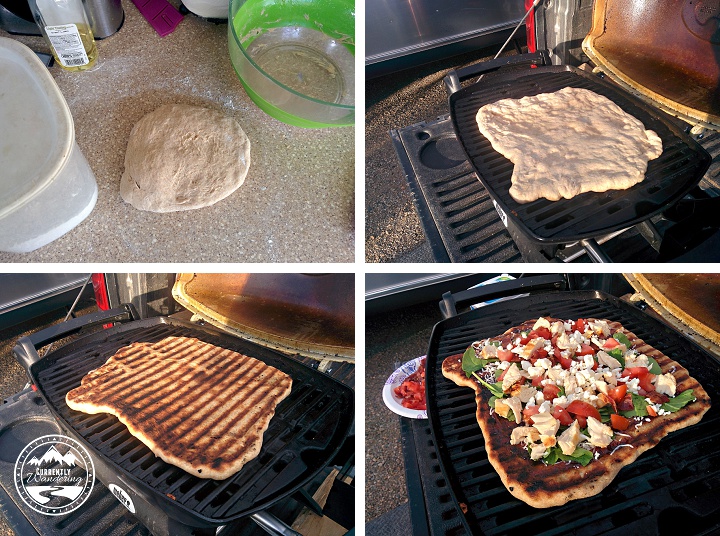 The only trick with this recipe is working fast so your cheese has time to melt before the bottom of your pizza crust burns. Sam and I usually work together once he flips the crust and we have everything set out ready to go by the grill (notice how our truck is very NOT level):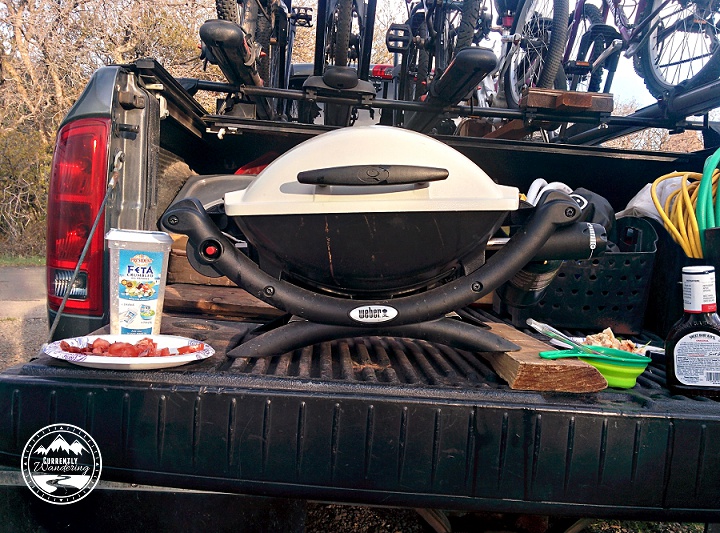 Our kids gobble this up, although Cara prefers the pieces with less tomato and spinach. You can use as much or as little BBQ sauce and cheese as you'd like – we tend to go less as its healthier and we have a bit of a dairy intolerance around here.
Enjoy and let me know how it goes!
Yummy Pizza Dough
Makes 2 14″ pizzas (enough to feed our family of 5)
 
1 1/4 cups warm water
2 teaspoons active dry yeast
2 tablespoons granulated sugar
1 tablespoon honey
1 tablespoon olive oil
2 teaspoons salt
2 cups all-purpose flour *more if needed*
2 cups white wheat flour (if you're doing regular wheat flour, do 1 1/2 cups instead and increase the all-purpose flour to 2 1/2 cups).
In a small bowl, mix together the sugar and warm water. Sprinkle the yeast on top and let sit for 10 minutes to activate. Add the remaining ingredients (flour 1/2 cup at a time just in case) and mix well. I always have to add in more flour (not less) so its not crazy sticky, but do whatever works for you.
Spray a bowl with cooking spray, scrape your dough into the bowl and cover.  Cover and let rise on the counter about 3-5 hours or until it has at least doubled in size (or you are impatient and just hungry and want to eat!). You can also refrigerate this for up to 3 days if you want to make it ahead of time, but I'm never that prepared.
To Make the Pizza You'll Need:
Pizza dough
olive oil
BBQ Sauce (our favorite is Sweet Baby Rays)
1-2 Grilled & thinly sliced chicken breasts
3-4 slices of turkey bacon, cooked and crumbled
1 cup fresh baby spinach, roughly chopped
Cherry Tomatoes- halved
Feta Cheese
Get out all of your toppings and prep them beforehand, because once you start grilling its a mad dash to get it all on there. About 45 minutes before we want to eat, I'll cook and crumble the bacon, chop the spinach, halve the tomatoes, and have Sam grill the chicken.
When all your ingredients are ready, get your BBQ turned up hot (it might already be warm from grilling the chicken) while you divide the dough in half and roll out on the counter. Try to get it as thin as you can, but ours usually ends up being on the thicker side and I kind of like it that. Plus, our counter just really isn't that big. I usually transfer to a plate and send it outside with one of the kids to give to Sam who is stationed at the grill.
When the grill is hot, spread oil over one side with a basting brush and put the crust on the grill. Spread oil over the top side now and let it cook for about five minutes, or until it starts to look nice and toasty. Carefully flip it over.
Working quickly (so you don't burn the pizza!), spread the barbecue sauce over the crust, then sprinkle the mozzarella cheese evenly over that. Add spinach, sliced chicken, bacon & tomatoes, and then top with the Feta cheese.
Close the lid of the grill and let it cook for about 4-6 minutes, until the bottom of the crust is crispy and the cheese is starting to bubble.
With grilling tongs, carefully slide the pizza onto a cutting board or cookie sheet (this usually takes two of us!). Let cool for about 5 minutes, then slice and serve.
Eat & enjoy!

Related posts: