It's no joke we fell in love with Prescott, AZ (really, we did a pretty awesome April's Fool Joke) and one of the reasons was the plentiful outdoor recreation opportunities. We were only going to drop into Prescott Valley, spend a night with college friends and then leave, until another full time Airstreamer (whom we met at Organ Pipe National Monument a few months earlier) started posting photos of Point of Rocks Campground and the Granite Dells. Although we were slightly nervous about a private RV park (they are never our favorites) we couldn't resist coming into town and seeing what the hype was all about. We warned Rich & Jodi we were coming to crash their space, and Rich even visited their storage unit and pulled out his climbing gear in anticipation of our visit.
When We Visited: March 27 – April 2, 2015

Ages of Kids: 9, 7, 4

Where We Stayed: Point of Rocks Campground is not your typical RV Park. The park has lots of shade, dirt roads, and huge granite boulders everywhere. Definitely more of a campground than an RV Park. We loved it. We were given a smaller site on the end (the best spots are in the back loop up against the boulders – note to self for next time) and settled in. And then we kept extending our stay again, and again, and again. By the time we left we had spent a week in this awesome town rock climbing, exploring, visiting nearby Watson Lake, and mountain biking.
Sam and I climbed quite a bit in college, so rock climbing isn't new to us, but our kids had never been outside on "real" rocks. Andrew especially was pretty excited as we try to have regular rock climbing gym dates.We lined up an afternoon and a small group of us (including the awesome Ty, Sarah, Luna & Aki from mywifesadventure who we met the day before) walked out the back of the campground and into the Granite Dells.
Rich & Jodi frequent this area as a sort of "home base" of operations so Rich has been climbing all over the Dells and took us to a spot with a pretty easy 5.5/5.6 to start. Sam and Rich walked to the top of the crag to set up a top rope and the rest of us made our way to the bottom. After getting set up we took turns climbing the relatively easy first route and then Sam went up and switched the chains over to the next one for a little harder of a climb.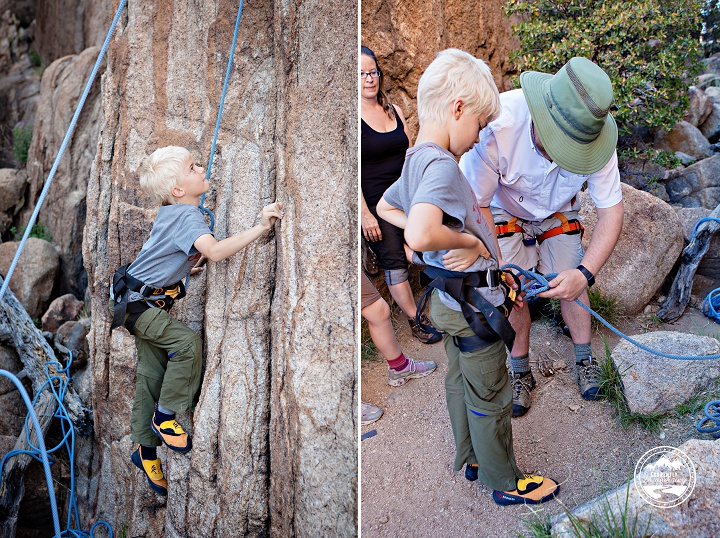 We had a great afternoon! We encouraged each other, talked, the kids made forts, scrambled over the rocks, and ate snacks.  The littlest ones didn't climb, so we took turns entertaining them. I also couldn't resist pulling out my camera and doing a little impromptu lifestyle session of the Bennett family: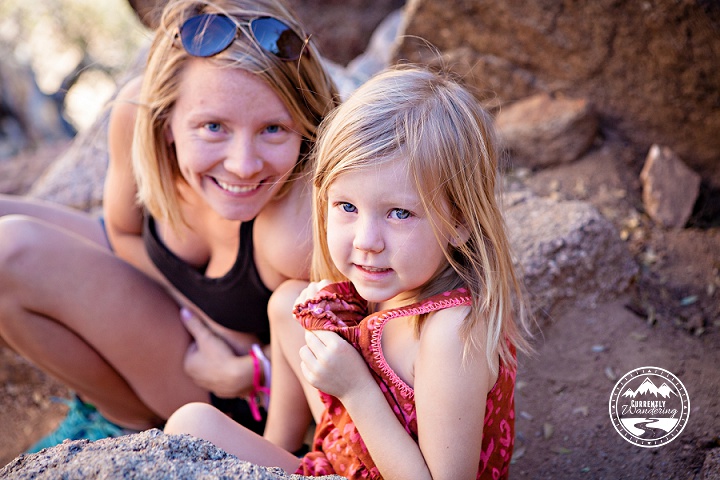 Sarah's first time rock climbing – doesn't she look like a natural??


How did it go with the kids that did climb? Andrew spider-manned his way to the top, but had trouble coming down. Jodi eventually went around to the top and pulled him over that way so they could walk down. Rachel struggles with heights and didn't make it very far at all before she decided she was done, but had no trouble coming down. Sam, Jodi & I all climbed twice, Ty & Sarah both got in one climb (they had the youngest baby to juggle) and since Rich scraped up his leg mountain biking, he designated himself as belayer. After everyone had climbed we had Andrew practice climbing a bit, leaning back on the rope and coming back down. He was much more confident after that!

I've warned Sam that if we really end up back here for a month or so next winter I'm so buying a rope and we are going climbing at least three times a week. We had such a fantastic time, that we did it again a few days later – only this time we brought livinginthemomentum with us as well! We are so grateful to Rich & Jodi for the use of their gear and expertise. You really can't beat a rock climbing location with a view like this!

Related posts: