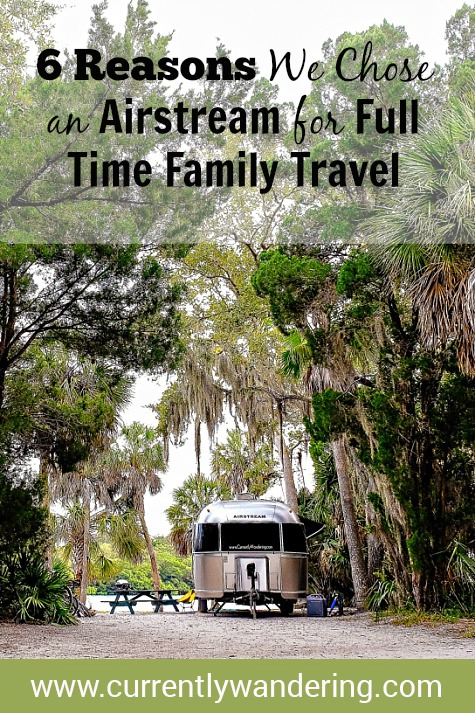 We get asked quite frequently why we chose an Airstream to travel in full time. Many people love how they look, their functionality, their definitive "American-ness" but don't see them as practical for full time families. Originally, our plan was to buy a Class C RV (the ones that look like a truck cab with a bed over the cab) and travel 4-6 months at a time. Once we were introduced to Airstream trailers and started playing around with the idea of full time travel, we decided we really wanted one and just needed to figure out how to make it work. So far, so good.
There are quite a few reasons we chose an Airstream over an SOB (Some Other Brand) and I'll give you our top 6:
1. Airstream Trailers Hold their Value. We bought our used 2008 27FB International for a fraction of the cost of a new one ($95,000). With all the upgrades we've done included solar, battery box, inverter, antennas,  bed conversion, etc. we think we'll be able to get most, if not all, of our money back out of it. Not bad for living quarters for a few years.
2. Airstream Trailers Are Built Well. On our first mini-van road trip, we visited the Airstream factory in Jackson Center, OH and saw how these trailers are built. While many RV's use copious amounts of particle board, Airstreams have none. The shell is assembled first, sent through a water spray to test for leaks, and then all the insides are assembled. These also means everything inside the Airstream can fit through the door, which makes remodeling much, much easier.
3. Airstream Trailers Are Modern Without Feeling Like a Badly Decorated Hotel Room. I don't know how else to describe this one. Most of the RV's we toured (and we did look at quite a few) felt like badly decorated hotel rooms, or even too close to a house (island in the kitchen, large pantry, huge leather sofa, etc). We wanted different. We wanted a space ship for Earth, not an almost-house. Many people are surprised with how modern and sleek the interior of our Airstream is. We love it.
4. The Airstream Community is Phenomenal. This is a huge one for us. We started playing with the idea of going full time and watched families like @Malimish_Airstream, @Worksology, and @TinFoilHouse on Instagram. We loved how they interacted and supported one another and just wanted to be part of that community. Since we've been on the road, we haven't been disappointed. It seems that having an Airstream is a perfectly acceptable reason to knock on another's door and just say "hi".
5. Airstream Trailers Are Small. One of my favorite comments has been, "But there's not as much storage in an Airstream!" Our answer is, "Yes! Isn't it great?" Because of the curves, there's not as much storage up in those corners and I'm totally happy with that. Less stuff = less clutter = less to worry about. We don't want more room for "stuff", our goal was to have less.
We are also under 10 feet tall, and about 8.5 feet wide, which is great for parking under trees or in small campgrounds. There's many places we've been able to fit and stay that many of our larger RV friends can't. I love being IN the national or state parks, not at an RV park nearby because that's the only place we could fit.
6. Airstream Trailers Tow Really Easily & Get Decent Gas Mileage. Airstream purposely designed their trailers to tow easily, and they really do. I have no problem driving, and most of the time I feel like I'm driving just the truck – not also hauling an 8,000 lb trailer. They are aerodynamic which helps with wind and also improves gas mileage.
While an Airstream is definitely not for everyone, we have really enjoyed traveling full time in ours and don't regret our decision!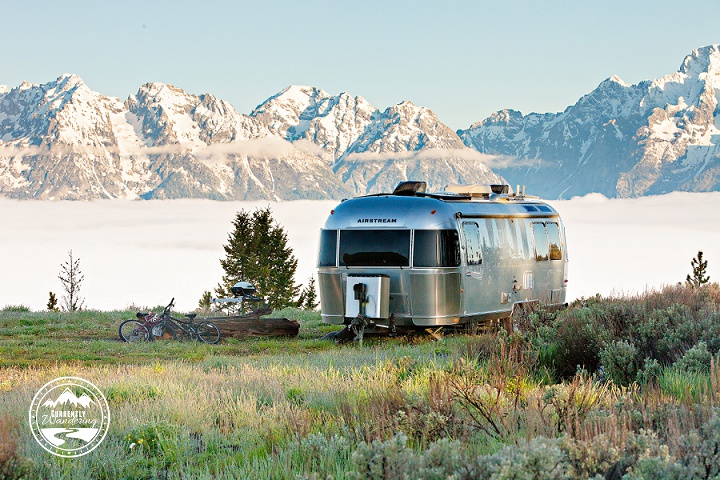 Related posts: