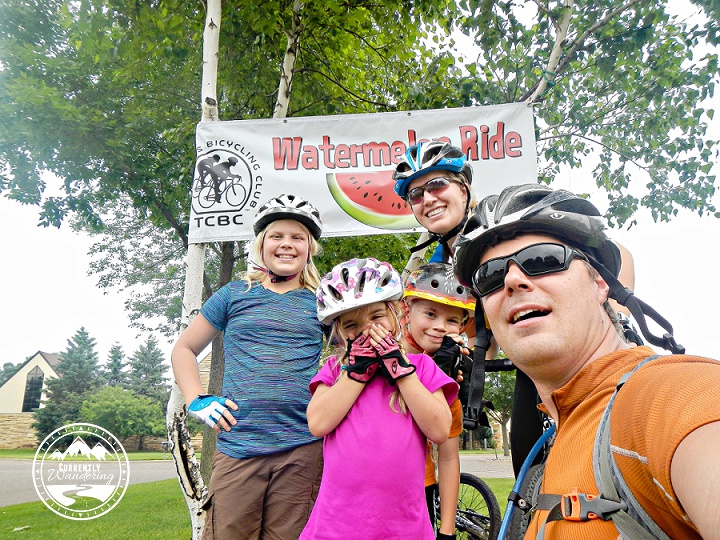 The longest bike ride we'd done to date was 10 miles along the bike path between Medford & Ashland, OR. The kids and I dropped the truck off to get detailed and we needed to keep ourselves occupied all day. We rode 5 miles out and 5 miles back, stopping to play at parks along the way and have a picnic. Overall it went really well and they all did great mostly because we spaced it out and didn't push too hard.
During the bike fiasco in Minneapolis, we ended up at a local bike shop where I found a flier for the local 4th of July Watermelon Ride. There was a 25 mile option and I pitched it to Sam who agreed we thought the kids could do it if we presented it the right way. We knew they could ride, but having the mental capability (not just physical) of going 25 miles would take some encouragement!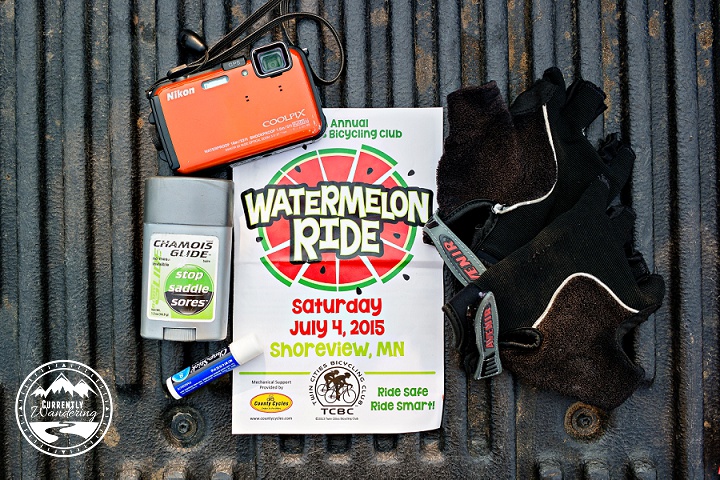 Sam and I rode multiple organized rides back in Utah pre-Airstream, so we knew they were challenging but also really fun. There's something about having other riders cheering you on, and the snack stations would be a big hit with the kids. We talked about it to the kids and they were actually pretty excited!
There were not many kids riding the 25 mile option – we saw a few other families, but it seemed that most of them were going for the 15 mile option. Our kids were all in though!
Cara rode her Ride aLong instead of the Woombike. As amazing as her little bike is, we knew it would be hard for her to keep up (she has to pedal really, really fast) and would wear out quickly. Having her ride with one of us was nice because it still took effort on her part, but it wasn't all on her.
Sam and I also periodically traded between the cyclocross and our 29er mountain bike. The cyclocross was definitely a nicer ride under these conditions, but that also meant pulling Cara. The mountain bike took a little more effort, but is also more upright so it gave my back a break every once in awhile!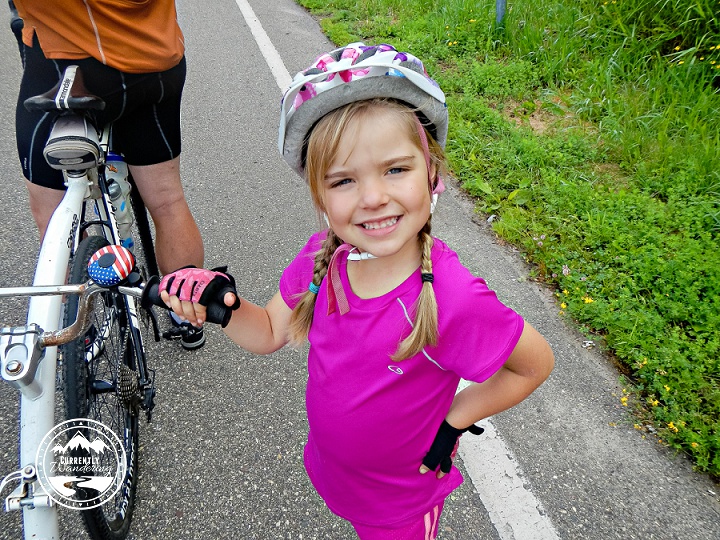 Our snack stop! About halfway through the ride the organizers set up a snack table as well as water refilling stations, which is typical of organized, supported rides. We grabbed some nuts, grapes, bananas, fruit snacks, and granola bars found ourselves a place on the grass and chowed down. Its amazing how hungry you can get quite easily! We also grabbed some extra fruit snacks for the road.


Much of the route was along less traveled roads – through neighborhoods or along back roads. The pavement was generally good and it was nice to not have to worry about a lot of cars.

We also got lunch near the end! About 3 miles from the start (and also the end of the ride), there was a nice little park and pavilion where they cooked us hot dogs, had fresh veggies, potato chips, cookies, and of course, WATERMELON! The kids also loved taking a break and playing on the playground.

All of the kids got a finisher medal. It says "I Rode the Watermelon Ride" on the back with the Twin Cities Bicycling Club logo on the front.  They also received a bike bell at the start of the race which came in super handy! Not only did it entertain Cara for 75% of the ride, but it allowed the kids to make their presence known as they passed or came near other riders.
Overall this even was pitched as a family friendly ride and it was perfect for our kids' first organized bike event! We are so glad we did it, and would love to turn a family bike ride into an annual 4th of July Tradition!
Related posts: