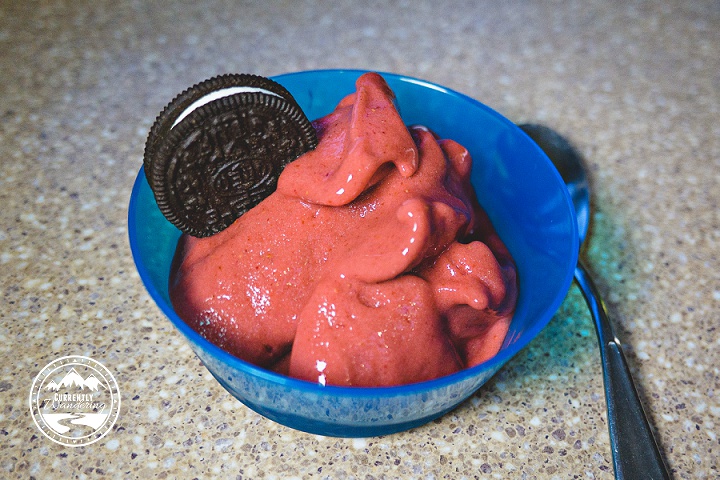 Its no secret that I love my blender. My big, powerful blender. I wrote a blog post last year that got some attention from Blendtec and they graciously sent me a Twister Jar as a thank you for the photos of their blender in our Airstream. I was hesitant at first as to how it could be better than their regular jar, but I was quickly convinced of its awesomeness.
Instead of a regular sealed lid, the twister jar has, well, a twister lid. There are two arms that reach from the lid down the sides of the jar and you rotate the lid counterclockwise while you blend so that it will scrape down the sides. Genius. It works great for anything that is super thick. We've made guacamole, salsa, cocoa-nut almond butter, hummus, & my "famous" strawberry sorbet (as the kids call it).
I've also found that the twister jar is the perfect size for a single serving smoothie. It comes with a regular "gripper" lid, and I can add 1 cup of water, my strawberry Shakeology, 1 cup of spinach, 1 banana, 5 ice cubes and it blends up really nicely!
My Twister Jar also came with the "Spectacula" which is a fancy name for the spatula designed to perfectly fit the interior of the Twister Jar. It is amazing! I kid you not – whenever I use our regular spatula I can never get as much out of the jar as I can with the Spectacula. However, we do make fun of the name on a continual basis.
Okay, back to the sorbet. We love to make Strawberry Sorbet, or Dairy-Free Strawberry Ice Cream as its called in their recipe book. We find that "sorbet" sounds so much fancier, so that's the name that stuck.
This last time we added some Oreos on top and the flavors were great together! We could probably blend the Oreos in as well (or other mix ins) but we love the regular kind so much we haven't bothered to branch out. We've also made this with a mixture of different frozen fruits (Costco Berry mix, Tropical blend, etc.) but strawberry always seems to be the favorite.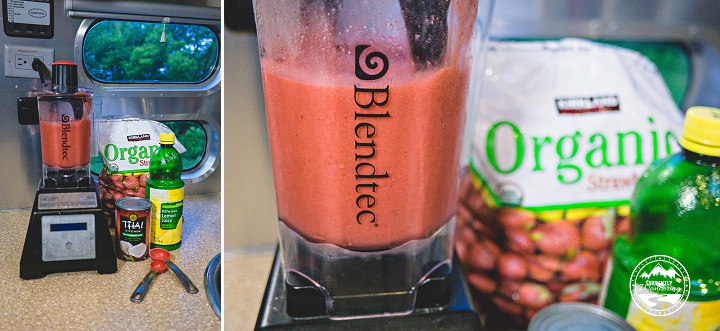 Strawberry Sorbet
serves 2 adults or 3 kids – I can't fit more than this in the jar, so we usually end up making two batches. One for the kids and then one for us. 
1/2 cup coconut milk
5 Tbsp granulated sugar
1 tsp lemon juice (fresh or otherwise – I never have fresh)
3 cups frozen, whole strawberries (This is approximate. I kind of fill the jar about 3/4 full and go from there. If its too runny, I'll add a few more strawberries and run it again. Just don't get it too thick or it'll be hard to blend!)
Add ingredients in order listed and place Twister lid on jar. Hold the lid and select "Speed Up" to speed 7 and run for 40-50 seconds or until smooth. Turn the twister lid counter-clockwise during blending.
Happy dessert!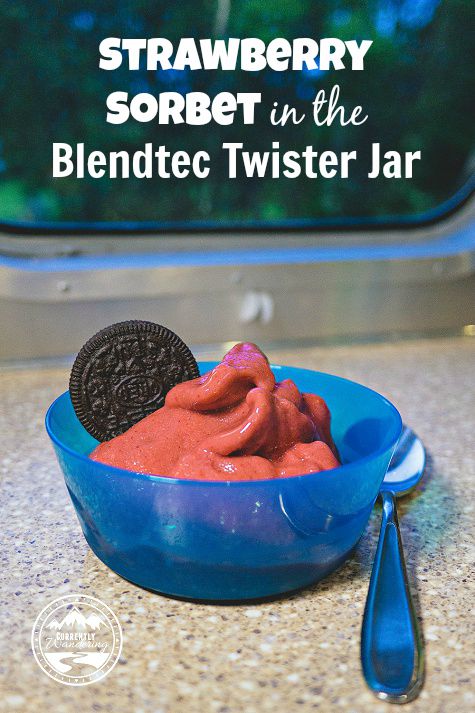 Related posts: