Travel Dates: July 16 -30, 2015
After 4 weeks in Minneapolis, it was time to leave! We headed out bright and early heading west for Cosmos and a paragliding competition. We had been invited by the hosts to come check it out and even get in a tandem flight! It felt so good to finally be leaving the Twin Cities area and headed out to explore more of the state.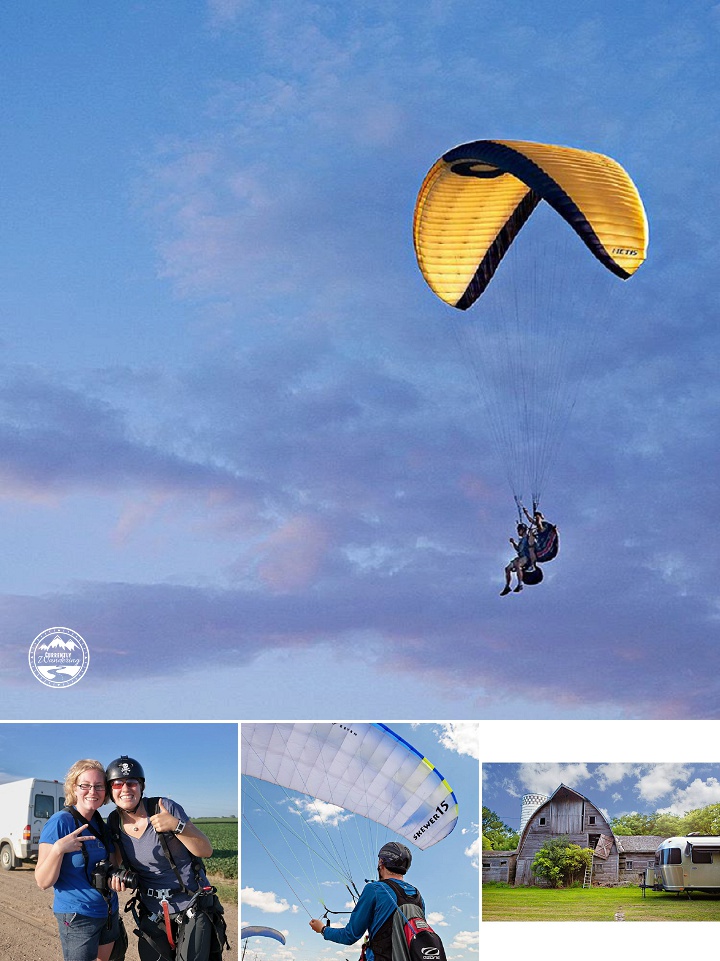 We met up with Anna and her family who were hosting the Midwest Corn Alps Paragliding Competition, and even though it was crazy hot and humid we had a fantastic time!
Check out the full details here: 2nd Annual Midwest Corn Alps Paragliding Competition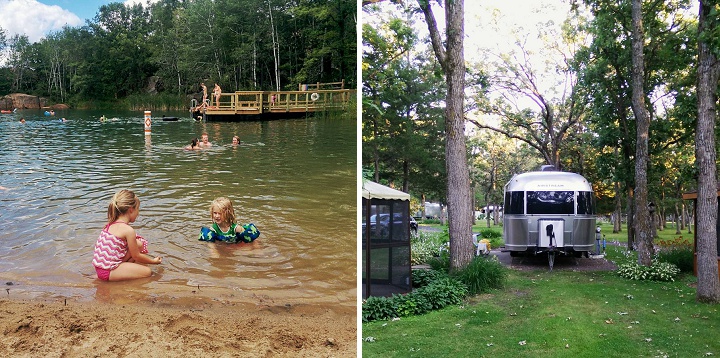 Leaving the competition we headed for an all Airstream RV Park in Clear Lake Minnesota. We had heard on Instagram that it was a favorite of another traveling family and decided to check it out. We went swimming in the pool and then joined in on the Mexican pot luck and pinata party for the kids. Everyone was extremely welcoming and super nice!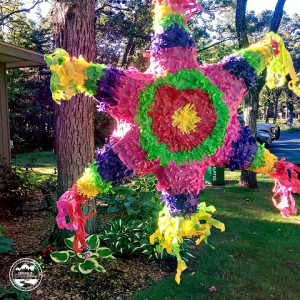 Conveniently it also put us close to St. Cloud and some college friends of ours. They took us to a local swimming hole called Quarry Park & Nature Preserve where we spent the afternoon.
Minnesota is Warmer Than I Thought It Would Be
On Sunday at church, the leaders announced the nearby town of Brainerd, MN needed volunteers for some disaster cleanup. A tornado had touched down in the town and leveled a lot of trees and generally made a mess of things.
Since we don't do enough service as it is, we decided to take the day off and drive up and help. We cleared brush and logs from a driveway and the kids were fantastic little helpers!

That evening we drove to the Cuyuna Country State Recreation area and found a spot in the nearly empty Portsmouth Campground. This was a total shot in the dark, but I had heard from a girl in Minneapolis that the mountain biking here was superb. It didn't disappoint. I still dream about those trails….

Next up we went to Itasca State Park where the headwaters of the Mississippi River are located. We found a great spot in the campground and headed out to enjoy the park. Since we were unable to get great cell signal, we decided to make the most of our time there.
We swam in the lake, attending a ranger fishing program, and rock hopped across the Mississippi River. Much easier to do here than down in the Gulf of Mexico.
"We planned a great hike this morning, and failed during execution. The first two miles along the lakeshore turned out to be a breakfast buffet, with insects doing the feasting and us as the selection of food.
Our repellent was insufficient.
The best way to escape the bugs was to move faster, and we cleared that section of trail in record time.
Our plans to hike to the observation tower were scrapped, and we returned home via a longer but decidedly less buggy route. We still hiked 7.5 miles today, so even in our failure we won." – Sam

"After dinner, @jesscurrenand I snuck away for a short bike date. 8 miles of paved bike path with some ridiculously good chocolate in the middle. And when you find a random patch of cell service for the first time in days, it is worth checking your voicemail." – Sam

We spent the weekend at Lake Bemidji State Park, mostly just taking it easy and sticking out as some of the only "non-weekenders" in the campground. Lots of work, some laundry, and church on Sunday.
"Our afternoon wander yesterday took us into a nearby bog. Andrew and Rachel surprised us with their knowledge of carnivorous plants. We saw two types on our wander. Shown here is the Pitcher Plant, which attracts insects with a sweet smell, uses tiny hairs to prevent them from leaving, and drowns them in liquid. The plant captures bugs to gain minerals not found in the soil." -Sam 

Monday morning we drove north to Voyageurs National Park and Wooden Frog Campground. This turned out to be one of our favorite stops so far on our journey. The National Park is amazing, full of history and great ranger programs.
We also rented a canoe for a few hours one morning and paddled on Lake Kabetogama.
Check out our blog post for more details: 5 Interesting & Fun Things to Do with Kids at Voyageurs National Park



Related posts: