Traveling through the Upper Peninsula of Michigan without trying a pasty would have been a travesty. A pasty is a baked pastry, traditionally filled with meat, vegetables, rutabagas, seasoning and then baked to perfection. It is pronounced Past-Tee, but more run together, like Past-ee. Mispronounce it and you will be gently corrected. It has a crimped, curved edge which allows a person to eat it with one hand. And they are only commonly found in Michigan's Upper Peninsula.
The pasty came over from Cornwall, England with the influx of immigrants who worked in the mines. The pasty was easy to stuff in a pocket or lunch pail, reheat over a lantern down in the mines, and then eat one handed.
Different shops have a variety of fillings now – from the traditional beef and potatoes, to chicken & broccoli, and even fruit (although we were told a dessert filled pasty is, in fact, not really a pasty).
We had a few recommendations for places to try that we decided to do a little taste test and see which of the three restaurants was our favorite.
Muldoon's Pasties & Gifts – Munising, MI
First stop, and we didn't really know what to expect, but the line was long which typically indicates good food. We asked for ours to stay, and they gave us paper plates and silverware to go with our wrapped pasties. We ordered a chicken, a beef, an apple, and a raspberry pasty. Cara didn't eat a whole lot (or really anything at all), so we basically split each pasty between two people. It was a good amount of food and they were delicious! Half of us liked the chicken better, and the other half preferred the beef. Both were great with gravy.
Their desert pasties were my personal favorite. Officially a pasty or not, they tasted like pie and were even better with ice cream! This was the only one of the three that served dessert so I'm glad we went back a second time for round two.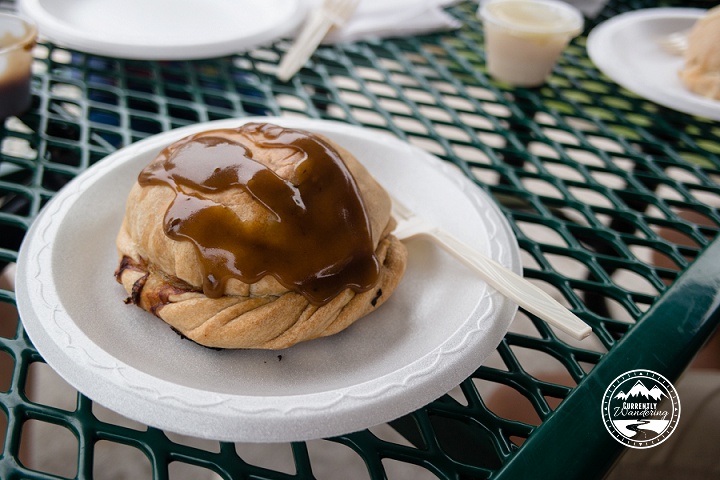 The raspberry pasty of awesomeness: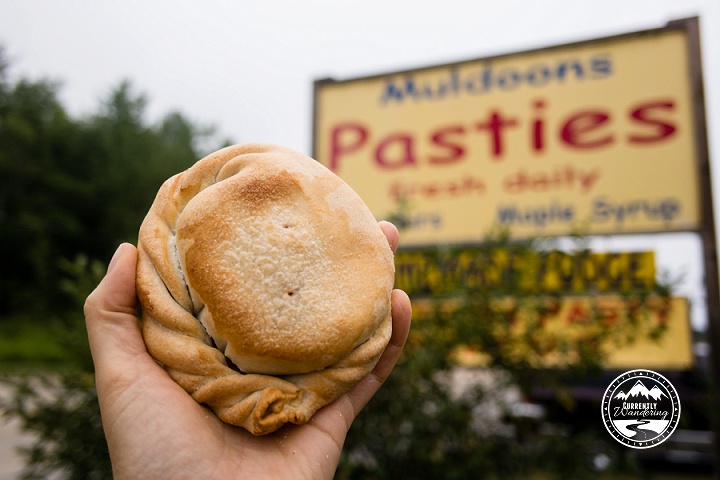 Jean-Kay's Pasties & Subs – Marquette, MI
We stopped by Jean-Kay's for lunch on our way out of town. We were greeted warmly by the owner who took our order. Real plates and silverware with pasties straight from the warming oven. Jean-Kay's crust was the lightest and probably best we tasted. We ordered a traditional beef and then a vegetable pasty which had cream cheese in it. I must be partial to cheese because that was my favorite part – although it seemed to be clumped near the top and would have been better melted throughout the whole pasty.
Jean-Kay's pasties seemed a bit smaller so we ordered a small potato salad (which was amazing) and cookies to go!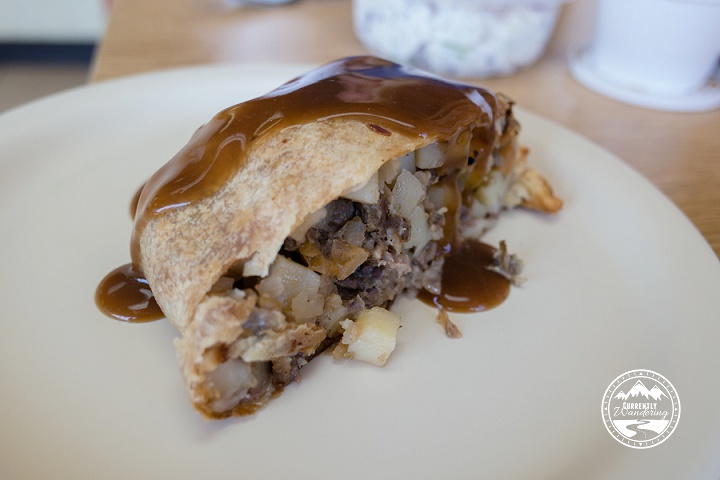 Roy's Pasties & Bakery – Houghton, WI
This was definitely the most "commercialized" establishment of the three. Roy's is located along the waterfront in Houghton and is a beautiful building with large windows and views of the lift bridge and river (canal?). They also have a more varied menu. Unfortunately, they were out of their Turkey Cranberry pasties (which sounded amazing), but we ordered a traditional, a chicken & broccoli, and two breakfast pasties (eggs, potatoes, sausage, cheese, & onion). Since Cara was not looking forward to yet another pasty dinner, we thought the breakfast one would go over better with her. It did, but she still didn't eat much. Silly girl.
This was the first pasty that didn't come with gravy, but we found some hot sauce packets that looked like a good deal and tried that. Pretty good! The traditional pasty was decent, but the chicken and broccoli was amazing!! I think it maybe have been the addition of cheese, but we almost had to play rock, paper, scissors to see who got to finish that one off.

Apparently breakfast pasties call for a little ketchup!


And the Winner Is…
Choosing a winner is difficult when they are so unique despite their common heritage. The ultimate winners here are the participants! We loved seeking out a locally unique food and testing a variety. Now, we only tried three pasty places, and we were assured that at least two other places were better than the ones we tried. Alas, both our stomachs and our pocketbooks couldn't hold out to try them all!
Related posts: