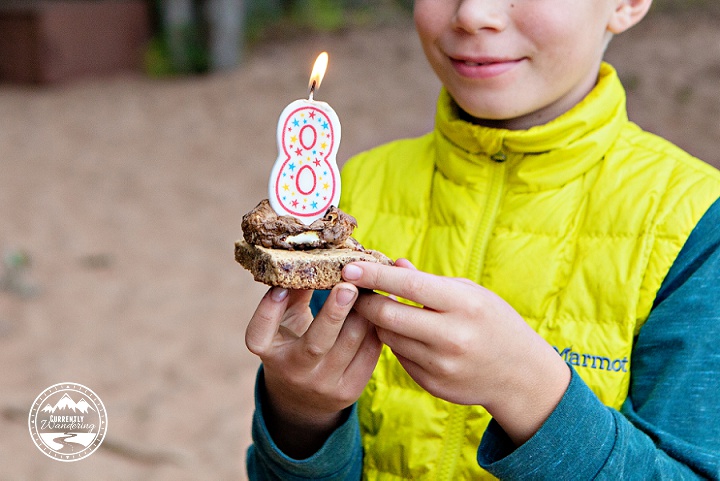 Dear Andrew,
I can't believe you are 8! Time is flying so fast and I love that I get to spend so much time with you. I would hate to miss any of your amazing moments as before we know it you'll be grown and gone.
Eight years old is a special time in our family. You've been studying your Book of Mormon with dad and have made the decision to baptized a member of the Church of Jesus Christ of Latter-Day Saints. Although it won't happen quite as soon as you'd like, we are excited to share this even with our family and friends who love and support you when we fly back to Utah.
You have a great attitude about life, and although your sisters frustrate you I love the way you play and try to get along with them. You've never been a high – energy child and I love that you are content to just sit and read for hours. You love to learn, try new things and are endlessly curious about how things work.
I can't wait to start doing Cub Scouts with you as I know you'll learn so many new things and we'll have fun as a family supporting you!
We love you very much and are incredibly grateful you are in our family!
love,
Mom (and Dad)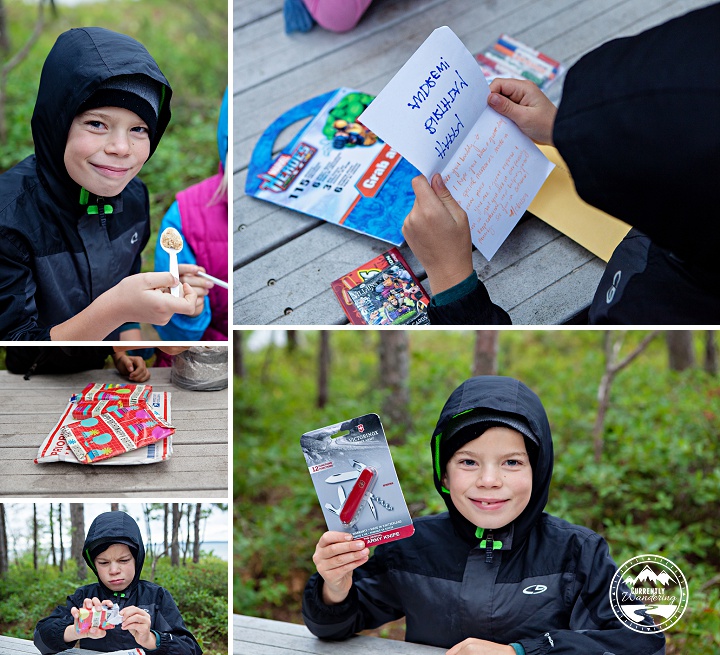 We had talked a long time ago about how birthday presents this year were plane tickets to fly back to Utah to visit family, but Andrew has been told he could have a pocket knife "when you turn 8" for at least the last year. Sam and I decided it would be great to have him open it while we were out backpacking on the Apostle Islands.
We were super sneaky to both buy the knife and get it into a pack and on to the trip without him even realizing what was going on. While shopping earlier in the week, Rachel also decided she wanted to get him something and found some Disney Villain playing cards and some Hot Tamales that we also packed in. Grandma and Grandpa Madsen sent him a sticker book, and cards from his aunts & uncles. Andrew was completely surprised by all of this which made it even more fun!!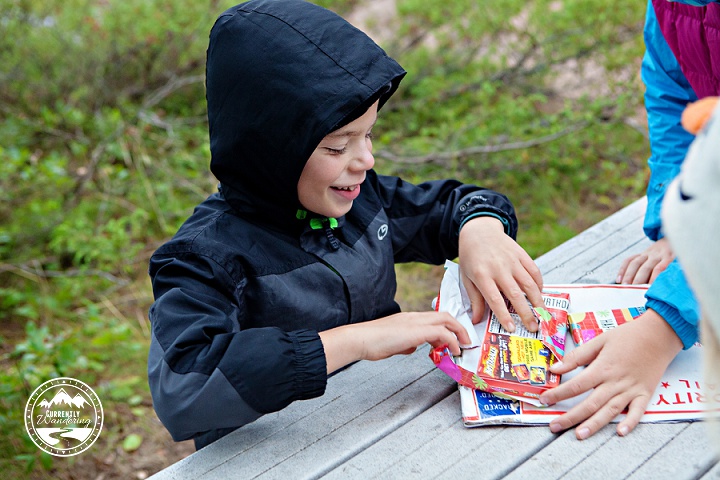 Since we were backpacking, and it was cold, the kids were actually dressed for breakfast for once. Andrew had requested packet oatmeal for breakfast since I never buy it anymore and was thrilled with his special breakfast.
Much of his birthday was pretty low key – we hiked to our next camp spot on the beach, the kids played cards and mom & dad took a nap.
His "cake" though ended up being pretty epic. I had pre-made some chocolate chip cookie bars and we toasted marshmallows (on sticks he had whittled with his new knife), stuffed them with Hershey's chocolate bars and then ate them on the cookies. We also snuck in a number 8 candle and manage to stick it into the marshmallow. He was one happy kid, and I'm not sure we'll ever eat another regular S'more again.

My favorite part of the day was when Andrew said, "Mom, I really like DOING special things on our birthdays." Me too, kid. Me too. Although I'm not sure how we are going to top this one next year!
Related posts: