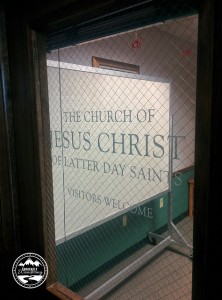 Today was a new experience for us. Sam is the one that usually scouts out church for Sunday and then encourages us to get out the door on time. This has turned into his job as I'm typically still in the bathroom desperately trying to finish up my mascara after helping the kids with their hair and getting shoes on. (Why is it I always get them ready first and then I'm the slow one? Not sure.)
Having no clue where exactly we were going, I look out the passenger window as Sam turns down a small side street and approached an office-like complex of a building. I immediately wondered where the church building was? We were already running late and navigating to the wrong address (something I have admittedly done in the past few months – another reason I'm not in charge on Sundays) wouldn't help our tardiness.
We weren't lost. The Church of Jesus-Christ of Latter-Day Saints was clearly visible on the Arlington Plaza sign, in between a law firm and an optometrist.
Okaaaaaay. Coming from Utah where there is a designated LDS church practically on every corner, this was new for me. We sandwiched the Beast of a truck in between two smaller vehicles in the parking lot and went inside. We could hear singing so we knew the meeting had started, but somehow ended up going in the "back" door. We navigated through the classrooms and the kitchen before finding the meeting room designated as a chapel for sacrament meeting (the first of three meetings on Sundays).
The room was definitely not a "chapel" as you'd think in a typical Sunday worship building, but it turns out that doesn't matter much. We sat in the back and were pleased to see members look at us and smile warmly and a couple even moved over a seat so we could sit the five of us together.
The meetings were wonderful. Sam and I have often commented that smaller congregations in random, out of the way towns are our favorites. Members are genuinely pleased to see us (they don't often get visitors), and are such down to earth, no nonsense type people.
We were even invited to stay for a potluck after the meetings were over which gave us more time to meet the locals, chat with visiting leaders from as far away as Detroit, and spend time with members of our faith.
Definitely a good church day.
Related posts: