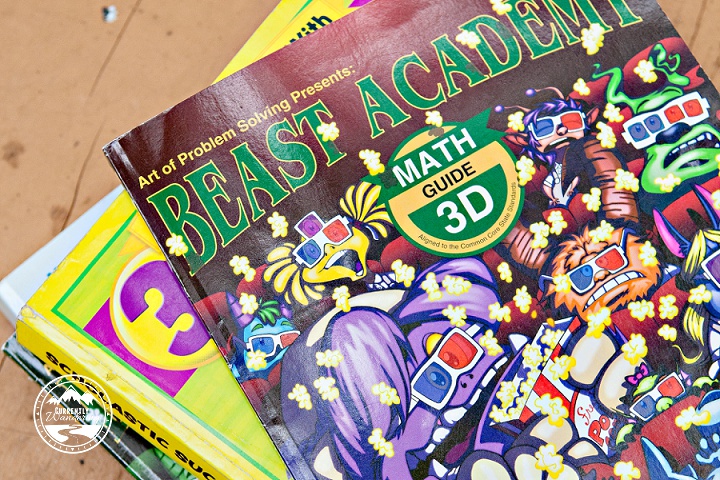 We've had some problems lately in the home school department. Our road schooling/home schooling curriculum is fairly lax. We don't have a strict schedule, and will often have more field trips than book days. Since I absolutely loved field trips as a kid, my kids learn the best with hands on exploration, and there is so much to see in this amazing country, I don't think this particular trend is broken.
What we ARE struggling with, however, are the days we do stay home and work on our regular, core subjects. Before you can fully understand the complexity of our difficulties, I think a little background on our mornings is in order. Sam and I have discovered that I am not a morning person. Not by any stretch of the imagination. I've tried so many times to get up early before the kids to read my scriptures, blog, or just get a start on the day and I just can't! Rather than guilt myself every single morning, I've lowered my expectations so that my alarm clock is usually Cara climbing in bed with me at 7am when she is allowed to get up. The other two, older children are either in bed reading or playing Lego's and happily stay that way until we call them to breakfast sometime between 8am- 8:30 when I've finally decided the bed no longer needs a guardian.
After breakfast we'd clean up and get started on schoolwork, but before you know it lunch time rolled around and we weren't even halfway done. It was frustrating for everyone. No one wants to still do school after lunch. Not only did our mornings drag on and on, but the kids were usually pretty grumpy! They were frustrated that morning free time didn't last all day and they had to stop doing something fun in order to work.
Obviously we needed a mental and structural change so Sam and I had a discussion about it one night and reminisced the days when Andrew would get up and practically have school done before breakfast. It was awesome. No poking, prodding, scolding, yelling, or frustration from us, he just got it done. We realized that although we loved the kids' reading habits, spending hours reading in bed every morning was actually contributing to less than desirable behavior.
So we outlawed reading and playing Lego's before breakfast. To give them something to do instead, we introduced the Magical School Fairy (aka Mom) who prepped their assignments ahead of time (which she never did before) and had them waiting on the bedroom floor. The kids usually wake up around 6:30am and many of their assignments are self-driven. They can complete those before breakfast, and leave Spelling, Math, and other group studies for after.
In the last week, we've seen a vast improvement in attitude, timely completion of schoolwork, and overall its just been a better schedule. Even Cara wants her assignments, and the other two kids are great at helping her read the instructions and know what she should do. Many nights the kids will ask before bed if the Magical School Fairy will be coming that night (as we don't do book school every day) so they can be prepared.
The downside for the Magical School Fairy is that she sometimes doesn't have time to correct school work and give out new assignments until after the kids are in bed. Last night, she was up until midnight putting groceries away (Costco trip), correcting school work, and trying to get stuff done. While the change has been good for the kids (so far), I definitely have some scheduling that I still need to work out for me!
Related posts: