Travel Dates:  Oct 1 – 8, 2015
We attended our first Airstream rally! We received an email a few months back about the Wake Up Downtown Urban Airstream Rally in Eaton Rapids, Michican. Since we were actually going to be in the area we thought, why not? And signed up.
Sam ended up on a work visit the day we were supposed to show up for registration, so I moved the trailer and got us all set up by myself!
The weather was beautifully sunny the first day, but quickly went dark, drizzly, and cold after that. Despite the weather, everyone was in good spirits. We thought we could depend on our solar so we opted to not plug in to the provided electrical system. Bad mistake. Turns out the organizers turned on our running lights at night for photos so by morning our batteries were dead! Luckily we got that corrected ASAP and were fine after that.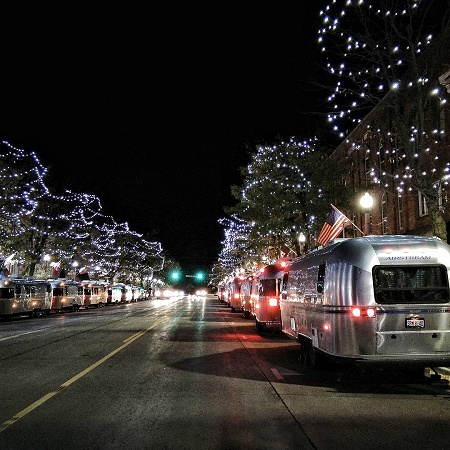 "We are in line for our first Airstream rally! Its time to "Wake Up Downtown" Eaton Rapids, MI. Not exactly sure what to expect, but I've been assured by the staff I won't have to cook all weekend due to a potluck, scout breakfast, and a little old lady spaghetti dinner.

I'd also like to point out I managed a solo hitch up, dump, and drive this morning in addition to dealing with a flat tire. Its been a good morning! #girlboss" – Jess

"We are at the Urban Airstream Rally in Eaton Rapids, MI all week. Today has been a bit of a weird one. School and work this morning (not a whole lot going on) and now we are hanging out at the library and I'm obsessed with this Halloween puzzle." -Jess

"LDS General Conference, Airstream Rally Edition. We are taking a break from our rally activities to watch the first session of a worldwide conference where we hear sermons from leaders of the Church of Jesus Christ of Latter-day Saints. (If you haven't figured it out yet, we are members of the LDS Church, often called Mormons.) Ever wondered what we believe in and are taught? Join us with the live stream at lds.org today and tomorrow." – Sam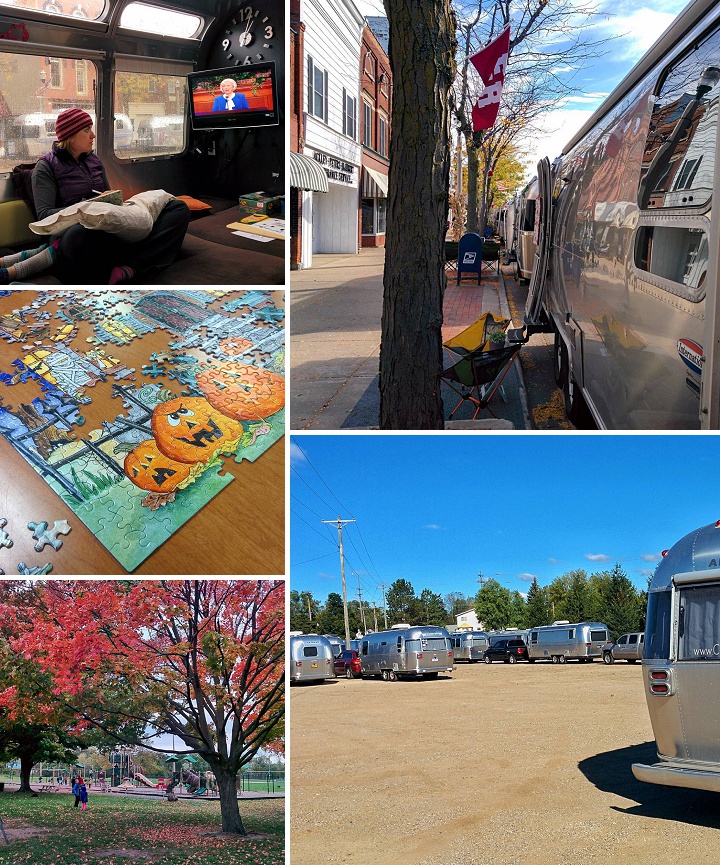 There were a lot of activities scheduled despite the rainy weather! We had a potluck one night, a comedy show, music, and the town really got together to provide other fun activities like face painting!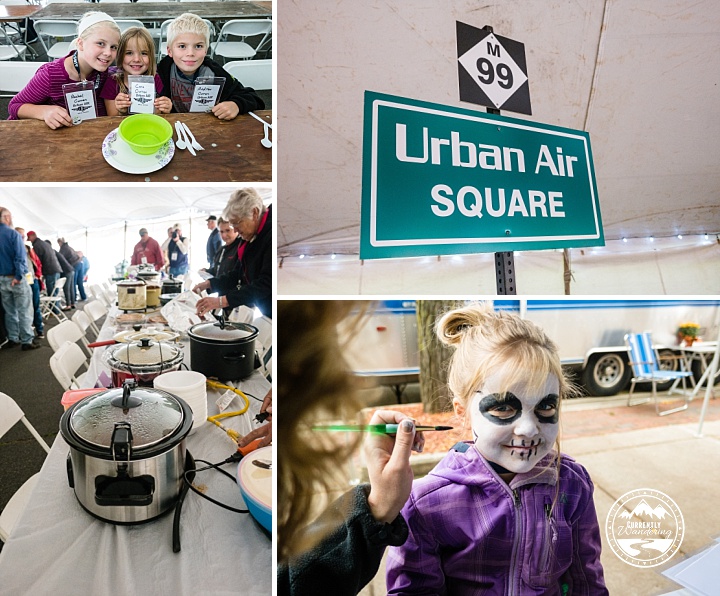 "I came home from my work trip today. Jess moved the house while I was away, and we'll spend this weekend with over 100 other Airstreams at the UrbanAir rally in downtown Eaton Rapids, MI. There is so much aluminum here it boggles the mind!" – Sam

"We had a fairly normal day, despite being at an Airstream rally. I worked and the kids did school. This afternoon we walked around and met plenty of kind folks and plenty of beautiful Airstreams. Then we played at this ridiculously scenic park with another non-fulltime Airstream family and finished up with local pizza for dinner and some big-band music." – Sam
As far as rallies go, this was definitely a unique event! Even though it was loud at night, wet, and slightly claustrophobic on main street we had a good experience and met a lot of wonderful people. It didn't hurt that we were parked across from the event office and they had free donuts every morning.

Needing a break, we picked out Pinckney State Park Recreation Area as our next stop. We came in late Sunday afternoon to an almost empty campground. Just the way we like it.

We had a beautiful 5 days of lounging, getting caught up on work, chores, school, and enjoying the beautiful fall colors of Michigan! I also managed to get out on a 17 mile bike ride on the nearby trails. Some trail time always does this momma some good!

"Perfect fall ride today in Michigan. Crisp air, carpet of leaves to hide all the roots, and the ever present danger of being mistaken for a deer and getting shot at. Just kidding. I wore bright clothes and the ride was beautiful! 17 miles on a mountain bike is a lot of alone time with my thoughts though. Could be good or bad. Still deciding." – Jess

"Today was a beautiful fall day here in Michigan. Morning fog burned off and the sun emerged, warming the turning leaves with long shadows. We celebrated with a seriously great family frisbee session in the middle of a nearly deserted campground." – Sam

"This girl did laps around the campground today. Fast ones. #woombikesusa" – Jess

"We may, or may not have commandeered a canoe this evening for a quick paddle on the lake." – Jess

"When we arrived at Bruin Lake Campground, we were looking for a quiet place to enjoy while we got caught up on things. Bruin Lake was beautiful, and we were very surprised to find canoes for rent in the off-season. The trouble was that the park vendor was located in the nearby town, and was also the only guy that ran the ice-cream shop. Every time I called to rent one it didn't work out. On our last walk down by the lake today we spotted a canoe clearly put aside for the night, but with gear nearby. I became very concerned that the canoe might have a hole in it, but after a few minutes of testing those worries were unfounded. Safety confirmed, we promptly returned the canoe and gear. You are welcome, next canoe renter. No charge for the safety check." – Sam
Sam Vs. the Off Season Canoe Rental
Going into the nearby town of Chelsea, MI one afternoon we noticed a conspicuous silo with a huge Jiffy sign on it. Turns out the factory that makes everyone's favorite box mixes is located in Michigan. We called in and signed up for the tour one afternoon for school. Super fun and we got sent home with goodie bags!

"Turns out Chelsea, Michigan is the home of the only Jiffy Box Mix plant in the entire world. So, naturally we went on a tour for school today. Our favorite parts were the movie featuring Corny, the box of corn muffin mix, the extensive network of conveyor belts on the factory floor, and the goody bag they sent us home with. #yum" – Jess
We also explored the library, Sam and I snuck out for an ice cream date, and I got one of the best hair cuts to date.
"Best haircut in forever! I'm so excited. Its always a risk to get a haircut in a random town, but this one paid off. Oh, and I'm wearing a skirt because all my pants are in the wash. #reallife" – Jess

We had a great time, but after 5 days our tanks are usually full and its time to move on to the next spot. Headed to Ypsilanti, MI to visit some family next!
Related posts: