Traveling Dates: October 9 -13, 2015
Even though we had a great 5 days in Pinckney Rec area, it was time to move on. Every once in awhile, I'll do a #dayinthewanderinglife series on Instagram. Throughout the day, I'll detail what we are doing so people can have an idea of what its REALLY like living on the road.

7:30am. With our new school schedule, the kids are up before me working on their books. Last night I told Cara to bring her reading book and come snuggle me and we'll read before breakfast.
9:00am. The kids finally get me out of bed to make breakfast. Today is egg burritos which have become a staple in our house. While I cook, they make their beds, get dressed, and keep doing school. Or just snuggle each other in my bed now that I've vacated it. Sam works until breakfast is on the table because the more he gets in before breakfast, the sooner he's done in the afternoon!
10:15am. More school. Honestly there's usually more than one round of tears. Working one on one with each kids takes time, and its very direct. There's no classroom to hide in or other students to hide behind. There's no social pressure to be perfect or know everything. Homeschool is hard, people.
10:45am. Even though 2/3 kids aren't done with all their subjects, today is a moving day so we pause school. I typically pack up the inside, while Sam loads the bike and puts things back in the truck. Rachel is our rock star backer-upper and helps Sam get the trailer hitched.

11am. It takes us anywhere from 15-30 minutes to get everything packed away, hitched up, and on to the dump station. We dump both gray and black tanks and fill up the fresh water. We are headed to #moochdock in the city for the weekend so we are filling the fresh tank full! While it's filling, @telegramsam and I usually make out. Because what could be more romantic, right?
1:00pm. On the way into the city we are running errands. Sometimes it's a pain to tow the Airstream to various stores, but mostly it cuts down on driving since we can do it on the way. Target, Costco for lunch, gas, and some returns, and then REI.
3:30pm. We showed up at my cousin's house and the kids immediately starting running around together. So perfect.
6pm. One if my favorite things about travel is visiting friends and family we haven't seen in years. Its so much fun to catch up and, as a bonus this time, Rachel and I both get our baby fix.

Time to go have some adult time now that the kids are in bed, so thanks for playing along with our #dayinthewanderinglife !!
We had a great time in Ypsilanti hanging out with my cousin & her family. Turns out I also have an aunt and uncle from the OTHER side of my family in the same area. The two families have become great friends (even though they aren't directly related), and explaining at church exactly who we were visiting was fun.
We built Halloween gingerbread houses, the 5 year olds wrestled, we ate donuts, drank apple cider, and cheered Sawyer on at his soccer game! Very much a suburban weekend, but super fun.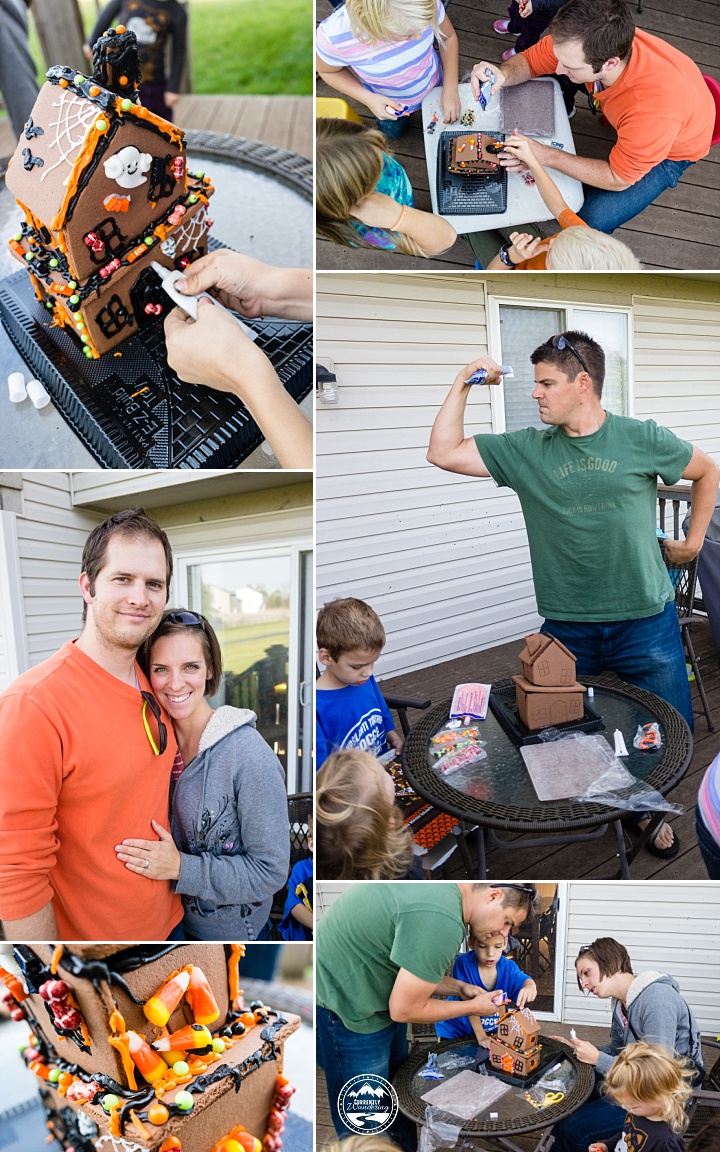 "Teamwork: not fighting over the frosting bags or who gets to put the bats on the roof.

I seriously love Halloween. Mostly because its the beginning of "pumpkin spice" season."- Jess


After a great weekend, it was back to reality. We had a quick lunch stop at the River Raisin National Battlefield, and then we drove down to Jackson Center, Ohio and the Airstream Factory. We were leaving our Airstream there to get the rear panel replaced while we flew to Utah for 2 weeks to visit family!
"Our mid-drive lunch/meeting/junior ranger badge spot was the River Raisin National Battlefield. The favorite activity was a quite well done GPS adventure that sent us around the park looking for markers like the one shown. We learned about artifacts from this piece of the War of 1812 and had fun with the wander." – Sam

"Being a soldier in the War of 1812 is serious stuff." – Jess

"We landed today at The Mothership. We are spending a few weeks in Utah, and the Airstream will stay here for some repairs.  Now, packing. #ihatepacking" – Sam
Related posts: