Travel Dates: October 14 – Nov 3, 2015
We dropped the Airstream off at the factory in Jackson Center, OH for repairs while we flew to Utah to visit family. Everything went off without a hitch – we stayed a night in the terraport, talked with the technician early Wednesday morning and then packed and piled in the car headed for Indiana.
About an hour outside of Chicago is Indiana Dunes National Lakeshore (Jr. Ranger Badge!). We had heard it was fabulous and spent the night in our tent in the campground so we could explore. As a bonus we also had dinner with @thestreamlinedlife who are fellow adventure – explorers.

After a short hike and passing off our Jr. Ranger Books Thursday morning, we headed to Chicago and PIZZA! We ate at Giordano's, saw the Bean and played at Maggie Daley Park which was the most amazing park we have ever seen,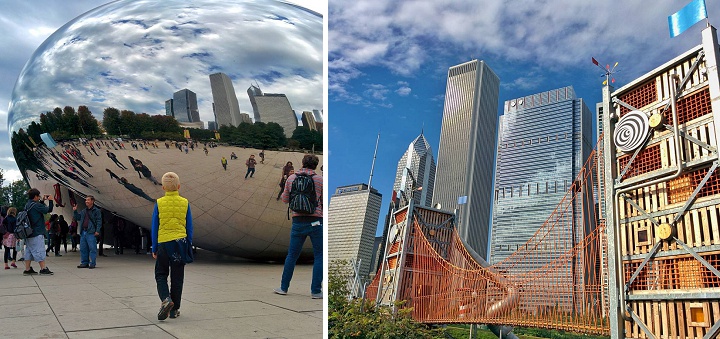 We spent the night in a hotel close to Midway airport so we could hop our 8:30am flight the following morning. I couldn't tell if the kids were more excited to swim in the pool or fly on an airplane.

Once in Utah we knocked out our chores as fast as possible. We had family photos taken by the amazing Kara Elmore, visited the storage unit, had dentist & doctor appointments, I took Rachel and her best friend out for birthday pedicures, we went on a date to the temple and to see The Martian, did the ropes course at the Museum of Natural Curiosity, visited the cemetery where my infant, twin brothers are buried, helped with suburban chores, and got Andrew enrolled in cub scouts.
Whew. Not to mention the half a dozen lunches, meeting up with friends, and other fun things we had going on.

Two of our social media get togethers were in Salt Lake. We met up with a family who is living in a small, downtown condo to hike Ensign Peak. It was fun to talk with another minimalist minded family and see how they were making a simpler life work in the city. I also met Alyssa from kidproject.org and we chatted outdoor family blogging and travel while the kids played at the park.


About this time I started going CRAZY. We had been in Utah for over a week and had not made it into the mountains once. In a recent blog post I wrote that I don't trust myself in Suburbia and that living on the road was actually a cheaters way of getting outdoors and exploring more often. Even though everyone was cranky and tired, and it was going to be chilly I convinced my family, my parents, and my sister-in-law with her 3 kids to hike up to Cecret Lake. It was beautiful, it snowed, and everyone came home much happier!

Thursday we attended the wedding of my cousin to her dashing fiance. It was a beautiful ceremony in the LDS Salt Lake City Temple and we all attended a lunch at Olive Garden afterwards. We also spent some time on Temple Square and enjoyed the Visitor Center as well as the model showing the inside of the temple.

Friday we hung out with Sam's parents who had come into town, and also had dinner with Sarah & Ty from the @backroadbennetts. We met these guys last winter in Arizona and it was fun to catch up now that they had officially caught the Airstream travel bug. It was also really therapeutic to sit in their Airstream as we were desperately missing ours.

In the Church of Jesus Christ of Latter-day Saints we baptize at 8 years old. Saturday morning before Halloween holiday craziness began, we were able to gather with friends and family and celebrate Andrew's baptism and his decision to follow Jesus Christ. We are so proud of the young man he is becoming and forever grateful we get to spend so much time with him on a daily basis!

We had fun being in Suburbia for Halloween. It was easy to find costumes and we enjoyed time spent with friends & family!

After a few more family get-together, and some final errands, we left on an early flight Tuesday morning to head back to Chicago. We loved the time we were able to spend with family and friends (and we got A LOT of chores done) but it was definitely time to get back on the road!

Related posts: