We recently stumbled across a new board game at the Sleeping Bear Dunes Visitor Center in Michigan. I always make it a point to browse the gift shop as we've found some great books, games, and other educational items, so this time I was just doing the rounds.
I spotted Trekking the National Parks board game and had never seen it before (and with how many visitor center's we've been in that says a lot)! So, of course, I immediately Googled it to see if there were any reviews.
The game started as a Kickstarter project, and after watching the videos decided it was worth a try.
So glad we did! Even though the box says its for ages 13+ we found that we could play it just fine with our 10, 8, and 5 year olds. Their strategy tends to be a bit simpler but it still works. Cara played on my team for the first few times, but she got the hang of it and just wanted to play by herself after that.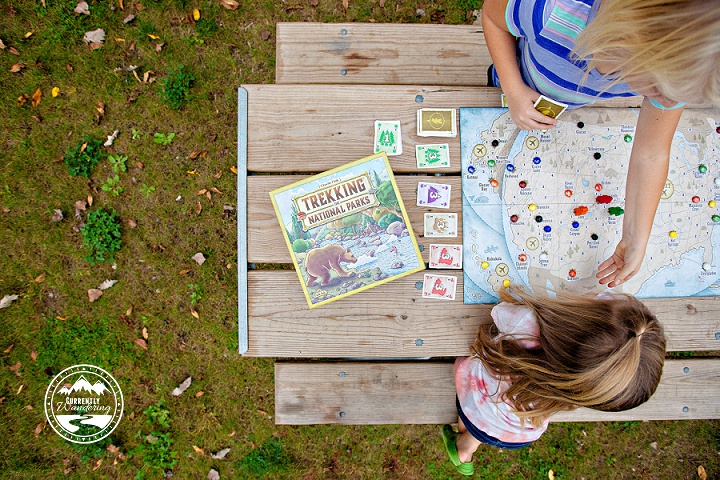 Trekking the Parks has some great tutorials and videos on their website of how the game works so I won't bore you with that, but the basic premise is that you "travel" the U.S. trying to collect National Parks and earn points. It feels a little like Ticket to Ride in that you only do one thing per turn, but that's probably where the similarities end.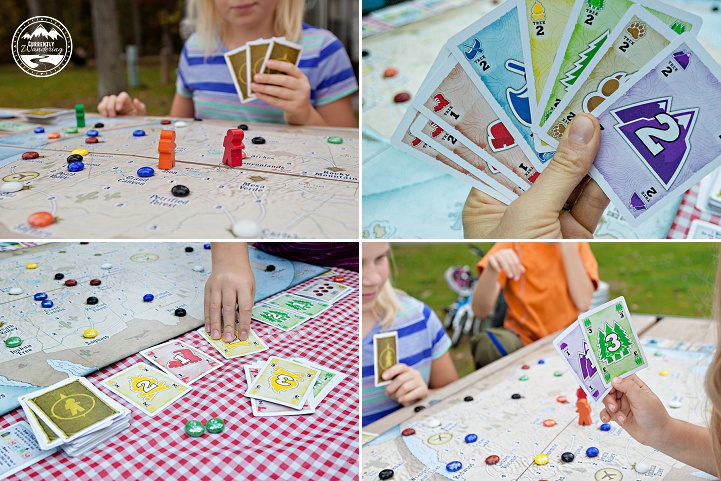 I struggled a bit coming up with a consistent strategy. You need to decide whether you want to go for parks and collect Trekking cards to earn them, or go after the tokens (the person with the most of a color gets 5 points) which you get just by landing on the park. Sometimes a mix worked, sometimes just going after one or the other was better, but it was hard to tell.
I guess that what makes it more fun, though right?! Plenty of hours of fun, and the photos and graphics are great so playing is a pleasure. Being a photographer, it always bugs me when the photos in a game are less than stellar, but these guys did a great job.
From their website, "We've worked diligently to create a game that's strategic, competitive and educational. Trekking the National Parks allows you to explore these wonderful recreational playgrounds in a spirited manner…all in the comfort of your home."
The only con I found is the price tag – we paid about $60 for the game, but I also understood its a family run business and they put a great deal of time and effort into creating it. More than anything on our journeys, we've come to understand that time is worth something, and having a great game to play as a family is worth it!
Keep turned over the next couple of weeks, as we've partnered with them for an awesome giveaway coming just before Thanksgiving!

Related posts: