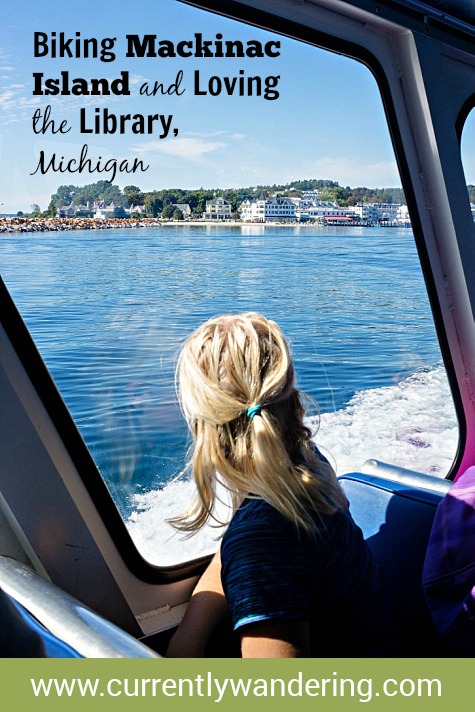 We don't often do "touristy" things, but when we do we make sure they are going to be epic! Our trip to Mackinac (pronounced Mackinaw) Island was no exception. Despite the many souvenir & fudge shops, gear rental and horse-drawn carriage tours all pulling for us to spend money, we managed to make our visit very #likeacurren and include quite a bit of wandering.
When We Visited: Sept 23, 2015

Ages of Kids: 10, 8, & 5

How We Got There: Star Line Mackinac Island Ferry
The Star Line Ferry runs from either Mackinaw City or St. Ignace out to Mackinac Island many times a day. You can see the rates and download the schedule here on their website. We chose to go over early so we'd have most of the day to spend there and still be able to drive an hour or so away when we got back.
Star Line also offer free parking and we had no problems parking both our trailer and truck in their back lot. After we parked we headed over to the ferry dock on our bikes.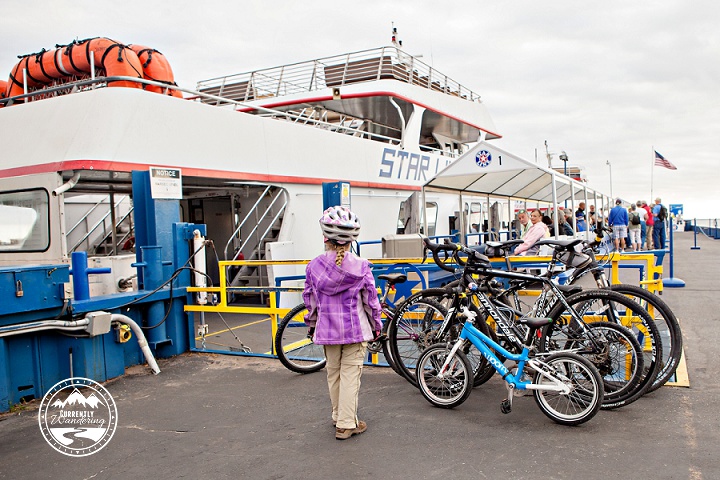 Check in was super easy! We got yellow tags to put on our bikes and then we stacked them to be loaded. After that we got in line and waited to board.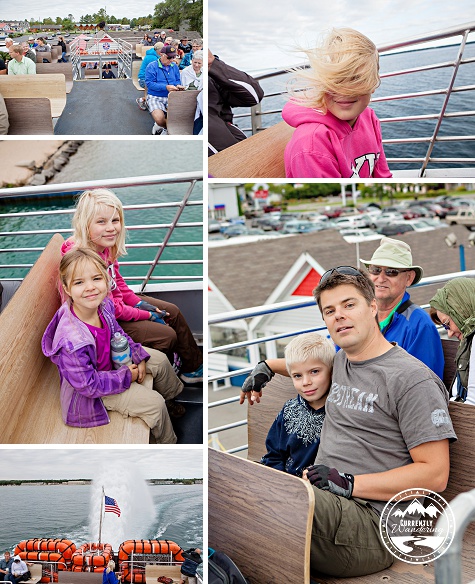 The kids chose to ride on top and it was super windy! We had all brought jackets anyway (which was a good thing) and we quickly put them on. The wind drove Rachel a little crazy with her hair whipping all around, but we had fun!
Star Line Ferry boasts a "Fast, Frequent, Fun, and Friendly" Hydro-Jet Ferry with the signature water jet rooster tail. The boat was definitely fast and fairly smooth!
Depending on your ferry time, the boat also takes you out under the Mackinac Bridge which we loved.

Mackinac Island is particularly special because there are no cars allowed on the island! Everyone gets around by bikes or horse draw carriages.


More than 80% of the island is part of Mackinac Island State Park, and there are numerous bikes paths and trails. If you go through the island its pretty hilly, but we chose to do the 8.2 mile M-185 that goes around the entire island. It was flat and the kids did great!

There were plenty of stops along the way to keep us entertained. We climbed the stairs to Arch Rock, walked the nature trail, and enjoyed reading a little history at the British landing.


It was about lunch time when we got back downtown and we had heard from our friends over at Take That Exit that Island Slice Pizzeria was amazing – and it truly was! We got a BBQ pizza Detroit style and it was probably the BEST pizza I've ever eaten.
We also wandered around, watched one guy make fudge, and found some yummy ice cream.


Our last stop, however, was the public library! We have a habit of finding local libraries and the kids have various books they grab and sit down and read for a bit.
Most amazing was the back porch with Adirondack chairs and an amazing view of the lake! I think we could've stayed there all day!

We took the afternoon ferry back to Mackinaw City, except this time we opted to sit below out of the wind!

We had an absolutely fabulous time over on Mackinac Island, and definitely recommend going. There are plenty of places to spend money, but the island is also a peaceful, out of the way retreat if you know where to look!
Sponsorship disclosure – We partnered with Star Line Ferry. In exchange for ferry tickets to Mackinaw Island we agreed to share our honest experience and review with our readers. All photos, opinions and content are ours. 
Related posts: