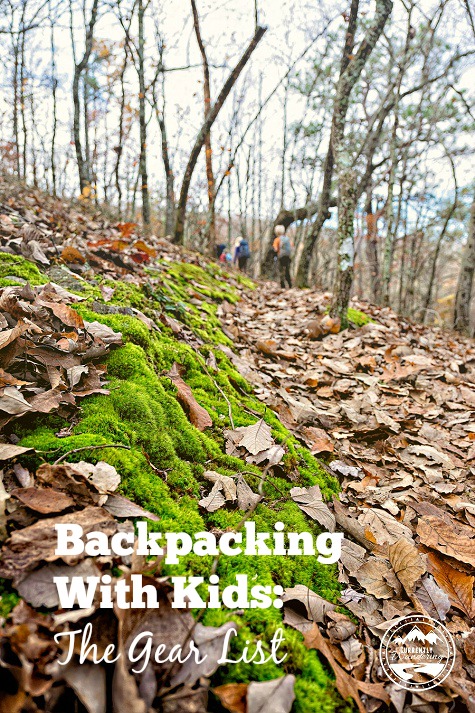 Last Thanksgiving we went backpacking in Franklin D. Roosevelt State Park in Georgia. Andrew is working on his Wolf rank in Cub Scouts, and needed to create and use a gear list for a hike or backpacking trip. He did an excellent job, and the trip was great, so I thought I'd share the gear list we made. This doesn't include any food, so that'll just have to be the subject of another post.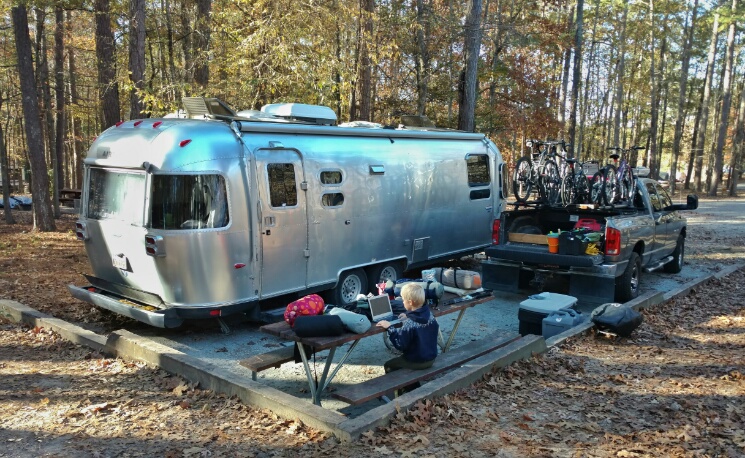 Standard Disclaimer: This worked well for us given the weather and ages of our kids. Adjust accordingly, Your Mileage May Vary, etc. etc. We've also included some Amazon and REI affiliate links. Shopping through these helps support our blog in a small way and we appreciate it very much!
The core of our backpacking gear remains the same no matter where or when we are going. You need somewhere to sleep (tent), something to sleep in (sleeping bag), and something to put it all in (backpack). All other gear really depends on when and where you are going, how cold it will be, and your comfort level. Our gear list is ever evolving, but here are some ideas to get your started!
Our Tent
We have a  Kelty Yellowstone 6. It is definitely NOT a back country tent, but we already owned it and had it with us in the Airstream. At 14lbs its a beast, but we've concentrated on getting our other gear as light as possible. I think when the kids are comfortable sleeping by themselves, we'll eventually have two light weight tents. It IS a great car camping tent, however, just in case you are looking for that. But since you are here looking for backpacking gear, its probably not relevant.
Back on topic…
In addition to the tent, we also have a large piece of plastic (cut from a larger piece at my father in law's house when he was doing some home improvement repairs) we use as a groundcloth. Its not fancy, but it does the job.
Sleeping Bags
Sam and I sleep VERY differently. At one point in our marriage we tried sleeping bags that could zip together, but that didn't last long. He is constantly too warm, and I am constantly freezing.
Sam's Bag: Since he is a super warm sleeper, Sam didn't want anything overly warm. Half the time his bag is unzipped while I'm snuggled in tight. He has something similar to this REI Helio Sack 55 Sleeping bag from REI.
Jess' Bag: REI Flash Sleeping Bag. I absolutely love it. Its down, lightweight, incredibly warm and cozy. I love that I have a place to tuck my pillow in and it won't move, much. Its a bit pricey, but I expect it'll be my sleeping bag until we are done backpacking. And then it'll probably be Rachel's.
With kid bags its important to make sure they won't be too cold. This obviously depends on the weather and where you will be, but if you start out with a cheaper bag just make sure they have warm pajamas if the temperature is going to drop at night.
Rachel & Andrew's Bags: Marmot Mavericks 40 Semi – Rectangular Sleeping Bag. Looks like this one is no longer available, but we love that it has two zippers, and even a place to stuff a pillow.
Cara has cheap sleeping bag from Wal-Mart (the polka dot one in the photo below). Out of all the kids, she could probably use a better one since little kids tend to not stay in their bags at night. So far we've been fine and eventually we'll upgrade Rachel to a small women's bag and she'll inherit hers.
Another great option for kid's bags that's been tested by friends of ours are the Backcountry Quilts. Check out a review by Alyssa at Kidproject.org here.
Backpacks
Sam has an AIRX bag from ULA leftover from his trip on the John Muir and carries the tent and most of the bulky gear since his bag is the largest. Jess carries the Mindshift 180 bag with her camera gear (blog post here), Rachel has a GoLite 35L Bag (no longer available), Andrew has the REI Flash 18, and Cara uses the ChicoBag Reusable Travel Pack.
We are changing these up in the future with the addition of a Deuter Fox30 for Andrew and new bags for Rachel and I so we'll keep you posted on how those work out!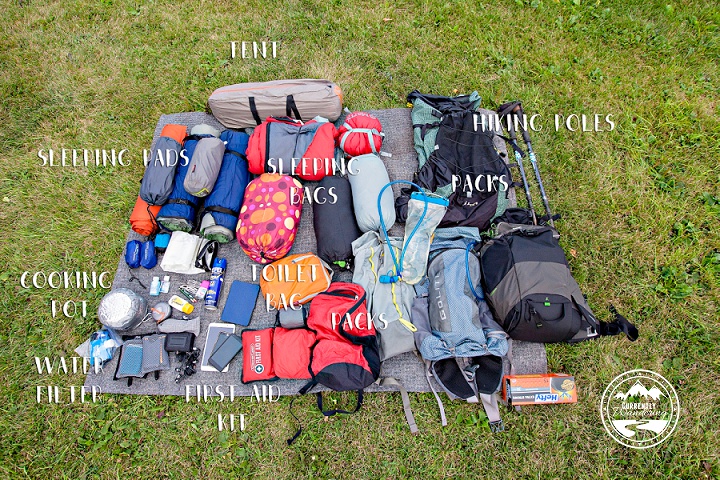 Clothes (Per Person)
Hiking Gear
Cooking
Sleeping Gear
Toiletries
Extras
There's the short list! Make sure you tailor your gear list to your family's needs and know that it will evolve over time. We are still switching out some of our heavier gear for lighter stuff.
What equipment or brands have you found useful in your back country adventures?
Related posts: