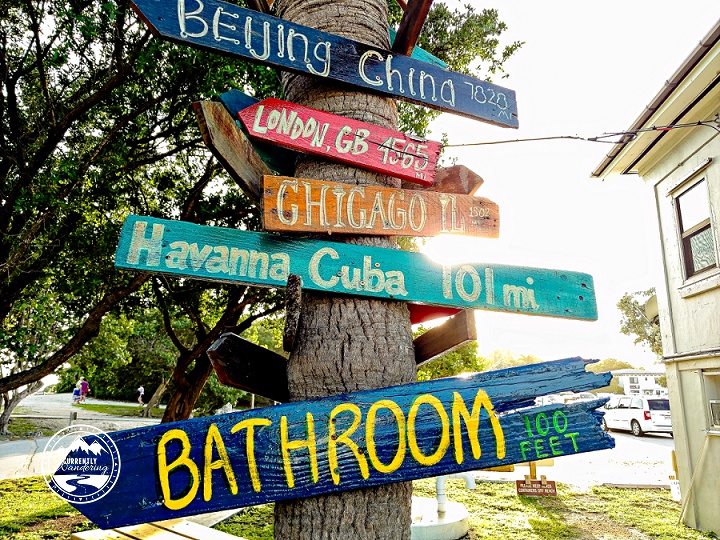 We've known for over a year that we wanted to spend Christmas in the Florida Keys. Last winter we covered Arizona, so naturally the other place to spend winter as a wandering nomad is the Sunshine State. Within Florida, we couldn't think of a better place than the Keys to settle down for a fantastic holiday. For those of you not familiar with the Florida Keys, they are a set of islands that run from Miami down to Key West. Highway 1 runs the length of the Keys, so its actually quite easy to get all the way down to Key West in your car.
Travel Dates: Dec 19 – 28, 2015
As soon as we booked our tickets to the Dry Tortugas, we started looking online for reservations at Bahia Honda State Park. Unfortunately, the state park is extremely difficult to get in to and we were feeling discouraged enough we opted to book an expensive site at Sunshine Key RV Resort nearby just in case. Luckily, we checked back often enough that we were able to snag a 10 day stay at Bahia Honda right over Christmas. It was perfect!! Score one for actually planning in advance.
Before we left Miami, we picked up a real, live Christmas tree. Call us crazy, but it really just wouldn't feel like the holiday without it. We tied it on to the back of the truck with the bikes and started the 3 hour drive down the keys to our park.
We didn't want to spend money on an expensive tree stand we planned to throw away so Sam Macgyvered up a stand from our black bin and some rocks. Our tree leaned a bit, but overall worked rather well.

Once we got set up it was time to relax! Looking back, I'm not sure exactly what we did during those 10 days, and I suppose that's a good thing. It means we unwound, didn't overwork ourselves, and took time to just BE. It was everything we needed.
Amidst the relaxing, we spent time getting ready for Christmas. Back on the mainland I found some DIY felt ornaments and the kids spent a few hours putting them together. We also used our classic Airstream lights and white twinkle lights on the tree. Something about a Christmas tree outside our Airstream with lights reflecting on the aluminum is pure magic.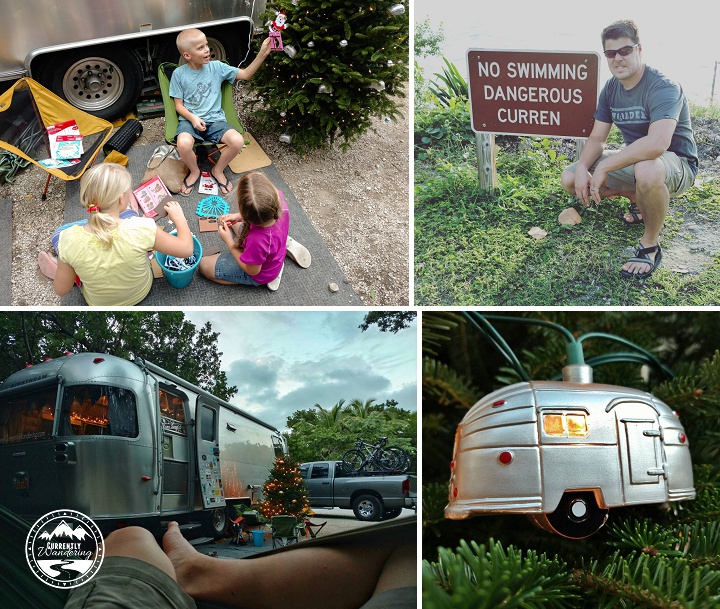 Christmas in the Florida Keys is great. Christmas in the Florida Keys with friends is even better! Our friends @takethatexit, @bareneckers, @upintheairstream and us all gathered together for a fantastic dinner and a beautiful sunset one evening. We all wondered how many full time travelers it took to Instagram a sunset? We'll let you decide who took the best photo.

To provide a break from swimming and lounging on the beach, we rented a paddleboard from a shop in Marathon and brought it back across the bridge to our campsite. Turns out you aren't supposed to have anything with a paddle or a fin in the swim area (lest you hit someone) but the kids had fun with it before the ranger caught up to us. Sam and I also managed to go out separately and explore the coastline a bit. We loved having a paddleboard for a few days, but were just as happy to drop it back off and not cart it around with us.

We spent PLENTY of time at the beach. Bahia Honda has a fantastic swim beach! Its picturesque with soft sand and great snorkel spots close by. The downside is all the people, but we managed to find a few times that were less crowded. Besides. It was December and we were on the BEACH.

Sam had quite a bit of time to work on sand castle building. He received quite a few compliments from foreign tourists. At least we assume they were compliments.

We rarely stay in the same area for longer than a week, so to have THREE weeks with the same LDS church congregation was fabulous. We participated in their Night At Bethlehem Christmas Party which we thoroughly enjoyed.

On non-beach days (should there be such a thing?) we tried to get out and explore the other areas of the park. The old railroad and bridge (the broken one you wouldn't want to drive on) is accessible via a walking path. The Sea Grapes also create some interesting and beautiful pathways throughout the campground that were fun to explore.

Florida State Parks have constructed well put together ranger programs. Due to the influx of visitors for the holidays we had many options to choose from for entertainment. We wrote and mailed postcards out of Sea Grape leaves, made shell necklaces, and earned a Jr. Ranger Badge. The camp store also sold ice cream for non-outrageous prices and we may have treated ourselves a time or two, or three.

Christmas Day arrived and we were ready to go! Santa was able to find us, and although presents were small in number we weren't short on excitement. Sam and I gifted the kids tickets to visit Universal Studios and Harry Potter and they each got two or three presents from Santa and one from the other two siblings.
The longest lasting and most benefiting present so far has been the crochet Zoomigurumi pattern book and needles Santa brought Rachel. We hadn't realized how much she would love it! Her siblings also gave her a new pink bike lock as she's been begging for one of her own.
Andrew got a Minecraft Lego set, and a joke book,  while Cara received some Princess in Black books, her own small Lego Friends Set, and a Zingo! Word game.  Santa brought the family a new collaborative board game called Castle Panic! that we have thoroughly been enjoying over the last month.
Sam and I received super exciting presents like Anderson Levelers (thanks Mom & Dad!), a new X-Chock, and a portable SanDisk Wireless Media drive for movies in the car. While functional, its all stuff we needed or wanted to upgrade and Christmas was a good excuse!



After opening presents and our traditional breakfast of Swedish pancakes, or pletta, we spent the day being lazy at the beach!
The last Christmas we had in the Airstream was two years ago (last year we were at my parent's house in Utah) and we love it. There's just something simple about spending a simple holiday concentrating on each other and the birth of our Savior, Jesus Christ.
We are grateful for the time we were able to relax and enjoy each others' company in such a beautiful place! Any guesses on where we will be next year?
Related posts: