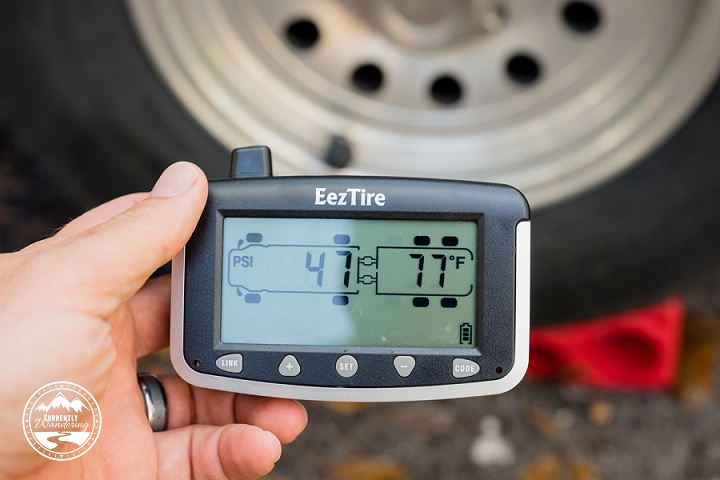 My first experience with a tire blowout on the Airstream was only the second time I towed it. We were headed back to Virginia after picking up the Airstream in Carlyle, IL. (This was back in the fall of 2013.) Our second tow was from Louisville, heading East. Our destination was Lake Vesuvius, right at the southern tip of Ohio. Just miles away from our destination we passed through Ashland, Kentucky. Before we made it through town, we were flagged down by an angel in the form of a middle aged man, who informed us that we had blown a tire on the Airstream. We immediately pulled off the road into a church parking lot, then moved just down the street to have a tire place help us replace the blown tire with the spare.
We were incredibly lucky: no damage was done at all due to the warning and help we received from those blessed folks of Ashland. I felt a little dumb, as the previous owner had included a PressurePro TPMS (similar, but not exact, product link) when we purchased the Airstream. I hadn't yet taken the time to figure it out yet, so it was not hooked up at all.
I quickly did figure it out, and we have used a Tire Pressure Monitor ever since. These systems consist of a monitor that you place in the cab of your truck, and a sensor that screws onto the outside of the tire valve stem of each tire. The Pressure Pro system I inherited had 6 sensors: all 4 Airstream tires and two for the back tires of the truck. I loved the assurance that came with having monitoring pressure on the tires, and I loved having an alarm sound when pressure dropped on any of the tires.
After a year or so, I began to have a few issues with a few of the tire sensors. Pressure readings were intermittent, and replacement was expensive. My search for new sensors also revealed newer (and cheaper) systems that not only monitored pressure, but tire temperature as well.  After some research I decided upon the EEZTire system, complete with 8 tire sensors.
Monitor
The difference between the PressurePro system and the EEZTire system was profound. The EEZTire monitor has an internal battery, which made setup fast and easy. After mounting the sensor on each tire, you program it to the monitor by entering setup mode, selecting the appropriate tire on the display, and holding it next to the sensor. The monitor does have a DC power cord that we use in the cab, but more than once I've used the portable monitor to make my life easier. (More on that later…)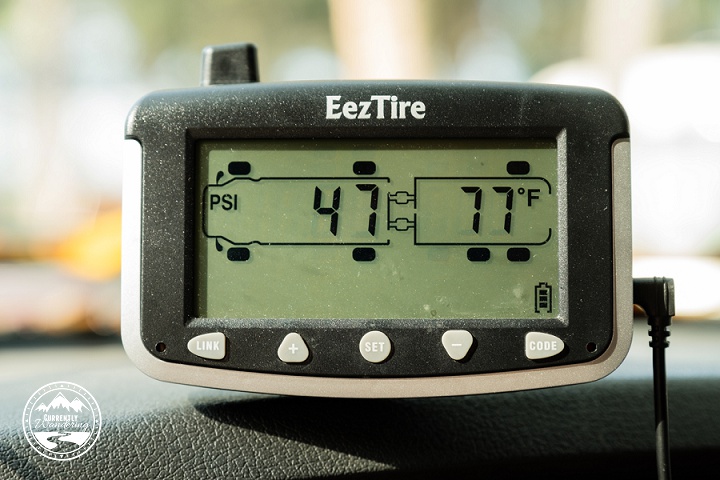 Sensor Types
There are two types of sensors offered by these systems: Regular and flow-through. They both report the same information, but the flow-through sensors have an air port you can use to add air to the tire without removing the sensor. I have found that feature to be useful, though it does seem to restrict the airflow a bit. I suspect the regular sensors are slightly simpler inside, which may turn out to be more reliable in the long run.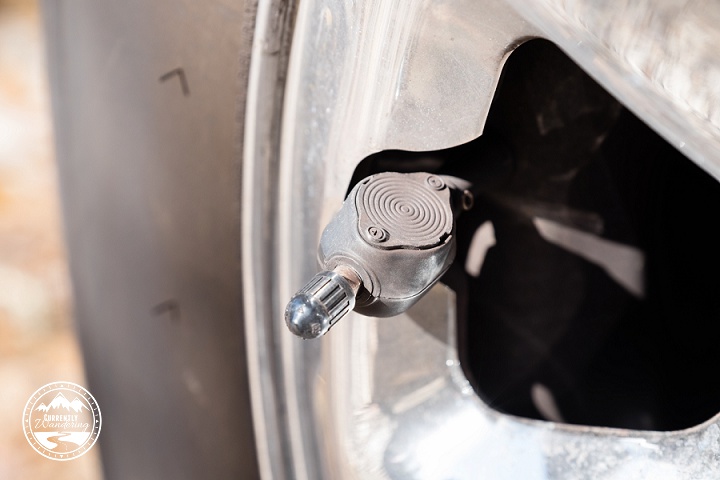 Proper Sensor Installation
The absolute most important thing about installing your TPMS sensors is getting the sensor on tight enough. If the sensor is improperly installed, then air will leak out of the valve stem, giving you a flat tire. If you read reviews of every after-market TPMS, this will be the top complaint. I myself struggled with this after I installed my new sensors. The best way to ensure good mounting is to take the portable monitor into the Airstream with you, and watch the pressures. As the tires cool down they will drop a few PSI, but any more than that, and you'll want to check on the tire. Watching the monitor closely your first few days can help you avoid finding only 10PSI in your tire minutes before checkout time at the campground. In extreme cases, a valve tool (available at any auto-parts store) can be used to adjust the inside seal of the EEZTire sensors.
The good news is that after proper mounting and installation, I have had very little issue with my sensors. They have already come in handy, alerting me to a flat tire that resulted from a metal pin in my tire.
Repeaters
Most TPMS makers sell a signal repeater that can be used on very long rigs. In my case, a 27 foot Airstream and a Dodge Ram extended cab short bed truck, no repeater has been necessary.
Benefits of my upgrade:
Internal battery allows mobile monitor use and easy setup.
Pressure AND temperature monitoring.
Cheaper price.
Easy (but slightly futzy) self-install.
User-replaceable sensor batteries.
If you are towing an Airstream or other travel trailer, I highly recommend a TPMS. It pays for itself in a single blowout by limiting damage. With multiple-axle rigs, it can be very difficult to tell that a tire has blown, leaving the tire to come apart and tear out the wheel-well and rv internals along with it.
Related posts: