Travel Dates: January 9 – 21, 2015
As we drove through town on the way to Markham Park, Sam saw signs for a local car wash. With a gleam in his eye, he turned off the road and we went looking for them. The Airstream needed a bath. These fine young people were raising money for Autism. We'd call that a win-win. The kids put their cheerleading skills to good use to wash the high walls of the Airstream and did a fairly decent job of getting her clean. 

Markham Park and Target Range is a local popular spot. We pulled in to a pretty packed park, full of picnickers, campers, bikers, and RC enthusiasts. From the campground we could also hear the target range and that took some getting used to. Trails super close by, and full hook-ups made for a nice combination though and we settled in for 5 days of riding awesomeness.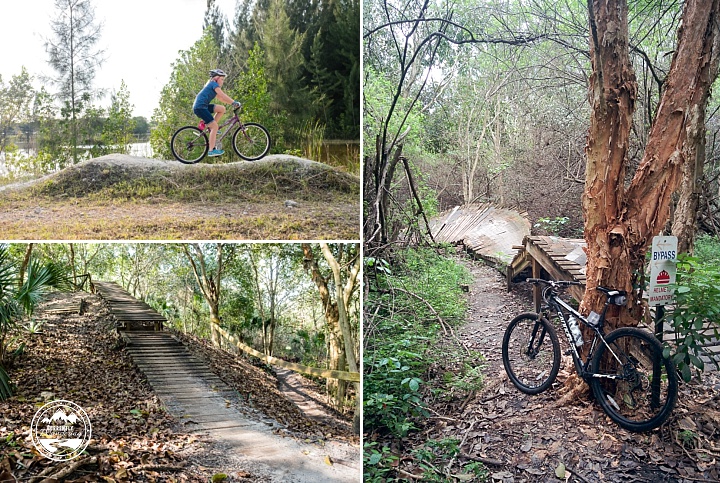 From Instagram:
"Family trail time tonight was awesome. However, @telegramsam and I are both about ready to trade the cyclocross in for another 29er MTB. With trails like this can you really blame us?"
"This downhill board ramp feature might be the scariest thing I have ever ridden. It was fun, and I managed to avoid considering the physics involved whilst enjoying it."
"This little girl did some good mountain biking today. I finished a loop and found her resting at the pump track, slightly sad but eager to show me the scrape on her right knee. After this sullen moment, she rode the beginner practice loop again and insisted that she do it all by herself."
"Markham has piles of trails. On a whim, I rode Route 66, a lesser traveled trail. The slick mud, low branches, and deep water holes proved a challenge. I was rewarded by a few of the coolest wood 'bridges' of the park. This one was about 4 times longer than visible here. There were cooler places along this and other trails, but both hands were usually required!"
There are beginner trails, intermediate trails, and some pretty advanced trails as well. All of them are well maintained, and there's some great man made features along some of the more difficult trails. We quickly got used to the easy trails and graduated to some of the more difficult sections. I loved that for most of the difficult sections there's a bypass if you don't feel up to it.
Our kids loved the pump track and were able to ride some of the easier trails. It was nice there was something there for all of us to ride.
"Jess and I managed a trip to the Temple yesterday. In the Temple we deeply study the Gospel of Christ and the purpose of our lives during this earthly experience. I appreciate the perspective that such study and worship provides. "


After a great 5 days of riding, we made for the coast to try and get one more good body boarding day in before headed north. Unfortunately we were met with some crazy storms at Sebastian Inlet State Park.  Mega-intense rainstorm one morning knocked out the power, and then the sun then preceded to come out and warm things up, only we couldn't turn on the A/C and were too terrified of the noseeums to open the windows. Not good.  We got eaten alive by the tiny bugs all day the whole time we were there. While I wished I could have enjoyed the park more, I was too busy scratching my bites. 


We did manage one more day on the beach, although the waves were too intense for the kids. Sam was able to catch a good ride, and although I tried, I mostly just ended up with a mouth full of seawater.
"In my study of sand castle building, nothing had been more important to learn about than sand compaction. In particular, not all sand compacts the same. A good indication is the sand on the beach itself. Good sand compacts hard, and allows you to walk just above the waterline without leaving much of a footprint. The sand here at Sebastian Inlet was very soft. My best compaction efforts allowed just a little time to practice today before falling over. I wasn't able to finish, but I had fun anyway.

I also caught a few waves with a body board, losing one contact lens in the process."

There is plenty of wildlife along the inlet and we had fun watching the gulls dive for fish and even saw a few dolphins playing out in the water!


"@telegramsam has the cutest office mate today. She drew a computer on paper and is sending emails and tagging him on Instagram."

After Sebastian Inlet, we ditched our plans to go further up the coast, and headed inland towards the Cypress Swamps instead. In hindsight, I'm so glad we did because they turned out to be one of our favorite parks!
"We have a gap! She pulled it out all by herself and couldn't contain her giddiness. I just love watching her talk."

The Cypress Swamps are more what I thought the Everglades would look like. Lots of brackish water with swampy looking plants. It is quintessential Florida for sure! In the park there are multiple biking and/or hiking trails. We walked these boardwalks a few times, looking for alligators or other wildlife every time.
"We enjoyed an amazing walk yesterday. I caught @jesscurren working to get 'the shot' that is now posted on @currentlywandering. For more amazing pictures of our travels, follow both of those accounts! Her camera was about 2 inches above the swamp water here, and I was on careful Croc Watch. No photographers (and no cameras) were harmed in the taking of this picture!" -Sam




We were joined by our friends the Seminoffs whom we had met in Long Key State Park just a few weeks earlier. It was so fun to see and hang out with them again!
"A few days with friends at the park is just what we've needed. So glad the @esiminoff family stopped by to see us on their way north to Atlanta, LA, and then New Zealand!! We hooked them up with our study abroad host dad who's going to show them the Kiwi ropes. I might be a tad bit jealous." – Jess

"Around this campfire, we shared fascination. Then dinner. Then incredible discussions of family and faith. And then, naturally, Smores. We have been blessed to be joined for a night by@esiminoff and family as they hustle off to another adventure.
We have been blessed to spend not only one, but two days with@esiminoff and family. They rolled out today to handle logistics for the next leg of their adventures: Exploring New Zealand and Australia. In our pre-kid days, we lived in NZ for four months. Our journey will take us back there, but the time is not yet. Until then, we will enjoy watching their journey!" – Sam

We had heard good things about the Tram tour, and decided to pay the small fee for the tour. We loaded onto a bus/tram and were taken to sections of the park not accessible by another other means. We went from swamp to grassland, and then back into the swamp land again and were able to see our first Florida alligators!

"Of the several gators we saw today, this one was the most still. He was clearly comfortable. So also was the turtle, perhaps ignorant that he is a significant food source for the animal he was so casually resting against." -Sam

While the campground itself was not amazing (tight spaces, not a whole lot of privacy) we absolutely loved everything else in this park. It was a great
Related posts: